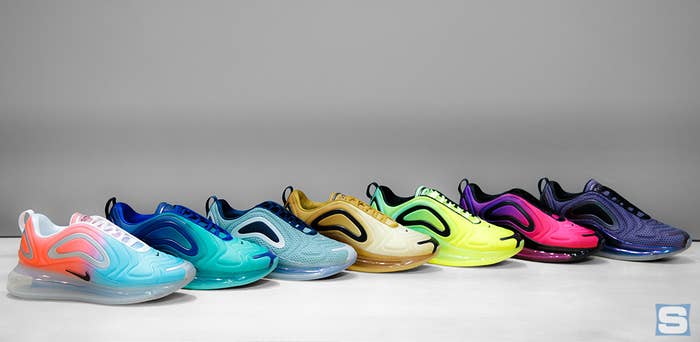 Reworking Nike's Air Max bag, which has existed since 1987, is guaranteed to draw reactions. Is it big enough? Is it comfortable? How does it look? All of these things were taken into consideration in the creation of the Air Max 720 and its new cushioning system. It's the brand's follow up the Air Max 270, the first Air Max sneaker that was created with a bag developed specifically as a lifestyle model, geared towards walking and commuting.
The 720 features a full-length version of Air unit from the 270. It was developed by tracking the movements of commuters in major cities using motion-sensor technology to create a data-driven shoe intended to meet the needs of the everyday person.
That Air bag provided the biggest challenge in developing the 720. It's so large (it's the tallest Air bag the brand has made) that it created a design issue in figuring out how to harness that much cushioning in a stable structure. "How big is too big? My team engineers think about this stuff," says Kathy Gomez, Nike's VP of Innovation. "They know about how to draw this material out so it works. That was stressful for them. If it's too big, it's going to fail and not work. There's also the aesthetic part of it. How does it look on the foot? It sort of all came together. We figured out how to engineer the system and draw the material. Then it just feels good on your foot, so it works."
One of the most difficult groups people to please with an Air Max shoe, though, are the diehard collectors that have formed a subculture around the innovation's lineage in running shoes. This is something that Nike thinks about, but doesn't want to dwell too heavily on. "We're cognizant of [their criticisms], but we want to go to a new space," says Senior Director of Air Max Dylan Raasch. "We're tasteful in how we use the DNA. If we don't use any DNA, it's hard to tell it's a Nike. There's a little bit of '97 and the '95. We use it tastefully but go somewhere new so it doesn't offend anyone."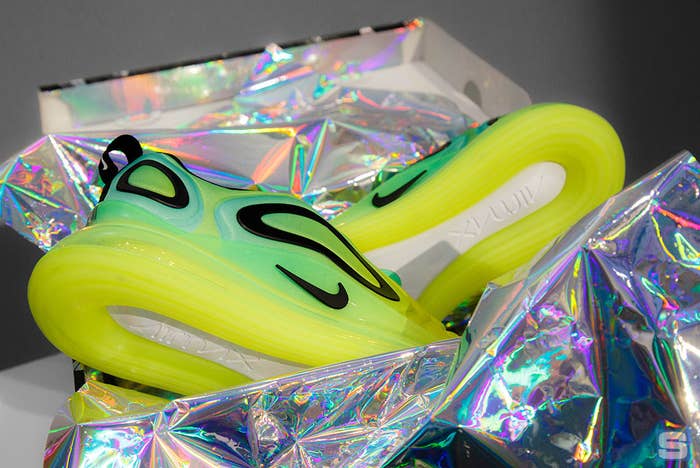 The Air Max 720 is also notable for its colorways, which focus heavily on Chameleon-esque finishes that are inspired by the Northern Lights and other elements in nature. Raasch also admits that Nike's Air Tuned Max from 1999, the sneaker that served as inspiration for Skepta's first collaboration with the brand, played a big role, too.
Nike's telling a bigger story through the colors for the 720, though, and looking to tie the shoe into the youth who feel negatively affected by today's political climate, in the vein of the company's choice to support Colin Kaepernick. Instead of focusing on negativity, the shoe is meant to inspire, and that's why it's so bright.
"The world is a chaotic and challenging space right now," says Courtney Dailey, Nike's VP of Color Design. "Despite people's feelings of powerlessness in some of our leaders, there's a youth optimism that feels really strong and resilient to make the world a better place."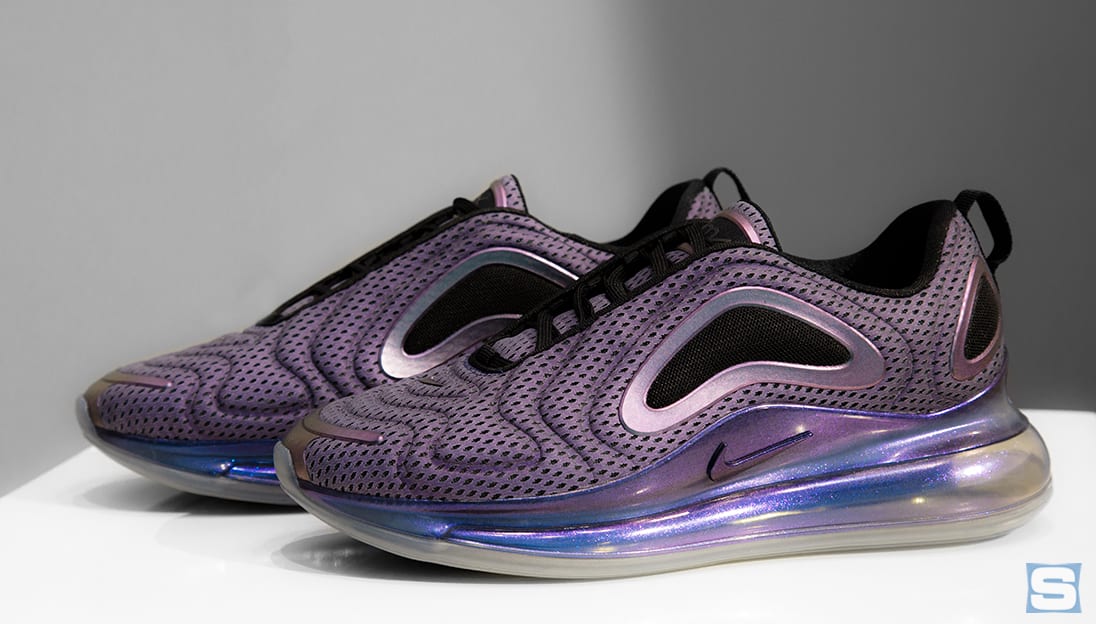 The Air Max 270 was a runaway hit for Nike, even if people at the brand were skeptical about it at first. Designing big shoes is nothing new to Raasch, who's the person behind the Nike Roshe Run. His approach to creating a successful shoe isn't what one would think, rather he doesn't think about it at all. "I think the expectations are, 'Hey, this needs to be big,' especially with the 270. It was huge. A lot of people hated it when they first saw it," he says. "They thought it was weird and that it wouldn't work. I think part of the fun of doing is that if it fails it fails. Just have fun with it and tell a cool story."
In fact, that attitude came from the original Air Max designer, Tinker Hatfield. Raasch recalls, "We were listening to Tinker [Hatfield] the other day telling us stuff. He had the attitude of, 'If I do it, I'm gonna do it. If I get fired, I get fired.'"
Raasch says he had a conversation with Hatfield about the 270, although he hasn't spoke to him about the 720, and said that the legendary Nike designer had nothing but praise for his work. "The other day we spoke about the 270. He was underwhelmed about how things have been going in the past few years," he says.  "And this is one of the few things that have rekindled his faith in the hope that there's some newness that's happening, and that it's not so predictable."
The Air Max 720 works right now, not only because the shoe is functional, but rather there's a new-found interest in visible technology. Big, bulbous soles are cool again. A lot of that is thanks to VaporMax, React, and tech from other brands, but Nike is trying to see how far it can take this new iteration of Air and where it's going to go. "There's a love affair with visible technology right now, which is great. But we're thinking more about, 'How do you make it intuitive?' How do you make that benefit so obvious without any other sort of explanation?" says Gomez. "We also know that where we are right now isn't where we're going to be five years from now. We have a quite a robust road map of different problems to solve in different ways. We'll take Air and twist and turn it in different ways to create a new expression and from that comes a new aesthetic. We'll see how long people will want to see Air. My goal is to make sure we keep it healthy."
Expect the sneaker to release next spring and play a big part during the yearly Air Max Day celebration, with a pair inspired by the Milky Way looking to be the standout version of the model.