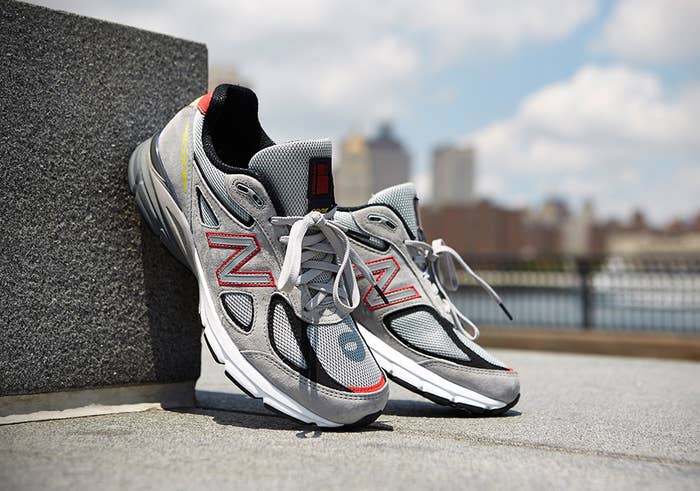 Pausing briefly and staring into the camera, Lil Yachty professed on an episode of Complex's Sneaker Shopping, "Oh my god, I love New Balance." His infatuation for the chunky dad sneakers was founded in his love of Washington, D.C. culture, where the brand has had a stronghold since 1982 when it released the 990, the first sneaker to retail for $100.
He's not the only person who has a thing for the grey suede sneakers right now. The brand is seeing a resurgence across the board with the circles that deem what's cool on the Internet, partly thanks to its 990v4 sneaker, which first released in 2016 and is a modern version of the 990. The sneaker has started to buzz lately due to the rise of the dad shoe, and its chunky look has found a home with many who never associated with the brand before.
"There's a simple honesty to all those shoes," says Steven Smith, who designed New Balance classics such as 995, 996, 997, and 576. "Those were performance shoes when they all came out, and they all still perform. People still get that comfort that we strove for in that 900 series at the time. New Balance following up the legacy of the 900 series is remarkable."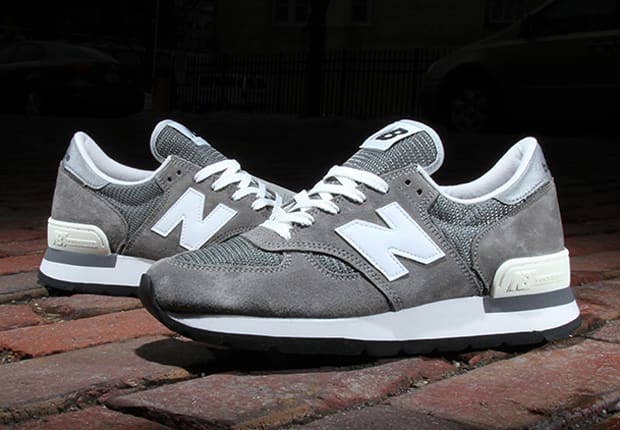 New Balance's sneakers don't have traditional names, instead they're given numbers. The higher the number, the better the shoe. The 990 series sneakers, at the time, were the best New Balance could make, which made them desirable. "I wanted to make the best product possible with what I had available to me," Smith says. "You never sit down and say, "I think that today I'm going to create an icon." You create the best thing you can within a company structure, and that's the goal. Time has proven that those goals and the vision was the right one."
Although New Balance's historical connotation has been built off its association with nerdy dads who want comfortable shoes, often eschewing value in trends, the original popularity of the 990 comes from a much different place: The streets.
"In 1982, [New Balance] introduced that shoe. It's the same year [Nike] introduced the Air Force 1s," says Duk-Ki Yu, founder of Major, a sneaker boutique in D.C. "A lot of street guys and drug dealers gravitated towards buying both of these sneakers, because they were the first sneakers that cost a lot. It was handmade in New England, $100 a pop. You had to be a special guy to be rocking them on the street. So it caught on."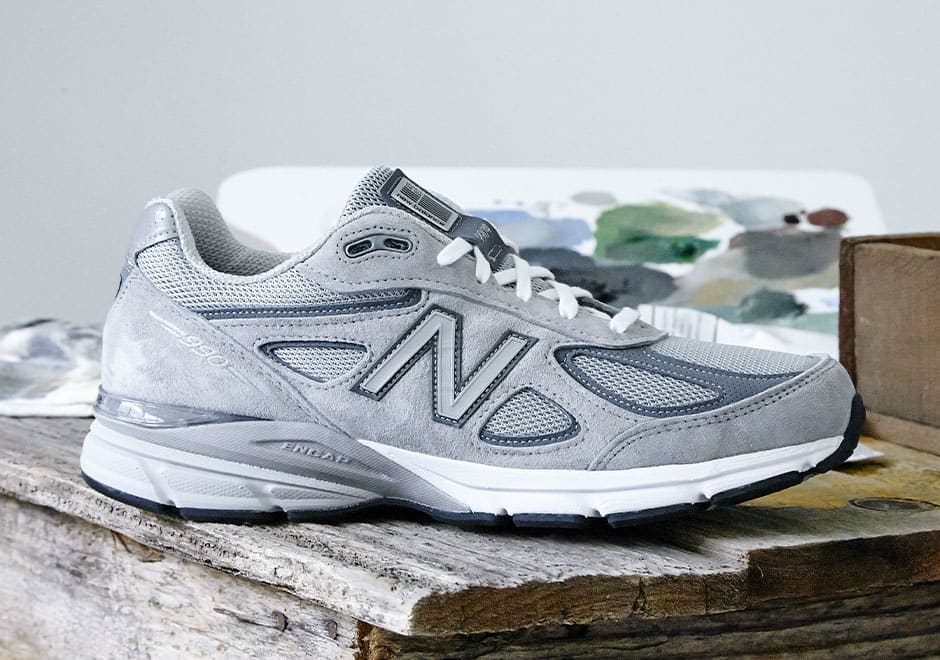 It wasn't just the price of the 990 at the time that made it popular, but it also fit in with the city's overall look for those who were working on the street or trying to make a few bucks. "This is one of those things they had to have on the street," Yu says. "A lot of these guys were into comfort. Jogging suits, running shoes."
40 miles up I-95, the sneaker also caught on in Baltimore, Maryland, a city that also helped popularize the Air Force 1 and Nike Foamposite. The city's love affair with the shoe came from the same inspiration as D.C.'s. "What really propelled the shoe is the street guys. The same thing happened with Air Force 1s and Gucci sneakers and FILA sneakers in New York," says Abdul Quddus, a known sneaker collector who grew up in Baltimore and now lives in D.C. "Street guys started to buy the 990 cause it was $100. Because of the pricepoint, street guys wanted to wear something more different than everyone else. That caught the eye of little guys such as myself, impressionable kids."
Since then, the sneaker has become a certified classic in both cities. It's a true sneaker of the people and is sold strictly at mom-and-pop or middle-brow retailers. "It's ingrained into our urban culture here. You'll see families, from grandparents to little kids all wearing the same shoes," Yu says. "New Balance all around the world is a staple of 'cool guys,' but when you come to the DMV, it's super urban. They won't come to me to buy it, because they're so conditioned to going to Downtown Locker Room and Shoe CIty. They sell probably 5,000-6,000 pairs of the shoes per month."
This has forced his tier zero boutique to stop carrying the brand for the past five years.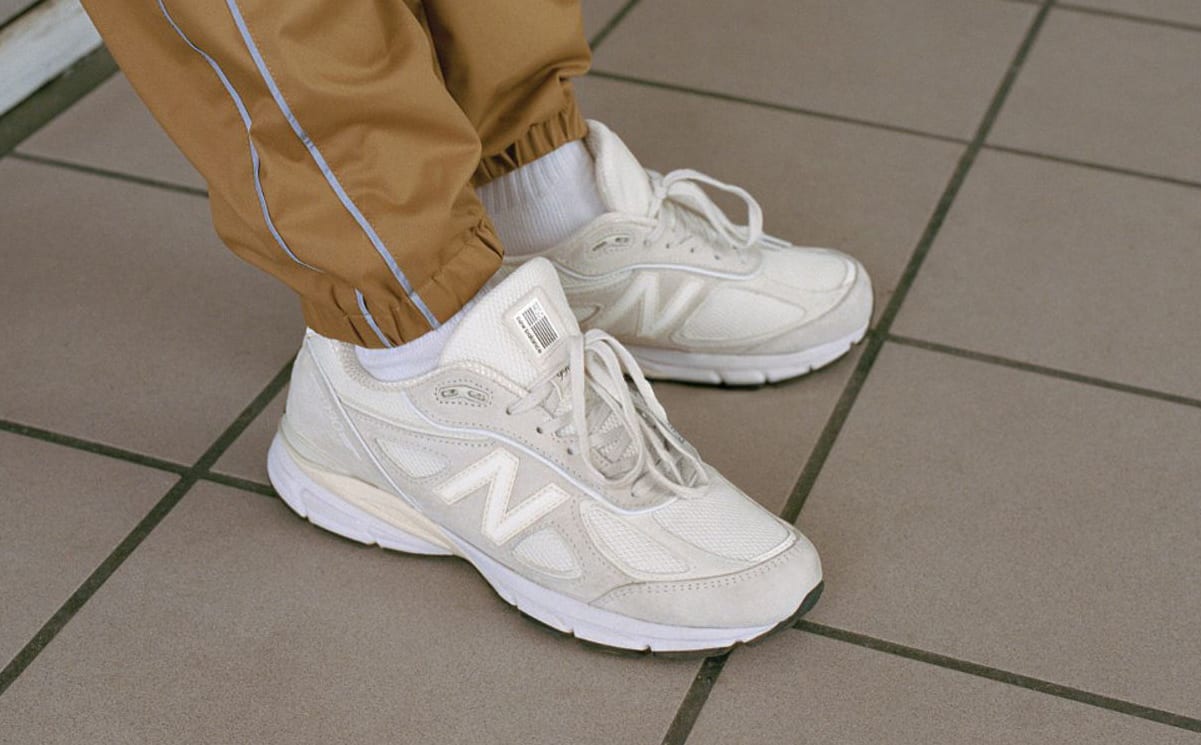 Travel another 100 miles up I-95, and you'll find the 990, particularly the v4, now on the feet of people in Philadelphia. "I remember wearing New Balance when I was seven years old," Meek Mill said in an episode of Sneaker Shopping. "We had the cool grey ones. We used to see the dope boys on the corner wear them. It was the guys in my neighborhood who had money. They were trap sneakers. If you were chilling, lounging. They were fly. They were comfortable, too. If you were standing on the block all day, New Balance was known to make some of the most comfortable track sneakers, if you gotta run from the law."
The sneaker has now become one of the most popular shoes in The City of Brotherly Love, even if it can't truly claim it as its own. "I think we stole it from D.C. or Baltimore, or the trend migrated up," says Richie Roxas, who is assistant manager of the New Balance store in Philadelphia and owns the world's largest collection of vintage sneakers from the brand. "Baltimore had been doing that for awhile. People here think it started here, because they don't travel or leave the city. The older kids took it from D.C. and passed it onto the younger kids."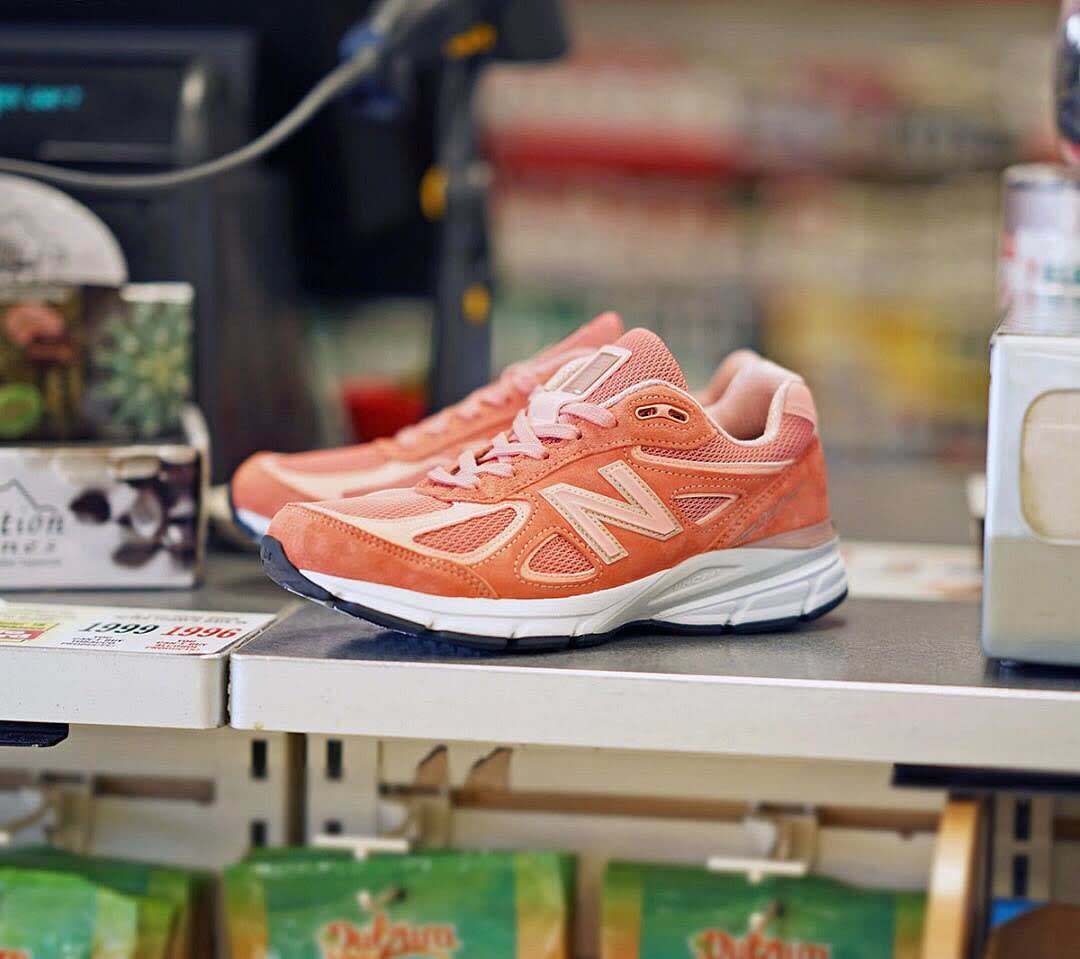 The hype for the 990v4 in Philly has become real, and it's not resellers or hypebeasts who are trying to get their hands on the shoes: it's the average person who wants a pair of fresh, expensive sneakers. "We sell out of certain colorways. We have people line up on release day. We get requests for certain colors. We have people still asking for the peach one every single day, and it sold out almost six months ago," Roxas says. "It's expensive. A lot of guys come in paying cash with stacks of money, buying three pairs at a time. It trickles down to the kids, and these up-and-coming hustlers will try and get the shoes or steal a pair. It's weird if we sell a pair of the shoes with a credit card. The only people who charge the sneakers are old people."
These three cities feel that New Balance owes a lot to them for making the 990 keep on persisting and causing the buzz behind the v4 outside of geriatric mall workers who could care less about sneaker blogs or release dates. "The 990 was a game changer for this area and for New Balance," Abdul says. "I don't think New Balance gives the proper credit to the people from this area. No one gave a shit about running. It started from here, and I think New Balance understands that."
Roxas echoes that sentiment by saying, "I would say [New Balance owes something to Philly], definitely the Mid Atlantic region has a lot to do with the shoe's success and certain colorways selling out."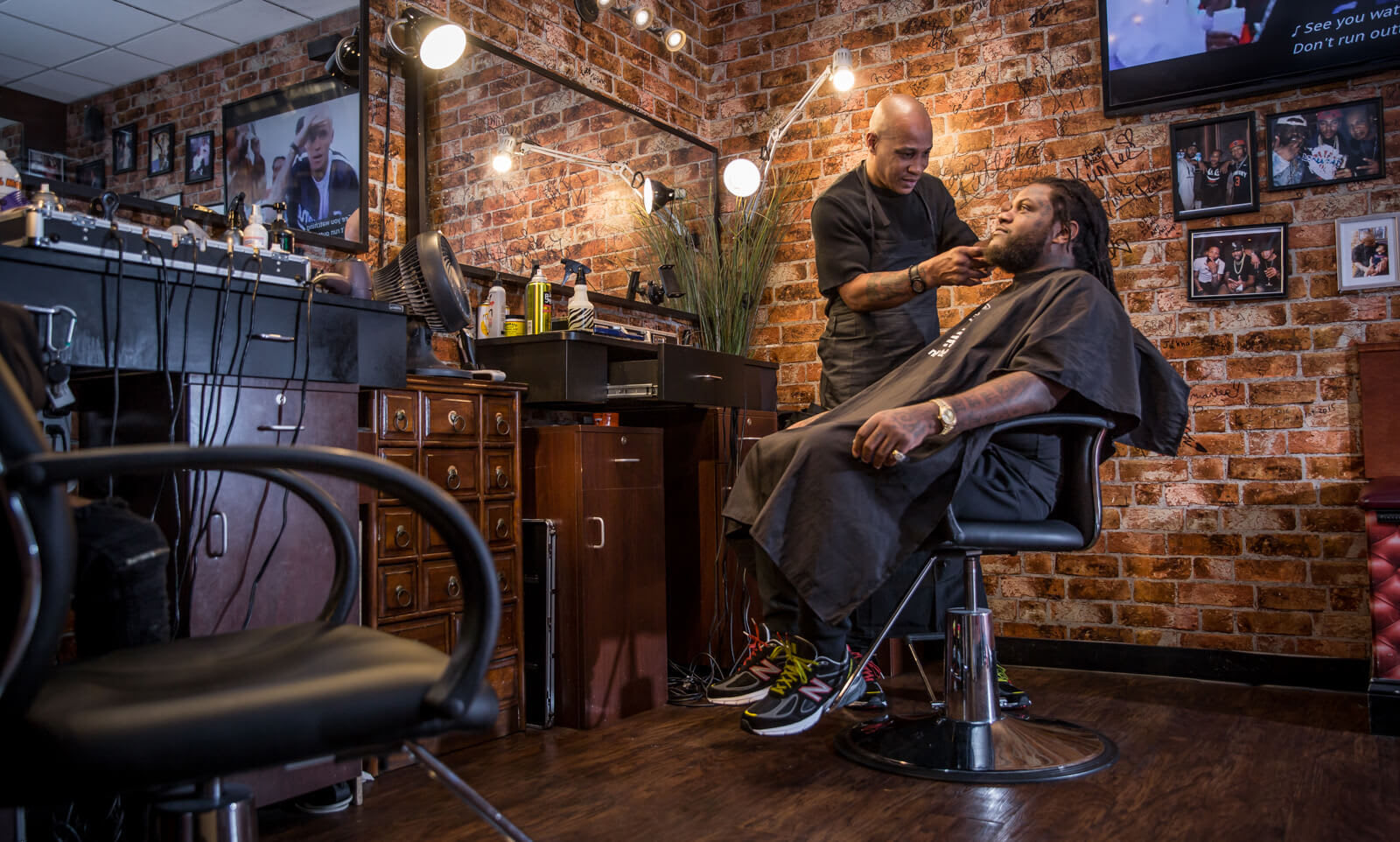 The success of the 990 series sneakers among inner city crowds isn't lost upon the people that designed them, either. "It's crazy how certain models have become identifiers," Smith says. " It's cool that they've adopted that as their identifier. There's a quality and elite value that comes with the higher-end New Balance shoes."
2017 saw New Balance release two special-edition version of the v4 with Downtown Locker Room—one in a colorway inspired by the Maryland flag, while the other donned the Stars and Stripes—that sold out almost instantly. The brand also worked with the original streetwear brand, Stussy, on a minimal version of the shoe that was gone from stores just as quick.
They say if you can make it New York City, then you can make it anywhere, and that's where the 990v4 is resonating right now. But it's not becoming the hustler's sneaker of choice, although local rappers such as Raekwon would say they were "magnetized to New Balance" from a young age. But, instead, it's becoming quite popular among fashion crowds in big cities and cross the globe as trend-savvy millennials are starting to wear the same sneakers as their parents, and the fashion crowd starts to reject knitted sock shoes in favor of the so-called dad shoes.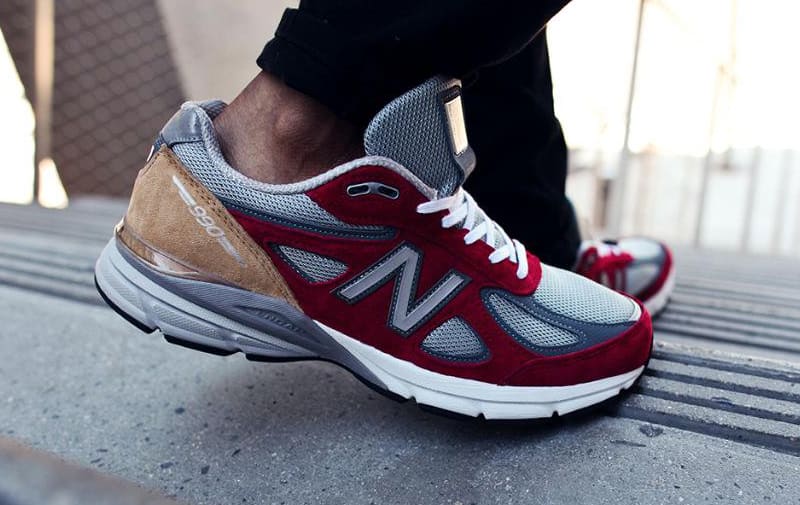 "It's crazy to me this idea of dad sneakers, that people would look at a New Balance 990v4 as a more affordable version of these insane dad shoes from Balenciaga, Raf Simons to the Yeezy Waverunner," says Grailed Branding Director and former Four Pins editor Lawrence Schlossman. "New Balances are still expensive, but there's a lower barrier of entry to this aesthetic dad shoe wave. You know it's going to be comfortable, and it's going to be comfortable and not from some brand that you're unfamiliar with."
The biggest champion of the dad shoe, however, might be Scotland's New Balance Gallery, the biggest fan-run New Balance Instagram account on the Internet, who has gone as far as convincing the brand to return the shape of its 1500 sneaker to its original form. "You go to Copenhagen, all the cool sections of Europe, all the kids are wearing [990v4s]. There's a trend to that model right now," says Rob Stewart, co-owner of New Balance Gallery and sneaker cleaning brand SneakersER. "The Balenciaga Triple S is fucking horrific. I don't care what your fashion sense is, to me it's just too much. There's a limit to a chunky sole, and that's way over it. No matter how fashion conscious you are, that shoe just looks stupid on you. That's not a dad shoe, that's just taking it way too far away. I hope that people wearing [the v4] as a trend, that they'd continue to wear it as an everyday shoe for comfort."
The popularity of the v4, and dad shoes in general, is likely due to a backlash from sneaker consumers who grew tired of sock-like, knitted sneakers that nearly every brand makes. People wanted a sneaker with bulk, suede, and a real midsole. "I think it's a rejection of where Nike had taken things with these oversimplified, no-sew, profit-driven products," says Smith in reference to the "dad" shoe trend. "There's something comforting to the old school construction of layers, stitching, and suede. There's something natural about the connection to the material and a solid, breathable mesh, as opposed to being slick, generic, over-technical materials."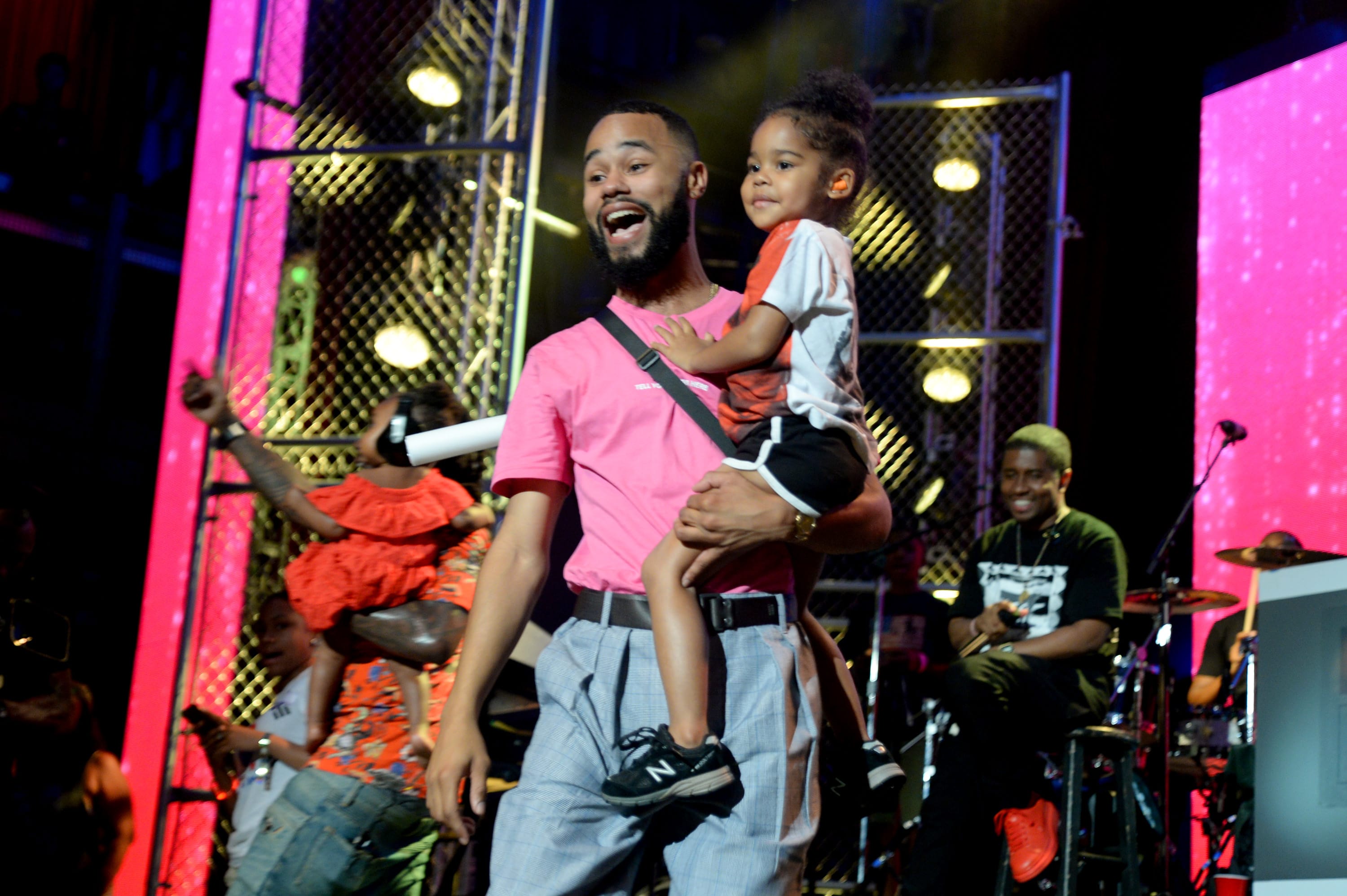 One of the earliest, non-ironic adopters of the dad shoe trend was Apple co-founder Steve Jobs, who became known for wearing New Balance's 993 sneaker later in life. And that co-sign is not lost on those who are fanatics of the brand to this day. "Everything that Steve Jobs stood for [was important] and what that guy did with Apple. Having that endorsement on his feet is cool," Stewart says. "He knew about aesthetics, design, and what was good. It looks like Steve Jobs was miles ahead of everyone with what was cool and what wasn't."
What makes the 990v4 a popular sneaker right now, though, isn't just that it's a dad shoe or a street shoe. It's a good sneaker, one that defies trends and will remain long after any sort of hype is gone. It shows no signs of slowing down at this moment and is gaining steam across sneakerheads on Instagram and picking up more and more co-signs from fashion forward folks by the day. But that doesn't matter to the DMV area, where they continue to wear the shoes.
"I don't know if DC can take credit for influencing the world to like [dad shoes], but I think DC can take credit for keeping the lights on at New Balance and enable them weather through their lean times," Yu says. "Now [New Balance] can cash in on the dad shoe movement."