 2015 saw adidas release the Yeezy Boost 350 and the Ultra Boost—two of the brand's biggest new sneakers in quite some time— and it felt like they were riding a wave that wasn't going to crash. Word came out that adidas was set to launch a new sneaker at the end of the year, which was supposed to be one of its biggest projects yet, but no one knew what it looked like. Adidas said that it would borrow elements from three of its archival sneakers—the Boston Super, Micropacer, and Rising Star—to make an all-new shoe called the NMD, and it was slated to be the best shoe ever, or something like that.
The sneakers were unveiled at a huge event in New York City, and they were a touch underwhelming for the magnitude of the party. Then they released and sold out. Instagram pages were devoted to the NMD, and then it happened: The NMD became one of the most talked about adidas sneakers. Colorway after colorway was produced, and people feared that it would go the way of the ZX Flux, a previous adidas shoe that was popular when it first came out, then became played out. But that didn't occur. Every release was just as anticipated—or even more so—than the previous one. And the resale values skyrocketed, with the original version hovering at somewhere around $1,000.
The hype continued to grow on the NMD. Lines formed every time a new style of the sneaker was released, and the brand claimed that it was able to sell 400,000 pairs of the NMD in one day. The buzz didn't stop, and people began searching for the NMD on the secondary market.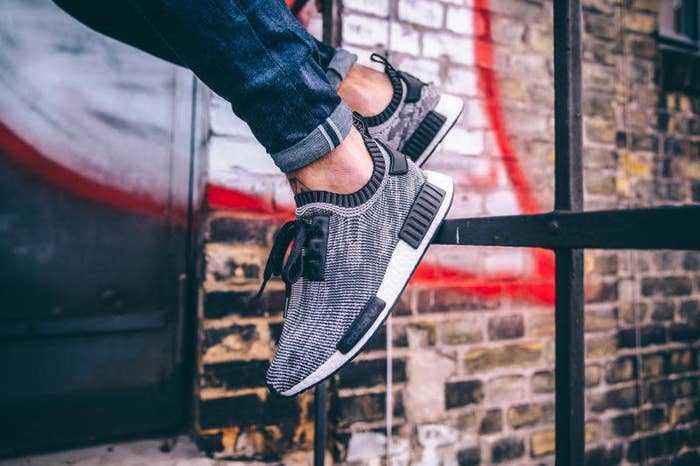 "We're selling some of the more expensive, Primeknit pairs, but we're selling a lot of the lower-price point sneakers, too. We see a huge demand for it," says John McPheters, co-owner of Stadium Goods, a reselling marketplace in New York City. "People aren't buying them to collect them, they're purchasing them to wear them. We get everyone buying them: sneaker kids, tourists, and adults who just want a pair of sneakers."
Even though the sneakers are re-selling on a consistent basis, it's not exactly the more-expensive pairs that people are going after. There are essentially two versions of the NMD that people are tracking down: one that comes with a Primeknit upper and a Boost sole that retails for $170, and another one with a mesh upper and a Boost sole that retails for $130. The Primeknit pairs are the ones going between $400 -$1,000, depending on which version a person wants, and the cheaper NMDs can be had for $200 or less. What makes the shoe so popular isn't that folks are sitting on them for a future investment, it's a sneaker that people will wear the day they get them.
It's signaling a change in the secondary sneaker market. With a majority of Jordan retros sitting on retailers' shelves for weeks and months, the stores need something new to sell, and the NMD happens to be that sneaker.
"The adidas NMD is our most popular sneaker right now, over Yeezy Boosts and Ultra Boosts," McPheters says. "I don't have the exact numbers right now, but you can make a case that it's the most popular sneaker in our store at the moment."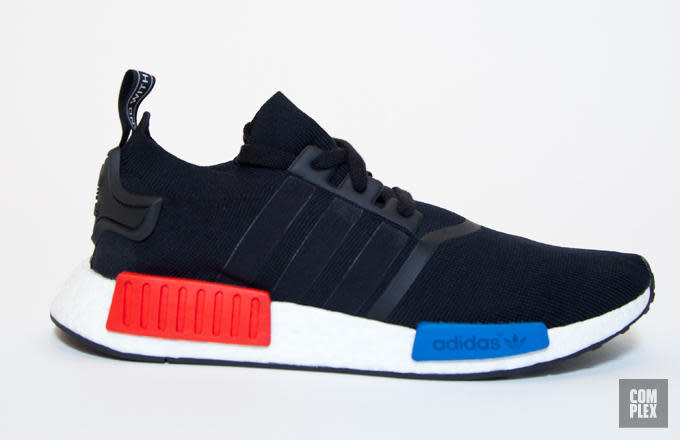 It may have taken the general public a few days to warm up to the NMD, but retailers knew it was a great sneaker from the start.
"We were lucky enough to see that shoe a year or so before it was released, and we knew it was something special," says Mike Packer, owner of Packer Shoes, a sneaker boutique in New Jersey. "We saw a shoe good shoe before we even knew it was borrowing from adidas' history."
The NMD is getting appreciated just the way that adidas expected it, too: Although many people pronounce the shoe as "N-M-D," it's actually short for "Nomad" and was made for a traveling lifestyle.
"It was also this idea if you have a busy life and you travel and you're always away from home, you can only take so much with you," The NMD's designer, Nic Galway, told Complex in an interview last year. "Those products have to perform multiple tasks. I wanted to create a product that you feel comfortable in, both how you look and how you feel."
One of the places that the NMD has led people to is the sneaker store. It's creating serious business for the retailers who sell the shoes. "At the end of the day, what they've created, which is sorely lacking in the industry, is a Monday through Friday business," Packer says.
There have been so many NMDs that it's giving stores something to bank off of other than Air Jordans and the occasional Yeezy Boost on Saturdays. All hype has to eventually die, though, right? Many people, myself included, are somewhat shocked that consumers aren't getting tired of the NMD at this point, but McPheters and Packer don't see it that way. It may be a "post-hype" sneaker, where people are buying it because they genuinely want it, not just because of the status or resale opportunities it presents.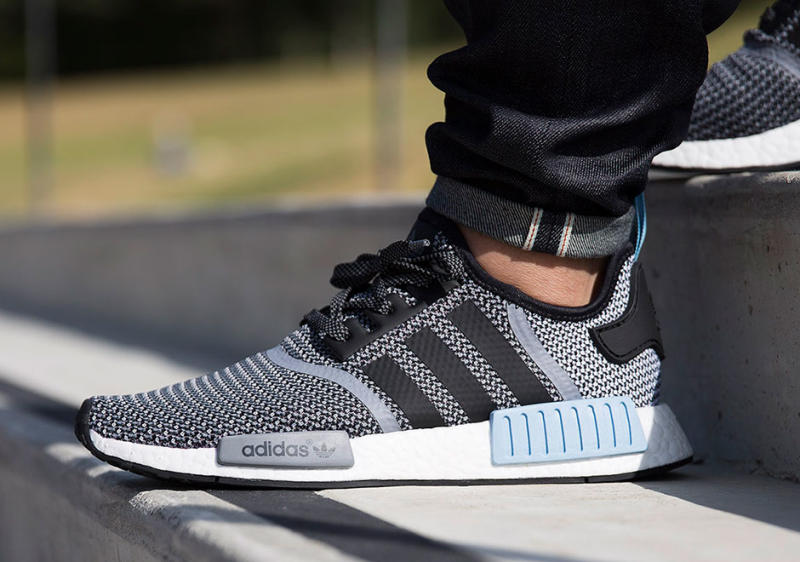 "I see the hype on the sneaker sustaining. Adidas has done a good job keeping the distribution tight, and I don't see this wave subsiding any time soon," McPheters says. "If you look at it, there are only a few new models that people are actually excited on, and the NMD is one of them."
"A good shoe will always be a good shoe, and that's what the NMD is," Packer says.
That's why the NMD, in such a short time, has become the sneaker that's leading a charge for the footwear industry that's slowly getting away from relying on reproduced, retro product. And it's for the better. Maybe in a year's time, the NMD will be passe, but don't plan on that happening anytime soon. That's because the shoe is connecting with the general consumer, much like Nike was able to do with the Flyknit Racer, not just the hardcore sneaker connoisseur. As Galway says, "With adidas, we have products that are on the best athletes in the world, but we still have a rich history. What I love about the brand is that they genuinely give me the freedom to play with that. A lot of what we're doing with our performance products is influenced by the cultural connections and the innovations."