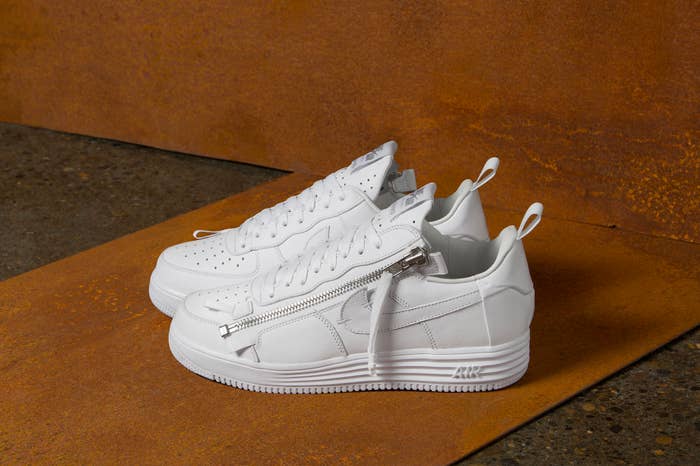 Errolson Hugh's nervous about taking risks, but you'd never expect it from the clothes and sneakers he's designed for Nike and Acronym over the years. His creations often feature daring cuts and a liberal use of zippers in the overall reworking of tried-and-true garments. But he does it all in the name of function, including the Lunar Force 1 he made for Nike two years ago, which featured a zipper down the front of the shoe. It was all for the sake of making the shoe easier to put on (it made it look cool, too), and he's bringing the sneaker back in all-white for ComplexCon this year.
We had the chance to talk to Hugh about his upcoming sneaker, which will drop at Long Beach California, on November 4, with a wider release occurring on December 3. He also told us what it was like for his collaboration on the Nike Air Presto to to be labeled the sneaker of 2016, how Bruce Kilgore, who designed the Air Force 1, reacted to his take on the Lunar Force 1, and what it was like to design the shoe a few years ago.
Get your ComplexCon tickets here.
How does it feel to get do a white-on-white version of the Acronym x Nike Lunar Force 1?
It feels pretty good actually. The first final pair arrived in the studio the other week. I've been wearing it around. I really like the way that triple-white allows you to see all the lines. The triple white allows you to see the construction, it allows you to see how intricately the zipper is attached. Also some of the more subtle things, like the toe is re-designed, show up on the white-on-white.
The design of the original shoe was radical. Were you worried about it?
No, I was more surprised that Nike let us do it. When we were approached, Nike specifically asked us to do the Lunar, and we were like, "OK. We don't have a personal history with this shoe. Are you sure you want us to do it?" We said, "If we're going to do it, we're not going to just color it in." Fraser [Cooke], who was our contact at Nike said, "No, that's actually why we want you to do it, because we're looking for something fresh and radical." At one point in the development, we said, "If we do this, are people going to freak out?"  Even though we don't have a history with the shoe, we knew how much the shoe was regarded, and we knew we couldn't mess it up. A lot of people would get upset. We tried to make sure we did as good of a job as we could, but also do our job and make it as good as we could.
Berlin's never been a big city for the Air Force 1. Is that different?
It has a better reception now than it did historically. As a silhouette now, it's much much more popular, especially since the 35th anniversary and the discussion about it. Obviously hip-hop heads have always known about it. It's everywhere now. I don't think it's ever going to away, either.
The Acronym x Nike Air Presto was voted the "Sneaker of the Year" in 2016. What was that like for you?
That was wild. That was pretty cool, I have to say. The Presto is the third shoe we designed, but the second that came out. The Downtown came out third, but we designed it the same time as we did the Lunars. The Prestos were the fastest shoe we made. We did them super fast, and we were like, "OK, this is cool." Having done two other shoes, it was easier for us, because we had our approach. That was a lot smoother for us. We knew they were good, but we didn't expect them to blow up the way they did. I'm wearing mine right now, and kids still stop me to talk about them. It's super gratifying.
How do you make sure your work for Acronym and Nike are different but still make sense?
We try to be super vigilant about making sure they're different. What's the point of doing all this different stuff if you're gonna just repeat yourself? It seems super boring. So if anything, if we work on projects that are similar, but they're probably more different than if two different people worked on them. The coincidence that two different designers can have the same idea at the same time happens more often than you think. So when we do two projects that are in the similar space, we're super aware of how we can solve the problem but do it differently. We think about what are the intrinsic strengths of the project and material. We think, "What can Nike do and can't do with Acronym?" So we always end up in different spaces. It's the most fun thing about it, because we end up surprising ourselves.
Is it easier to make product with Nike than on your own?
It's not easier, but they have different challenges. At Acronym, we can do things faster, because we're smaller and there's less structure behind things. It also gets hard because it takes a lot of resources to get things through the pipeline. Everything we do with Nike, we know is going to be part of a larger cultural discussion. So we have to know that this is exactly what we want to say. Working with Nike, the reach they have the communications as a brand, is super fun. Tons of people are going to see it. It also makes the product way more affordable.
Have you met Tinker Hatfield?
I've never met Tinker. We're just at campus at different times. But I did meet Bruce Kilgore, and he was amazing. What a nice dude and what a down-to-earth, problem-solving guy. It's amazing. It's really great to see these iconic things years ago. They're just guys doing their jobs, too. It's a reassurance to keep working at your things.
What did he say when he saw what you did to the Air Force 1?
He was on a trip to London and we were in the NikeLab space, and I had to talk him through it. Like, "Here's the guy who designed the shoe." That was quite fun actually. He really liked it. Being a designer, the first thing he said was, "Why'd you put the zipper on the lateral side of the shoe, rather than the medial side?" We said, "We thought it would be much easier for people to reach down and use the zipper on the outside of the shoe." It was nice to talk to him, because there's a universal approach to direct problem solving.