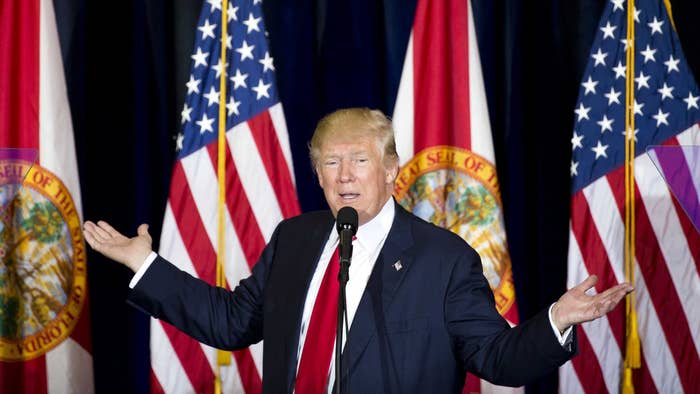 There are a lot of questions about what will happen when Donald J. Trump is sworn in as the 45th President of the United States on Friday. What is going to happen to the Affordable Care Act and will anything replace it? Is the wall actually happening? What about the Supreme Court?
Here's another important one: Are sneaker prices going to go through the roof?
Both the Republican-controlled legislature and the president-elect have put forth sweeping changes to the way goods flow in and out of the U.S., with a focus on making it much more expensive to import foreign-made items (and, the theory goes, to incentivize American-made goods).
And this is, to put it mildly, an issue of importance for footwear. Less than 2 percent of the footwear consumed in America (in fact, 1.6 percent in 2015) is made here, according to Nate Herman, SVP of supply chain for the American Apparel and Footwear Association (AAFA). Even though the domestic production of brands like New Balance, Wolverine, Red Wing, LL Bean, and more equaled 39.3 million pairs in 2015, it's a drop in the bucket compared to the 2.46 billion pairs that were sold here that year. Most sneakers sold in the U.S. are made in China (75 percent) and Vietnam (13 percent).
Here's why that matters. The current tax plan being proposed by the House GOP calls for border adjustments. In essence, companies currently importing goods into the U.S. can deduct their manufacturing cost before calculating their taxes. Under the proposed plan, importers—including every major footwear firm—would no longer be able to take that deduction, meaning they'd be paying taxes on a significantly larger sum.
Of course, this is no sure thing. Trump has said as recently as last week (in a story out Monday night in the Wall Street Journal) that he opposes border adjustment measures. He has proposed raising tariffs on all imported goods, and raising the tariffs on China-made goods to 45 percent. (Right now, China-made footwear is taxed at rates that vary from as low as 8.5 percent for men's leather dress shoes to 67 percent for particularly low-end canvas shoes. The average, Herman said, is 10.7 percent—significantly higher than the average consumer good, where the average tariff is 1.5 percent, per the AAFA.)
Brands have largely kept mum on what they're expecting. In a call last month with analysts, Nike CEO Mark Parker expressed what many brands and industry leaders have said: at this point, no one really knows what could happen. "I believe it's really too early to determine what specific changes may be proposed. But we are looking forward to working with the new administration, and Congress, regarding those potential reforms," Parker said, adding, "I want to quickly add that Nike continues to believe in free and fair trade."
The disagreements between Trump and the Republican Congress have added an extra layer of uncertainty to an already unclear picture, but most experts agree that if either plan is put into effect, the short-term result is undeniable. Or, as Mitch Kummetz, an analyst for B. Riley and Co., put it: "Prices will rise. I don't know when, I don't know how much." Herman agreed.
The AAFA's estimates suggest that the rise could be 10 percent on the low end, or as high as 25 percent, depending on the individual company, the individual shoe, and a number of other factors. (See below for our chart on what that looks like for your favorite models.) And some brands, like direct-to-consumer based Greats, said that they'll be able to keep rises even lower, since they don't sell through retail stores who also need to make a profit.
"We don't take that kind of [retail] markup, which is a huge competitive advantage," Greats founder and CEO Ryan Babenzien said. "We can be a much more nimble, price-flexible brand than big publicly traded company."
Timing-wise, it again depends on what the eventual decision is on when price changes might happen. Herman said a border adjustment, as part of a larger budget negotiation, wouldn't be likely to be passed before late in the year. A presidential action like imposing tariffs, on the other hand (which Trump has indicated would be high on his list of priorities), "could be something you could see affecting imports within 30 days of an announcement, and then at store shelves within 15 to 30 days after that."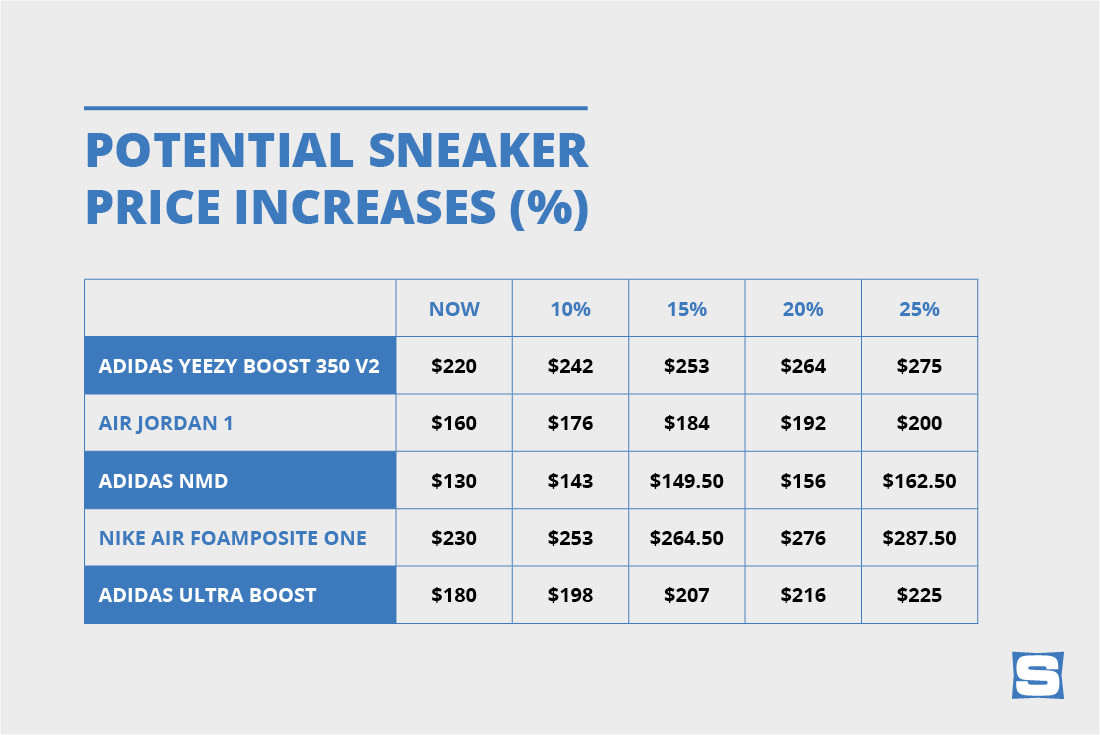 Looking longer-term, there are even more unknowns. Could the new trade policies spur investment in a domestic manufacturing base? It's certainly possible, although a multi-year (maybe multi-decade) endeavor. Shorter-term, companies could experiment, and use less-expensive materials and manufacturing techniques that would hit the same retail price points as before. (It's also worth pointing out that almost every product we use daily would be affected by these policies: electronics, clothing, cars, oil, toys, pharmaceuticals. So a rise in sneaker prices wouldn't be happening in a vacuum.)
But bottom line? "We can speculate on hypotheticals, but we don't really know," Nate Herman said.
"Again, the details are a little scant right now, but based on what we've been told so far, I believe this could be devastating to our industry," he said. "But we're in unprecedented times."