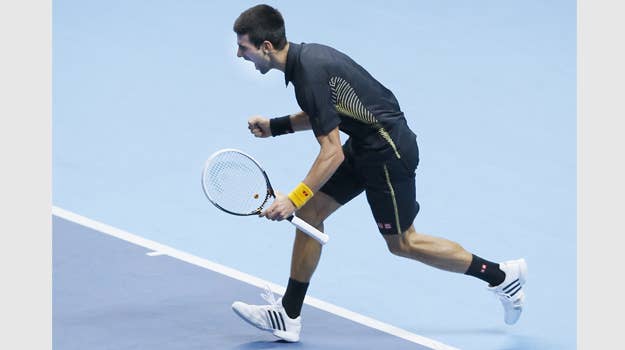 No. 1 ranked Novak Djokovic has been on a tear lately. And what better way to cap off an incredible season than with a win against Roger Federer in the final tournament of the year, the Barclays ATP World Tour Finals.
Djokovic bounced back from a couple of early breaks to beat Federer 7-6 (6), 7-5 in front of a jam-packed crowd at London's O2 Arena Monday night. But despite the great tennis action, this match wasn't just a duel between the two best players in the world. Rather, it was a duel between two of the biggest footwear brands, adidas and Nike.
While Federer's special edition Nike Air Zoom Vapor 9 Tour "Flame" sneakers were the better looking of the two, it was Novak's signature adidas Barricades that reigned supreme this time around. Of course, we don't blame Nike for Federer's loss. The way Djokovic has been playing as of late, he probably would have won even if he went barefoot.
[Images via ESPN]
RELATED: SPOTTED: Federer Rocks Nike Air Zoom Vapor 9 Tour "Flame" in London|