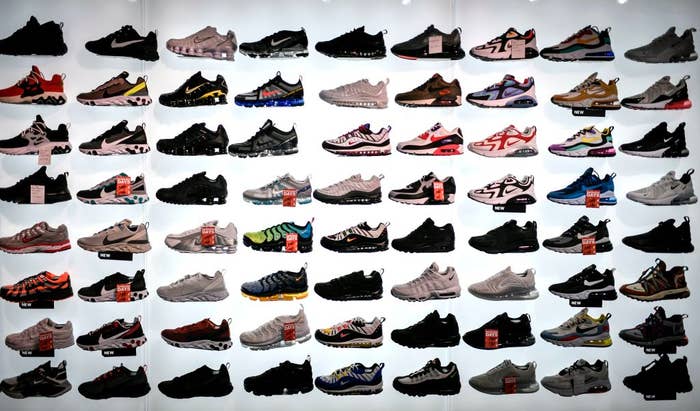 Destroy something, build it back up, make it better. Those are words to live by when it comes to the proverbial Internet-driven sneaker definition of customization. To say we've come a long way from the days of tinkering with just the colors or the sides of sneakers would be an understatement. The whole industry of customizing shoes has managed to turn the corner and find a home in the hearts of consumers and creatives alike.
Custom sneakers have undergone a tremendous amount of change. These days, shoes are being deconstructed instead of simply altered. Accessibility to materials and inspiration has come courtesy of the online portal we flock to each and every morning on our smartphones and computers. But it's not only that.
Tastemakers and influencers like Pharrell Williams—who last summer held an event in Los Angeles where he allowed the youth to alter sneakers—have been driving home this kicks embargo.
In order to properly appreciate how much the landscape has changed, we went out and spoke to three living legends of customization: Dominic Chambrone, aka "The Shoe Surgeon," Dan Gamache, better known as "Mache," and Greg Salas, founder of LASCO.
Greg Salas' LASCO brand and Mache are on opposite sides of the customization spectrum. Mache's weapon of choice is painting his kicks, while Salas is into the complete re-engineering of sneakers. He creates things from scratch, using the highest-grade materials.
That's good and well because both men started out the same way: wanting to produce inspiring, wearable art that sneakerheads could respect and understand.
"I've always been into art—even as a little kid. My grandmother was an artist so it's safe to say I got the talent from her," Mache says. "The shoes were always something I loved as well; the two worlds collided for me over 10 years ago—way before social media—when I saw an article about custom painted sneakers, and I just said to myself: 'I can do that.'"
Mache's love of art turned into a profitable business. His first "take-off" moment was when he was asked to design an exclusive pair of Ironman-themed LeBron 10s for the King himself, LeBron James.
How much does it cost to have Mache create you a pair of sneakers like he did for the NBA's King? Using time as a gauge for value, it all really depends on the hours he puts into the project.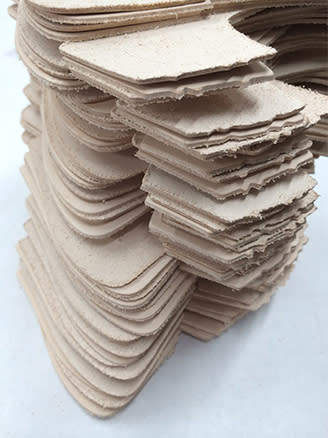 "I always use the analogy of getting a tattoo done to talk about pricing. If you want something simpler it will cost less than if you wanted a whole back piece done. To get an idea my prices go from a couple hundred to $1000-plus," the longtime designer mentions.
His custom work has generated a lot of high-profile clientele ranging from WWE Diva Nikki Bella to NBA player Russell Westbrook. He's an industry pioneer and a craftsman that many people look up to, including Salas.
"Mache. That dude is just absolutely insane. You can't even step to anything he does," Salas says.
Salas' latest project, the "Veg Octobers," an experimental, high-grade reconstruction of the Nike Air Yeezy II, has been the focal point of the company's effort, mustering up a strong buzz on social media. He admits the project was inspired by the rise in popularity of Japanese sneaker label Hender Scheme, a brand known for its Manual Industrial Products line of handcrafted all-leather shoes designed after silhouettes like the Air Force 1, Air Jordan IV, and Vans Era. 
Salas sees the Yeezy-inspired shoes as a way to show off LASCO's shoemaking skills. "For us originally, it was hard to get any sort of traction. These shoes were a way to let people know that we had skill," he says.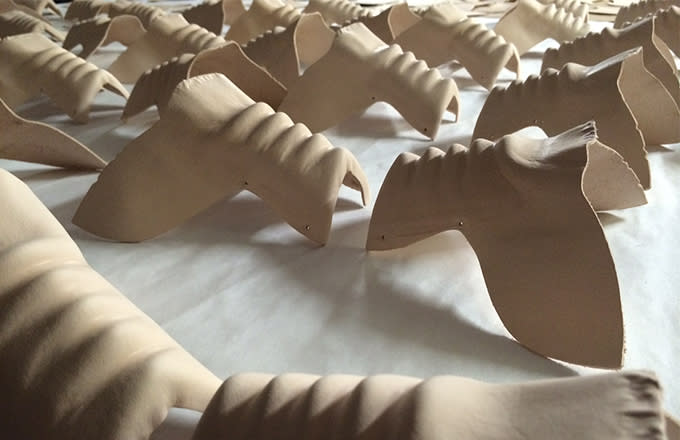 LASCO's vision is to take a shoe that's considered rare and make that sneaker more accessible to the public. There's only one catch: Greg says they want their products to be "100-times better quality."
Think of LASCO as a manufacturing plant for kicks. A place where you can order product directly, without having to deal with a reseller or middle man.
Dominic Chambrone, The Shoe Surgeon, may currently be known for his exploratory, enveloping-pushing work and sole swaps—the act of transferring one upper to a sole from a different shoe. But he got his start customizing sneakers the old-fashioned way back in grade school. Chambrone remembers putting a Sharpie marker to some shoes before stepping up his game with an airbrush.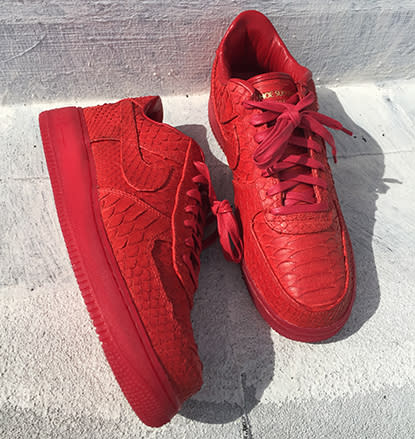 "I started off by airbrushing a kid's all-white Air Force Ones in my own camouflage pattern with model paint," he recalls. "But that was just the start, and it kept progressing, and still is to this day. From paint to glue to taking shoes apart with sewing machines."
Think about this: Chambrone has been putting traditional boot soles onto sneakers since 2010. Way before the whole "sole swap" doctrine even became something worthy of pressing keys about on the Internet.
Being a cobbler, who also happens to have a vivid social media presence, sole swapping is something he's keen to. "The so-called 'sole swap' is trending very hard right now, and sometimes something so simple as putting a different upper on a different sole is just a good look," Chambrone mentions.
A project fully executed by The Shoe Surgeon could range anywhere from two hours or two weeks.
Whether he's doing a sole swap or creating tangible kicks from scratch, all of the time he spends achieving his goals takes place in a "hidden" studio, located somewhere within the paved, sun-blessed roads of downtown Los Angeles. It's a sanctuary where Chambrone gets to escape and more importantly, create.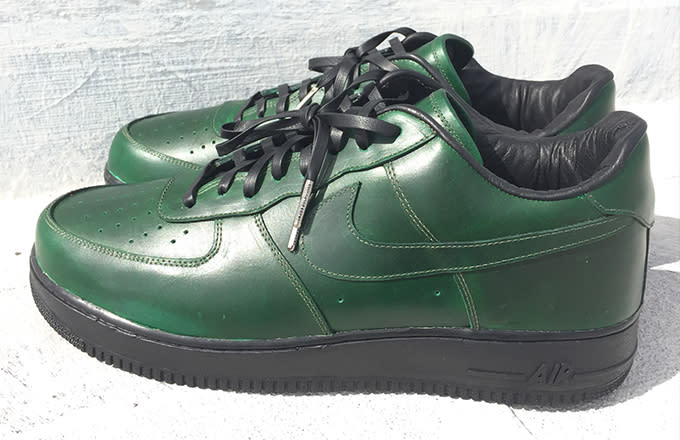 A lot has changed since Chambrone, Mache, and Salas got their respective starts. The industry they all live and breathe in has now become a mainstream entity—partly thanks to their own work. 
The main reason for this commercial explosion? Social media. It has been a triumphant reason why this world has become so accessible, and because of the fact that Mark Zuckerberg and Jack Dorsey started this digital revolution, guys like Mache's work has benefited.
"Once things like blogs, Facebook, Twitter, and Instagram came into the picture that gave anyone with a computer or a smartphone access to myself and my work and then it was just a matter of it growing organically which is something I'm extremely proud of," Mache explains.
This rebirth and newfound social awareness has opened the proverbial floodgates, allowing people to come in and try their hand at changing the way people think about sneakers.
"When I started, myself, and a very small amount of others were doing it strictly to be creative and just use shoes as another outlet for creativity," says Mache. "At that time, customs were still a little taboo and they weren't embraced like they are now. These days it's grown from a small niche into a culture. And there are probably millions of new, budding customizers, which is awesome."
There is no set trajectory for fresh-faced sneaker customizers. It's like the wild west out here. Conversations about making it big usually circle back to experimentation and promotion. 
"Almost every kid wants to become a 'customizer' or cobbler, which is cool," says Chambrone. "I have faith that it will bring production and more jobs back to the United States. We will see."
Why wouldn't they create their own shoes? Chambrone's work alone has been featured on every major blog and style publication.
Even Kanye West's decision to leave Nike, amidst a creative stifling process in 2013, became a biblical calling card for people to go out and try different things all in the name of sneaker design.
"I think as a whole, customization has changed. A lot of these people now have to take it to the next level," Greg Salas explains. "For us, what we're doing now will probably piss a lot of people off. But we're taking it to a whole 'nother level."
The Don Corleone of footwear, Nike, also seems to understand how important this world has become. The introduction of the Nike iD program—a place where consumers can tinker with classic Nike designs—has become a staple of the company's online portfolio.
I guess you could say that's the first time Nike fully started to embrace this movement. 
Man, we've certainly come a long way from Marcus Jordan—son of Michael—calling out customs as being "fakes." To think we went from Turtle on Entourage begging for a pair of Fukijama's in 2006 to The Shoe Surgeon actually designing a custom pair for the movie is crazy.
"I think the acceptance of customs by the brands is awesome," says Mache. "In the past year, I've worked with some of the top sneaker brands, as well as many other major corporations—and that's something I would have never thought was possible five years ago." 
You'd think this magnetic ripple effect of customization would bubble up and burst as more people and entities getting involved. Mache doesn't agree. 
"If that were the case it would have happened already. [Laughs.] There's so many new guys who have picked up the craft that I look at is as inspiring."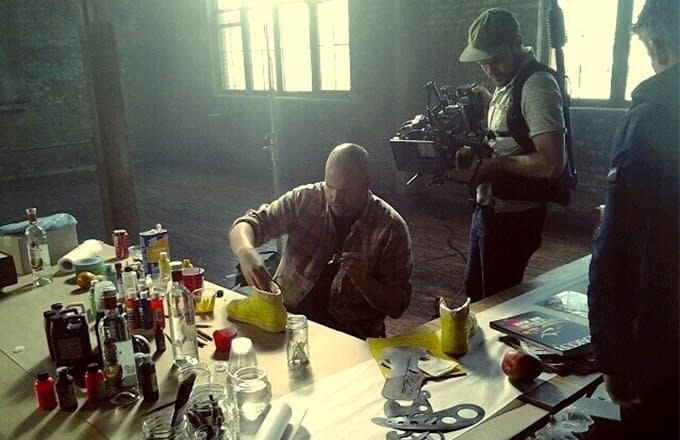 Competition is fuel for creativity and a longtime innovator like Mache understands this. He feels like the more people who buy a ticket and ride the train, the better this industry will become.
"The proverbial bar of customizations has been raised with artists pushing the creativity and methods."
Up to this point it's been all peaches, smiles, and glasses of Crystal. Despite those sentiments, like any profession, there are always going to be a group of haters waiting in the wings.
We asked Mache to illustrate the common hate he runs across. "The word hate is a pretty broad term these days. Some people hate on customs in general but sometimes my work just because they feel I'm destroying perceived grails to them and no matter what it is they'll hate it," he says. "Some just don't like the theme or artwork, but it comes with the territory. I take a lot of risks, some work and some don't."
It's genuinely hard to hate on pure, unfiltered craftsmanship. Even if you're not vibing with a concept, you have to appreciate the work that went behind it.
Sneakerheads aren't solely defined by how many rare kicks they have holed up in a closet anymore. It's about quality and materials, and different types of cuts. This is a new way of thinking. A refreshing plunge past the depths of sneaker bots.
"The future is definitely American made shoes," The Shoe Surgeon says. "Handmade shoes give hope to a craft that once was nearly dead in America is now being sparked backed up. Creating jobs and just a positive movement on creating things as a whole."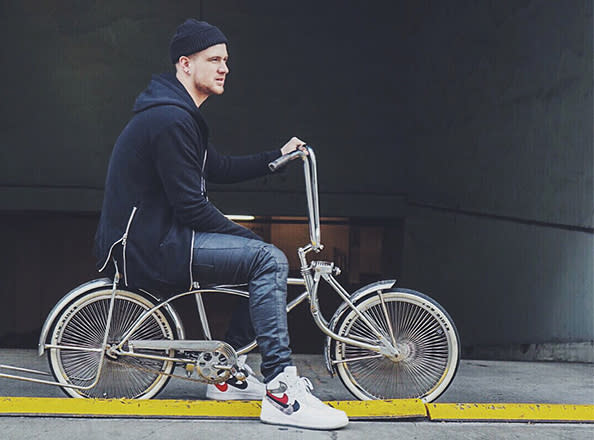 "I feel that there will be a split of technical shoe DIY and made-to-order footwear," says Salas. "Basically a technical DIY shoe would allow the consumer to take the 'shell' pattern and print their own graphics on their upper. Could be an abstract design to even something like printed wingtip-looking dress shoe."
Salas believes that his ilk shouldn't necessarily be deemed customizers. They actually are engineers because they "elevate the construction of sneakers." 
"At the end of the day, we still want our customers to open our box to be taken back by the quality of our craftsmanship and smell of natural leather," he explains.
Chambrone on the other hand, is more of a cobbler than customizer, applying old-school manufacturing techniques to today's most covetable kicks. That mindset led John Geiger to come knocking on his door in order to create the brain-melting "Misplaced Checks" line that has rocked 2015.
What all of these labels and titles means is that these are three names—amongst others—that are changing the way the public perceives kicks. It's no longer simply about brands and what they're putting out for the masses.
Sneaker culture is finally starting to become more about innovation and appreciate that exclusivity. There are now brands and people out here straight up gutting what you expect to see in a design capacity and coming up with unimaginable oil drums worth of flammable material.
Mache, Chambrone, and Salas deserve immense credit for the job they've done sculpting this world. Here's looking to the future and what each guy will do in order to shift the culture.