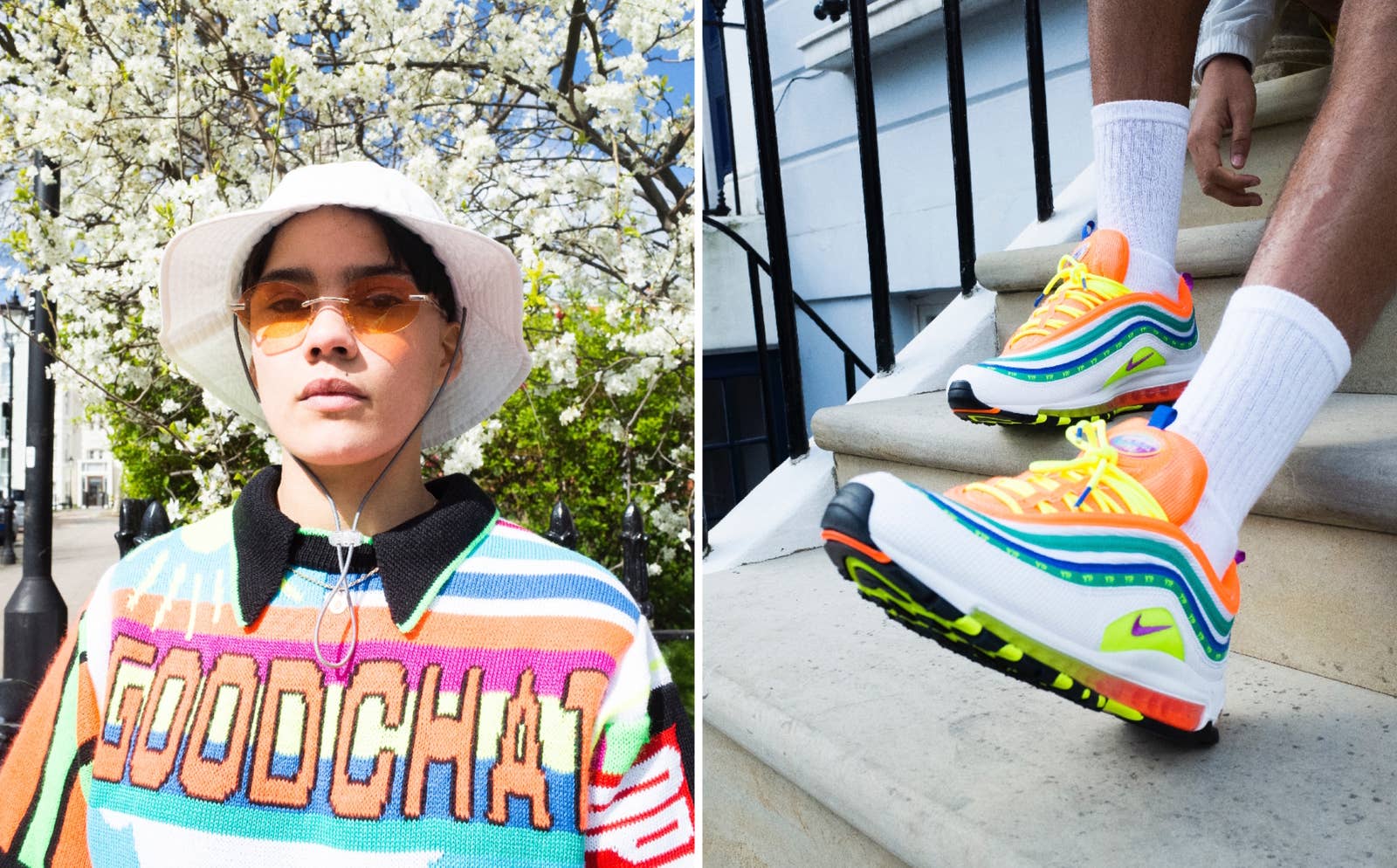 Last year, proud Londoner Jasmine Lasode beat hundreds of the city's new wave of creatives to be crowned the winner of Nike's On Air competition for 2018.
The competition saw locals dream up sneaker designs inspired by their community, with the winning designers invited to work alongside the brand to bring their sneaker sketches to life. Jasmine's summer-inspired creation has already been shown plenty of love, with the model recently worn by none other than LeBron James.
As Jasmine's design prepares to hit her city's streets, she breaks down the story behind her romance-inspired Air Max 97 'London Summer of Love'.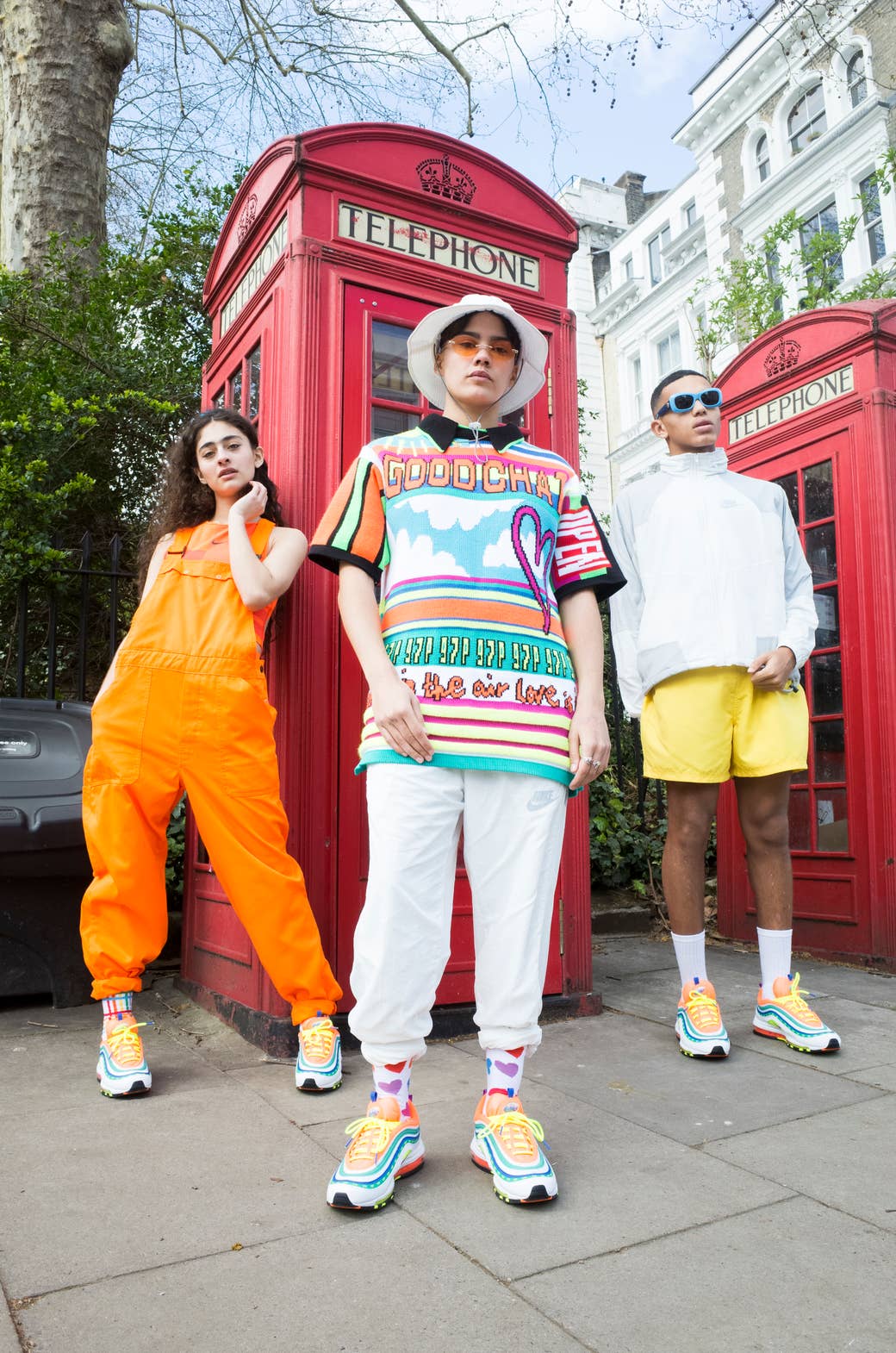 COMPLEX: So looking at this sneaker, the first thing to ask is what made you want to work with an Air Max 97 more than any other Air Max model?
Jasmine Lasode: I chose the Air Max 97 because it's such a legendary silhouette. Also the multiple panels on the shoe make it a nice shape to play around with using colour. I love colour so I wanted it to be bright and loud. It was also important to create a real summer vibe, with the colour palette definitely does. There are lots of small details on the shoe that make it personal...the shoe says "97p" all the way around, which is inspired by the vibrant price tags from corner shops. And on the back of the shoe it says "good chat", which represents my girlfriend – when we first met she saved her number in my phone as "Lauren good chat" and it is still saved like that two years later.
The shoe itself is inspired by the first date you and your girlfriend had. What happened on that first date?
Lauren and I didn't start with a plan, we just jumped on a tube headed to Primrose Hill, went in to a corner shop, grabbed some drinks and then sat at the top of the hill listening to music and watching the sun go down. A typical summer's evening in London.
What is it about Primrose Hill that means so much to you?
Primrose Hill has an amazing view; it is such an incredible place to see London from. It was always somewhere nice to hang out in summer, but now it has so much more meaning.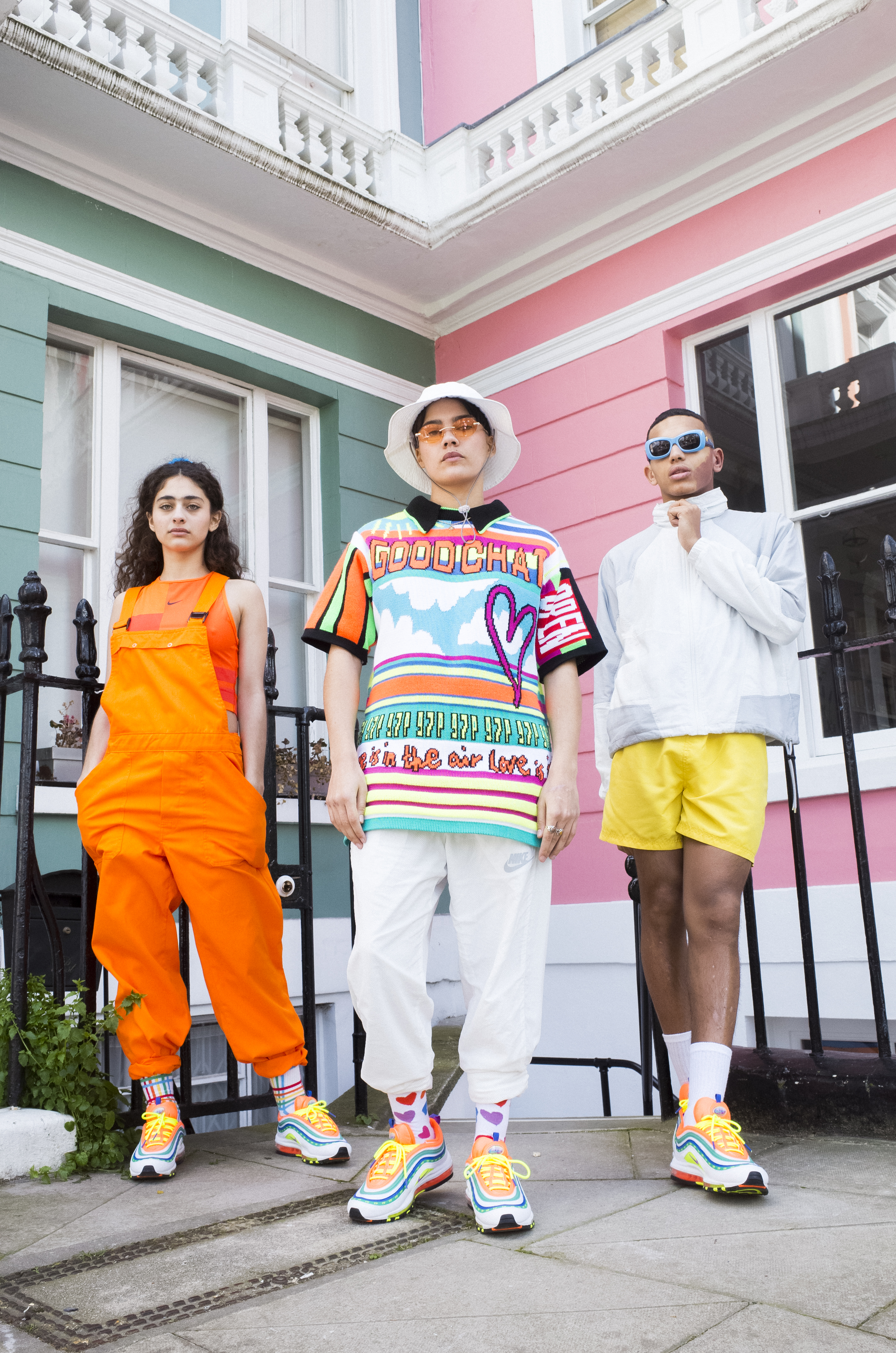 What was your partner's reaction to knowing that her impact on your life has been immortalized in this way?

She said to me she thinks it's amazing that I have taken an experience that could of just been my own, and instead made this shoe about us – so it's ours not just mine. I've given her something on a worldwide scale, which she can never forget. Not many people can say they created a shoe about their partner.
Being in this relationship has changed how I view a lot of things, I don't like to take life too seriously so it's nice to have someone to share that with. She's also a creative so bouncing ideas off each other is one of my favourite things to do. I run a lot of ideas by her because I've found someone who gets me creatively. She definitely brings out the better side of me. But being in love is such an amazing thing! Love makes the world go around and I'm very thankful to have found it.

What was behind your decision to get involved with Nike: On: Air?
I really didn't think too much into it, my mate sent me the application and I thought it would be fun to do something different, nothing to lose. I honestly didn't think it would become anything.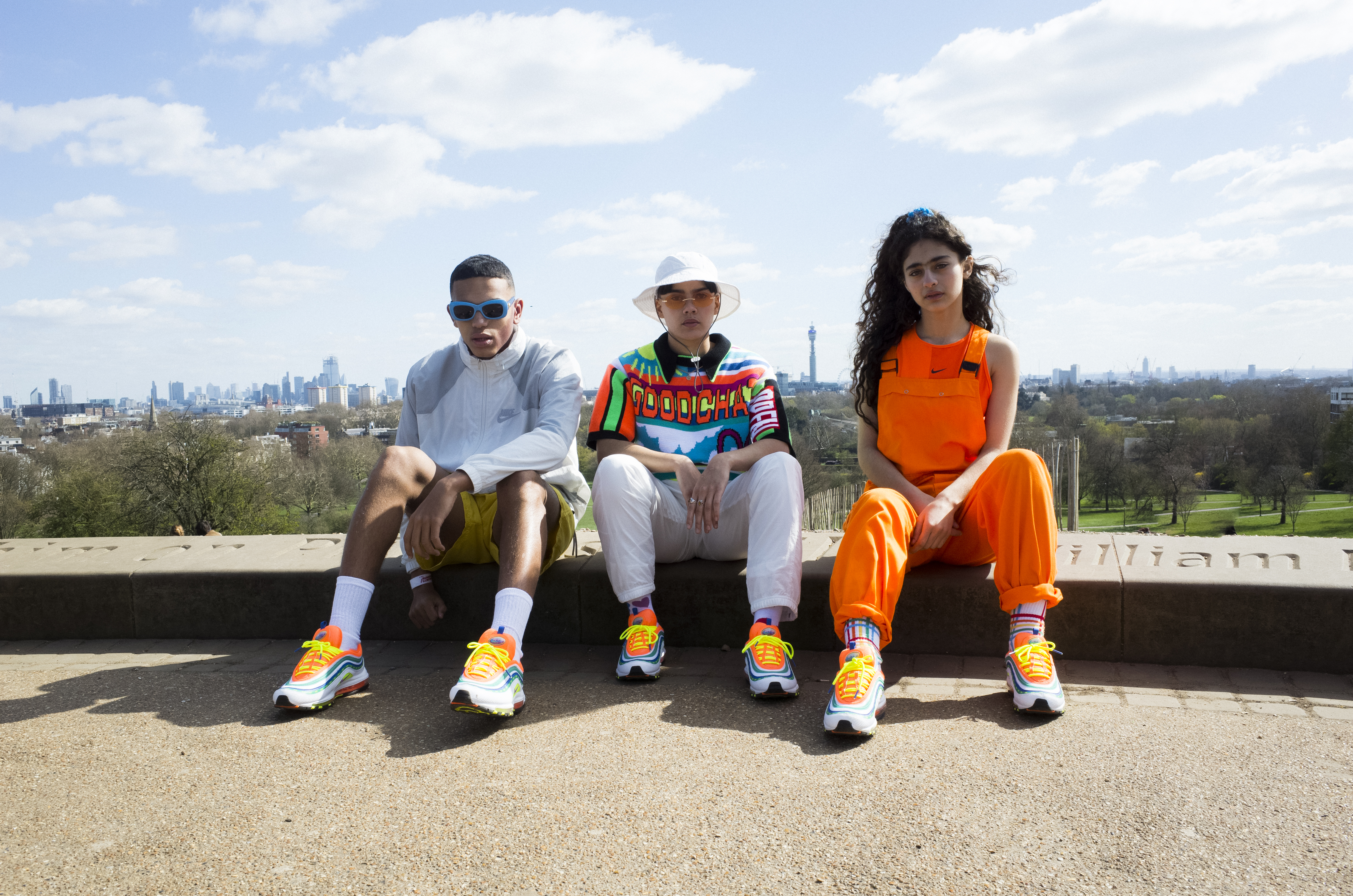 What have been some of the standout moments over the last year on your Nike: On Air journey?
Going to Portland is definitely one of the best experiences this past year. Meeting all of the other winners was really fun. I think some of the experiences in the past couple of weeks have been amazing too. I've collaborated with some really talented friends and Lauren on the campaign and in preparation for the launch. It's been special to share these moments with people I care about. 
How does it feel to see the sneaker in your hands after all this time?
It feels so good to see the final product! I can't believe it's here it's felt like life time waiting for the finished product. Having it on my foot and having people comment on them is the most surreal feeling.
How was it to see LeBron James rocking the shoe a couple of weeks back?
Speechless! The excitement when I first saw the shoes on him was unreal. I thought it was April Fools Day, but it was actually March 29th. Honestly, I can't describe it – one of the best athletes in the world wearing shoes I designed is a crazy feeling!
How do you think this experience will change your life moving forward?
Moving forward this experience has changed the way I view my work I have more confidence creating. I also now view trainers completely differently; I have a new appreciation for the design of footwear. It's made me even more determined to create my own work.
The Nike Air Max 97 'London Summer of Love' drops on April 13th. Visit nike.com for more information.