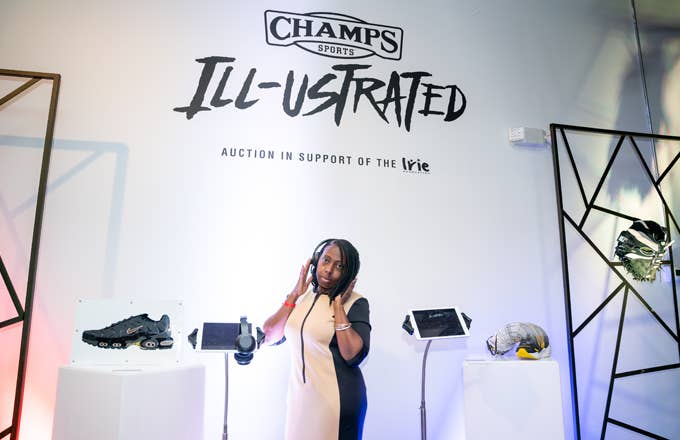 Kicking off the 17th edition of Art Basel Miami this past week, Champs Sports curated a sneaker gallery for visiting enthusiasts. Dubbed Ill-ustrated, the exhibition provided a first look at the new Nike "Home & Away" collection. The capsule celebrates renowned sneaker cities Miami, Houston, and Atlanta, with each city receiving its own "Home" and "Away" pack.
All three "Home" sneakers were on display at Basel, including the Miami Air Max 97 Plus in a South Beach inspired colorways, Atlanta's white and gold Air Force 1, and Houston's Air Max 95s with purple detailing.
Alongside the capsule, Champs Sports displayed three works of art inspired by each sneaker, crafted by natives of each city; Emilio Ramos of Miami, Melissa Mitchell of Atlanta, and  Donkee Boy of Houston. Ten more pieces were auctioned off to Basel attendees, with $5K in proceeds going to the Irie Foundation, a non-profit organization that provides cultural experiences for South Florida's at-risk youth.
Peep the photos below for a look at each piece. The Nike Home collection is available now in select Champs Sports stores and on champssports.com. The Nike Away collection launches 12/22