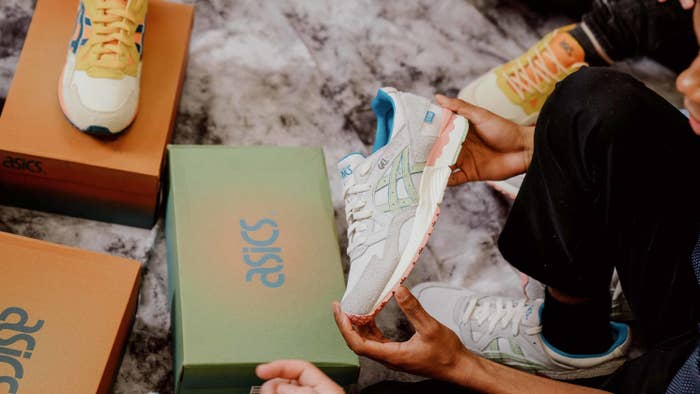 The Whitaker Group will roll out two special-edition Asics Gel-Lyte 5 designs this month that's designed with the help of Charlotte Lab School students.
During the Covid-19 pandemic, students at the aforementioned charter school participated in virtual learning about branding, creative, design, marketing, merchandising, and sales in the footwear industry hosted by The Whitaker Group and Asics. Through their trials and tribulations came this "Eternal Summer" Asics Gel-Lyte 5 collection shown here, with each colorway inspired by the summer break during the academic school year.
According to The Whitaker Group, the Charlotte Lab School students were also involved in every aspect of this sneaker including on the visual campaign to learning how to release the sneakers in their new in-school store and the color palette for the sneakers.
These "Eternal Summer" Asics Gel-Lyte 5 styles will be released on Dec. 17 at socialstatuspgh.com at 10 a.m. ET and at Social Status stores for $140 each. Each colorway will be limited to 1,500 pairs.