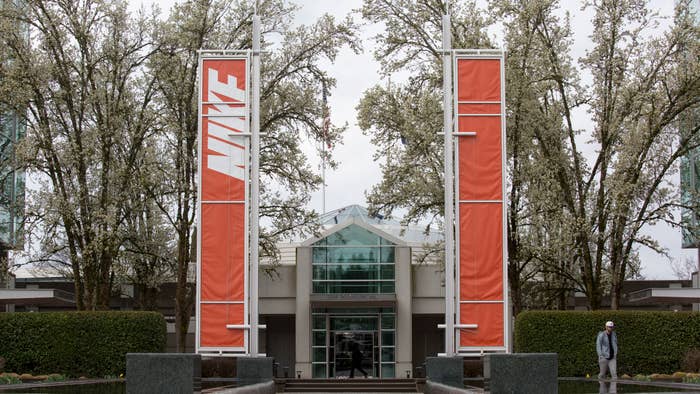 A former Nike marketing manager who is fully vaccinated has reportedly been fired by the sportswear brand for not complying with the brand's vaccine mandate.
According to reports from The Oregonian, Dex Briggs, a former marketing manager that worked at Nike's headquarters in Portland, Oregon was fired last month after declining to provide his COVID-19 vaccination info to a third-party verification company. Briggs told the outlet that he was willing to show his vaccine card to Nike but was wary about sharing that info with another company.
Per The Oregonian, Nike employees were required to submit their vaccination info to a third-party verification service, which allowed the outside company to access and share the info to confirm their immunization status.
"I have my vaccination card. I'm quite willing to show you that. But I'm not willing to give my personal information to this (outside) company, and any other company they want to share it with, without even telling me who they are," Briggs told The Oregonian.
Nike has had a vaccine mandate in place since October 2021 but it wasn't until Jan. 15 that the brand began firing unvaccinated employees who have not received a medical or religious exemption.
According to his LinkedIn profile, Briggs has been with the Swoosh since 1999 and during his tenure, he's held the management position of Global Sports Marketing Inventory Planning and Analytics at Nike.
The Oregonian also reported earlier this month that around 120 Nike employees have been voicing their objections to the mandates online, but it's unclear if fully-vaccinated employees like Briggs were included in the group.