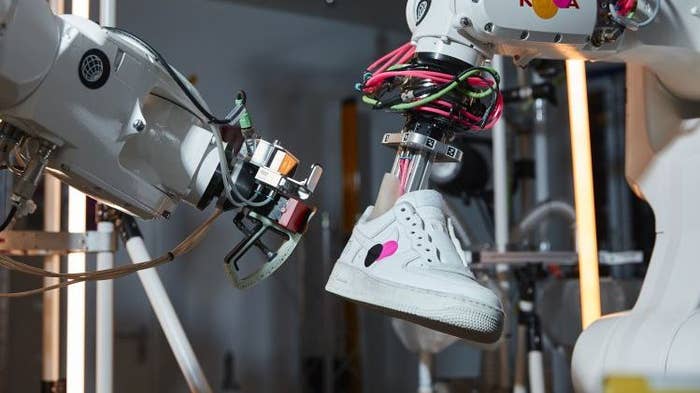 Nike just debuted its newest retail innovation this month with its Bot Initiated Longevity Lab (B.I.L.L.) robot shown here.
Nike's B.I.L.L. robot is part of the brand's ongoing environmentally friendly efforts, and its purpose is to extend the lifespan of worn sneakers. When a worn shoe is loaded onto B.I.L.L., a 3-D rendering is created and then the robot is able to locate areas on the shoe that need cleaning. Fans can then choose various patches to apply to the damaged areas of the shoe, while Nike Store employees will apply new liners and shoelaces. At the time of writing, B.I.L.L. is able to extend the life of Air Force 1s,Air Jordan 1s, Space Hippie 01s, and Dunks.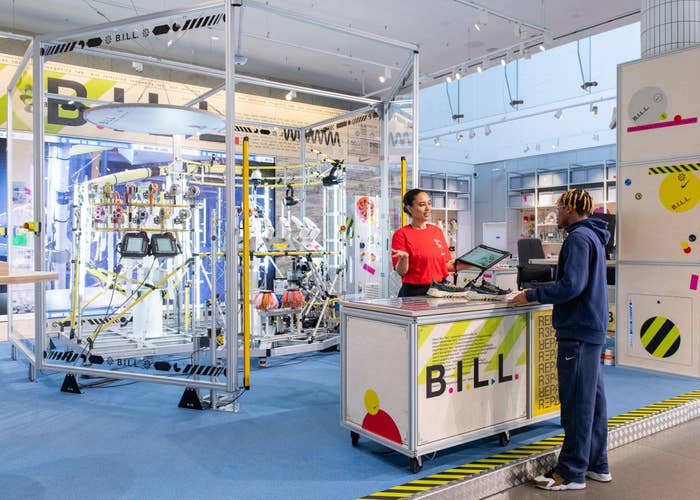 "The thing is, maintaining old product is deeply personal. People will go to great lengths to care for their favorite shoes. Repairing a product is a way to extend our memory with a product. We see B.I.L.L. as a tool for being able to do that." Noah Murphy-Reinhertz, the sustainability lead for Nike NXT, said. "Robots can do things that are tough to do by hand, but when we used robotics as part of a recycling technology, we still want the service to be personal."
As of now, Nike's B.I.L.L. robot is only available at Nike Town in London until the end of this month, but the service is expected to be featured at other Nike doors in the future.