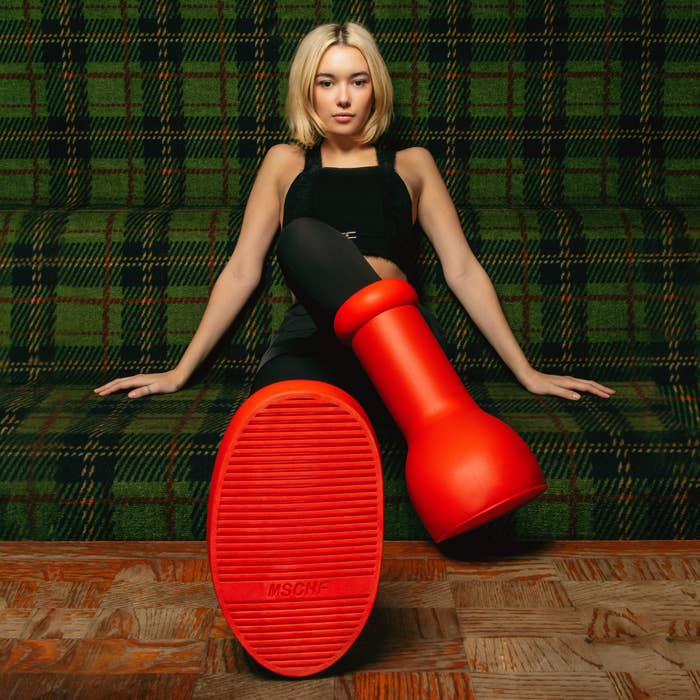 MSCHF, the Brooklyn-based art collective behind numerous controversial sneaker releases, is back with another viral drop.
Shown here is the MSCHF Big Red Boot releasing exclusively at mschf.com and on the MSCHF Sneakers app next week. The boots leaked over the weekend, and like past releases from MSCHF, they sent social media into a frenzy due to their unique design.
The silhouette appears to be inspired by the footwear worn by the protagonist in the classic manga Astro Boy, as well as the boots worn by Dora's monkey sidekick in Dora the Explorer. The upper of MSCHF's Big Red Boot is constructed almost entirely of a TPU shell, with EVA foam used for the ribbed outsole.
MSCHF's sneaker releases first caught the attention of fans with its custom "Jesus" Air Max 97 in 2019, followed by a "Satan" sequel and the latter of which earned them a lawsuit from Nike. Last year, MSCHF launched its own sneaker program that included releases like the Wavy Baby Shoe, the Gobstomper, and AC.1 boots.
MSCHF's Big Red Boots will be released on Feb. 16 at 11 a.m. ET at mschf.com and on the MSCHF Sneakers app for $350.