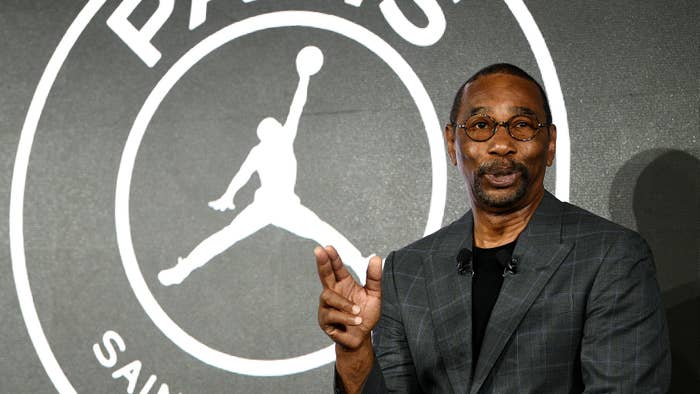 A past incident from when Larry Miller, the chairman of Jordan Brand, was an adolescent still haunts him to this very day. 
The story of Miller's hidden past was shared today in Sports Illustrated's cover story, and the in-depth piece detailed his experience growing up in West Philadelphia—including when he was incarcerated for killing a teenager in September 1965. The incident has been kept a secret for over 50 years, including his time previously working for Nike, Jordan Brand, and the Portland Trailblazers, for fear that it might ruin his reputation.
In addition to what was briefly shared in the cover story, Miller confirmed he's releasing a new book early next year titled JUMP: My Secret Journey from the Streets to the Boardroom. The book is co-written with his daughter Laila Lacy, which not only breaks down how he re-established himself into society, eventually climbing the ranks in Nike and Jordan Brand, but also provides an aspirational journey for formerly incarcerated individuals.
Miller was appointed the first chairman of the Jordan Brand Advisory Board in January 2019. Prior to his current role, he served as president of Jordan Brand in two separate instances including from 1997 to 2006, and from 2012 to December 2018. In between that, he worked for the Portland Trailblazers from 2007 to 2012 as the president of the organization.
Miller's JUMP: My Secret Journey from the Streets to the Boardroom book will go on sale starting on Jan. 18, 2022.