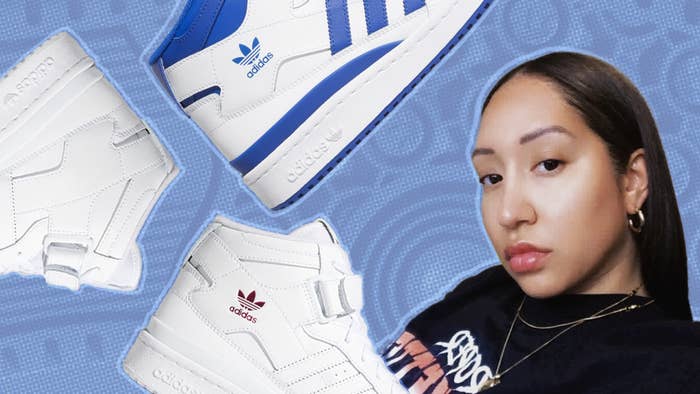 When the Adidas Forum made its debut back in 1984, it was one of the most expensive shoes on the market, with a staggering price tag of $100 (the equivalent spending power of $257 in 2021). Triple-digit price tags were not the norm at that time—competing models like Nike's Air Ships were serving up price tags of only $65, so yes, the flex was real if you had the Forums. Thirty-five years later, the greatness hasn't faded. Helping to usher in a new generation for the Forum is Simone Smyth, the category lead for statement collab footwear for Adidas Originals. 
Smyth, a London native, has occupied many spaces within the sneaker industry, from retail management to influencer marketing—she even took some time away from footwear to enjoy her first love of being an athlete, and became a personal trainer. Smyth eventually made her way back, entering the world of sales at Adidas, tackling new parts of the business, and building her skill set for the journey ahead of her.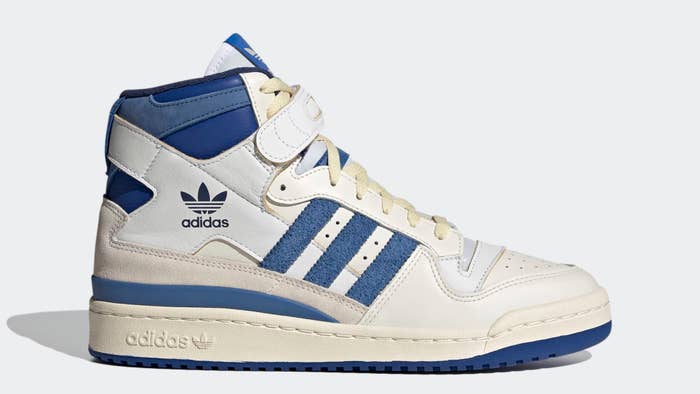 Smyth gave us her firsthand experience of breathing new life into the iconic Forum model and the path that led her to embark on such a significant moment in the brand's history and pave the way for female representation in a male-dominated arena. Below is our conversation with her, edited for length and clarity.
When did you first know you wanted to work in the sneaker industry?
[I remember it] like it was yesterday. I come from a sports background; I used to be an athlete. I got injured from track and field and realized, "OK, I'm not going to make it to the Olympics ever in my life, what am I going to do?" I wanted to get into a brand [and] be the person who scouted other athletes, because I studied anatomy and physiology and understood the mechanics needed for a sprinter. 
OK, so now I know to never challenge you to a race. I've always wanted to be a runner, but I don't have the attention span.
No, neither do I. And honestly, I hate distance running. I'm a sprinter by nature, so the longest distance I would ever do is 5K or 10K. I'm just used to hard and fast; it's just the way that I go. But if you want to do it, do it. Put on some shoes and then go out, and go where your mood takes you. I don't force myself to run every day. I'll go when I need to be in that mindset of running, playing my music, and just going at my own pace.

A good running fit probably doesn't hurt either. So fast forward, and you started working for Adidas. What has your journey been like since then?
After working for the Adidas London office in entertainment and influencer marketing, I left the business and went back to work at a friend's gym. I wrote a piece on [the] appropriation of sneaker culture by luxury brands [for]Crepe City magazine in 2016. Not long after that, Adidas came to me and offered me a sales role. I went into sales and learned the business side of buying and selling. That was where I grafted my skills around the whole business side of things, learned trade terms agreements, legal technicalities—all of that sort of stuff. 

I was very close with Gary Warnett, [he] and I had an incredible friendship for over a decade, and he passed away when I was working in sales. That is when I took over the project he was doing, his friends and family sneaker release for the Reebok Classic. It got more attention than I ever thought it would. I kind of went into autopilot on that project. At one stage, I didn't want to do it at all. A lot of people don't realize that it was the first time I think in history that three brands did a cross model pack to the same brief, so it came out with an Adidas shoe and a Nike shoe at the same time [in remembrance of Gary]. We actually reached a cross model path across three rival brands, and no one really picked up on it.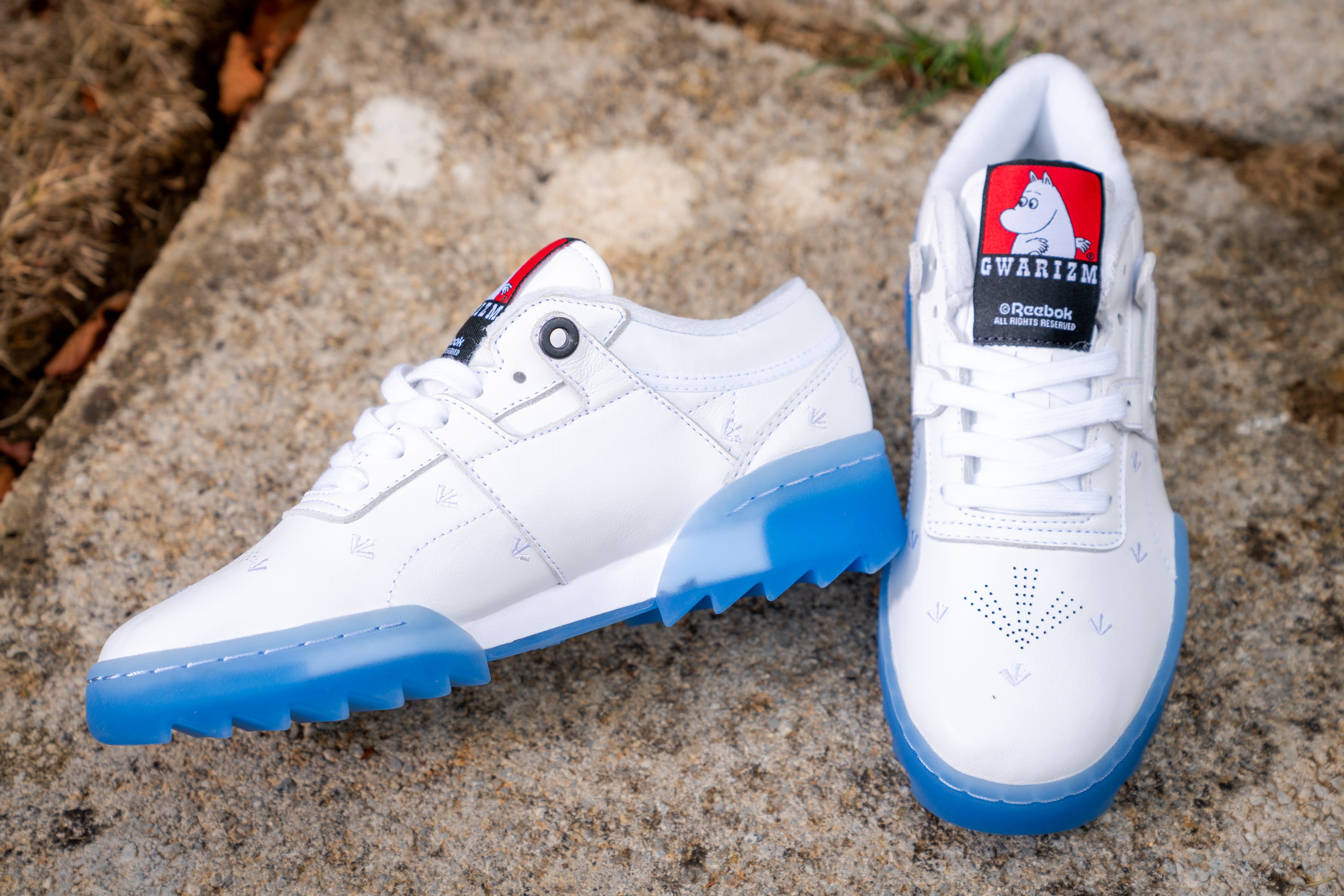 It's incredible you pulled it off and with no beef between the brands. Let's take it back: What is your first memory of the Adidas Forum?
Gary's article. And it's the irony, right? I mean, how ironic that he loved that shoe and wrote an article about it, and then I ended up managing it for Adidas.
Meant to be. 
Yeah, it is. I mean, his article is my best memory. Frank the Butcher's Forums are a memory for me. 
How do you feel the Forum impacted basketball in the 1980s?
The impact was that it was one of the most expensive basketball shoes of its time. Back in those days, it was pro basketball players or the guy who had the disposable income through whatever means to buy a shoe like that. It roots itself in the streets but also on the court.
The talk-to-me-nice-or-don't-talk-to-me-at-all type of shoe. What is the first step when bringing a sneaker like that back from the archives?
It's making sure that you have that shoe in front of you when the initial conversation starts—looking at the different design elements of that shoe and how it can translate [to be] digestible for today's consumer.
It's crazy when you think of the evolution of sneakers. Sometimes I look at old silhouettes like, How did they play ball in these? I can barely get down the block, and yet athletes were crossing people over. It says a lot about the athleticism at that time, to be able to just fight through that. 
Like when Kanye brought out the Calabasas, which was originally the Jet. That was seen as the '80s rival to the Reebok Freestyle. I was like, How are you training in that shoe? It's full leather.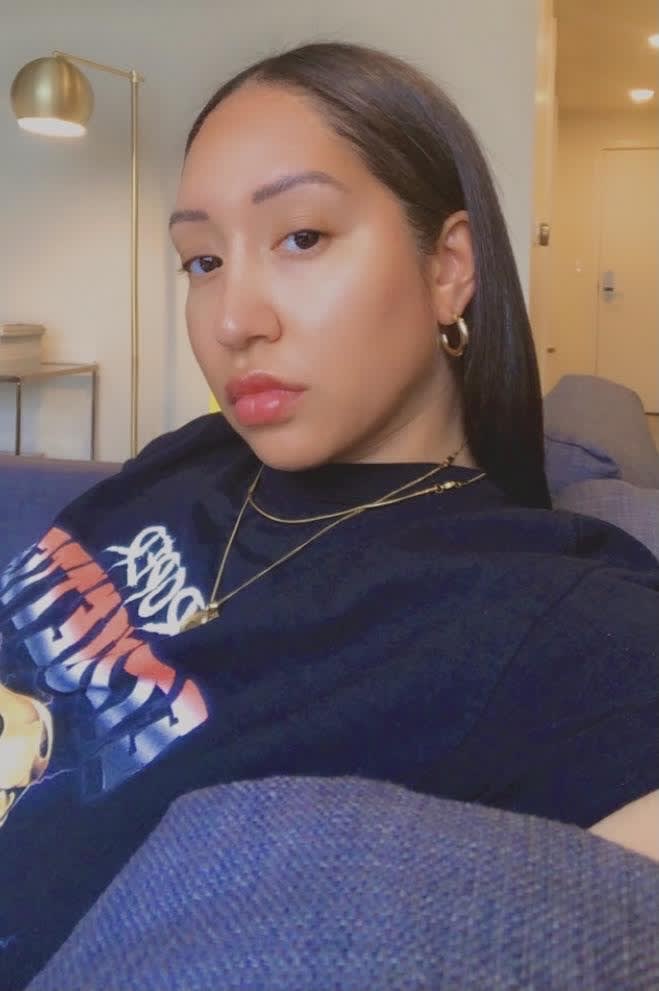 It makes my feet hurt just thinking about it [Laughs.] What was the creative process like for the Forum?
A lot of the Forum was created with us in isolation, and it was a case of dropping samples around peoples' houses. You're looking at everything digitally, and colors don't come out the same. I think it [speaks] to the resilience of the Forum itself. The shoe is tough, and we all had to be tough to create it in the circumstances we did.
No easy feat. What do you look to for inspiration when creating?
One of the things that I look at coming into product marketing or footwear creation is my background: It's from the street. I grew up in the hood in London, and I always look at that and value subcultures and movements from the grassroots. I don't look at the shiny celebrity; I'm looking at where the trends come from. I'm looking to connect with that world when I'm creating footwear. That, to me, is so important, because it's usually missed.
You have to have respect for the OGs. When Jacques Chassaing created the Forum in the 1980s, he had a money-is-no-object strategy. Did you take the same approach? 
Oh, my God, it's the approach I took when it came to costing, money was out the window. I'm the worst when it comes to costing. I'm not one of those people [who] like to limit designs, creatives should be able to design as they see fit. The Forum is one of the most complex shoes because there are 32 panels on the upper, so it's a very expensive shoe.
Knowing that it had to be commercially viable, how far were you able to push the shoe in terms of quality?
You'd be surprised at what's coming. We've pushed the Forum. I worked on the Forum for three seasons, and we've done [various] evolutions of the shoe. We know that the consumer wants to see different things season to season, but nothing too radical. The DNA of the Forum should never, ever be lost. You'll still see it in some of the iterations that we've worked on for future seasons. We've pushed it very, very slightly—you'll see how it changes over time. I don't want to give too much away, but we have played with it. There's some fun and exciting stuff coming.
Say less. So why the Forum now?
We've seen some great things come into fruition from the brand, from the Rivalry to the success on the Top Ten. This felt like the right time to do a well-respected basketball shoe, bringing it back to life in a way that respects and honors its history while playing around with what it could mean today.
Timing really is everything. From the three seasons you worked on with Adidas, what has been your favorite moment?
I think factory travel. It's a tough process because the days are so long—you're working pretty much seven days a week over in China, and it gets to a stage where you're delirious. You're spending all day in a factory, sorting pullovers throughout the day. You're nose to the grindstone. I often joke with my friends, we see stuff come out, and I'm like, "Oh, my God, I remember how sleep deprived I was working on this shoe," and then you see everyone enjoying it. It's such an amazing honor to see the first iteration sell out. It's something that I didn't even think of at the time because you just go, go, go and work. It's nice to see everyone enjoy it.