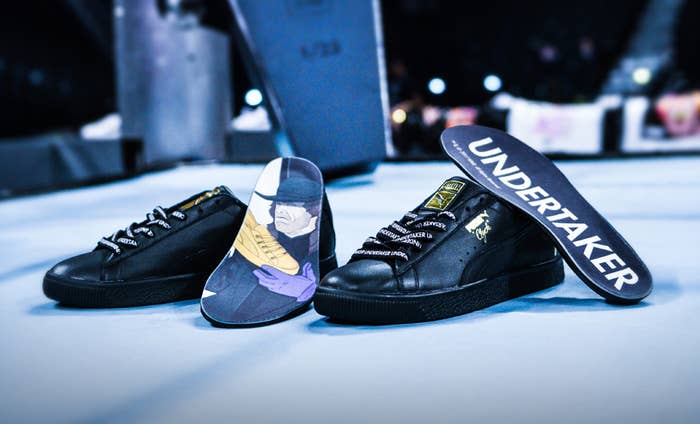 Puma is testing just how much WWE fans are willing to spend on sneakers with a special WrestleMania collaboration created with Foot Locker. There will be just 23 pairs available for the most premium part of the pack, the black Puma Clyde, which will be sold exclusively in Orlando for $499. The shoes, timed to coincide with WrestleMania 33, come with Undertaker imagery and a sneaker casket.
For less wealthy wrestling devotees there are WWE-inspired pairs in white retailing for $199 and Puma shirts for $45.
The Puma x WWE x Foot Locker pack will launch at 33 select Puma Lab Foot Locker locations across the U.S. on Saturday, April 1. More detailed release info is available via Foot Locker here.
Puma first hinted at the release of this collection, which is curated by Peter Rosenberg, over the weekend.
"I've been a fan of WWE forever and am also an avid sneakerhead, so having the opportunity to curate this line exclusively for Foot Locker is incredibly special," Rosenberg said via press release. "WWE has an amazing following and sneaker culture just keeps growing; I know this product will get a crazy response from that community."