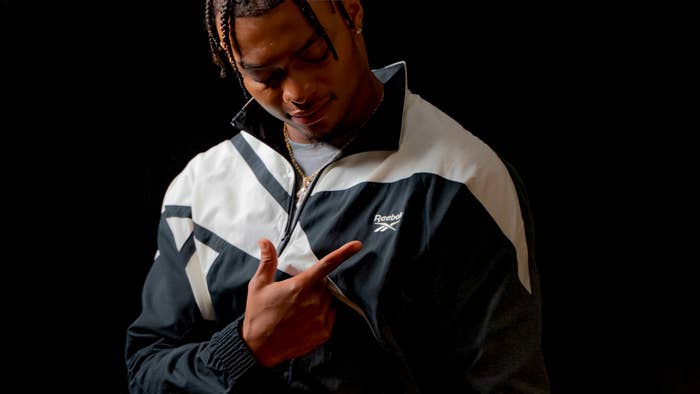 Reebok announced today its signing of Chicago Bears quarterback Justin Fields, the 24-year-old phenom who's already broken franchise and NFL records during his two seasons in the league.
"Qualities like his big energy and bold risk-taking mentality have always stood out to us," says Reebok CEO Todd Krinsky. "On the field, Justin is doing things differently and redefining the role of quarterback. Similarly, we like to think of ourselves as a brand who is doing things differently, zigging where other brands are zagging."
News of the deal was first reported by Bears beat writer Daniel Greenberg in June.
The long-term partnership between Fields and Reebok represents a new strategy for the sneaker company, which is intent on re-establishing a presence in team sports and broadening its roster of athlete endorsers.
"Reebok's re-emergence in team sports is a massive investment for the brand and has been something we immediately wanted to get to work on once we were purchased by Authentic Brands Group," says Krinsky. "It's something we've wanted to do as a brand for a long time, and now under new ownership, are finally given the runway to be able to make a serious play at it."
The conversations between Reebok and Fields began in February 2023, but the Bears quarterback has a history with the brand that goes back well beyond that. During his adolescence in the 2000s, Reebok became the official apparel licensee for the NFL, its gear dominating the pro football from 2002 to 2012.
"I grew up watching the NFL, so just seeing them in the league and kind of being the brand of the NFL back then was definitely cool to see," Fields says. "Definitely used to rock Reebok back in the day, I would say since five or six years old, so pretty young age."
Growing up, he says, he wore the signature Reebok shoes of NBA superstars Allen Iverson and Shaq. Since signing to the brand, he's had conversations with both of them.
Fields was originally meant to travel to Reebok's headquarters in Boston for the initial pitch, but the brand ended up coming to him in Chicago. There, they laid out in a presentation what Reebok could do with Fields.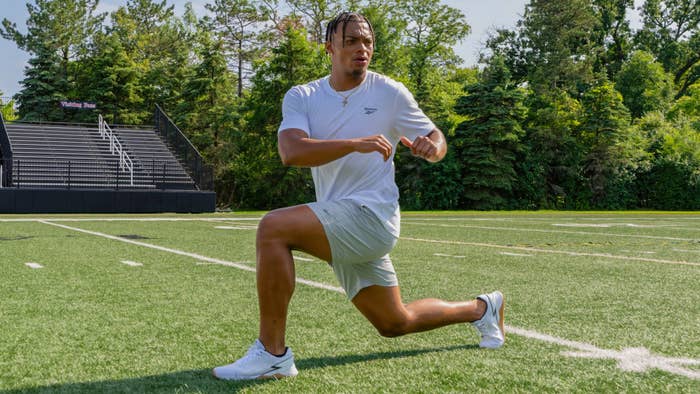 "One thing about me as a person, I'm a good people reader," says Fields. "So when I was talking to them, communicating with them, I can feel how committed they were to getting back into the sports world, getting back into the football world."
It's been years since Reebok was a real contender in the business of football footwear. Its relatively small investment in team sports over the last decade can be attributed partly to Reebok being owned by Adidas, and the awkward relationship where the parent company was also a competitor.
In the wake of Adidas selling Reebok to ABG for $2.5 billion in 2021, CEO Krinsky believes Reebok can again be serious about outfitting a wider range of athletes with performance footwear. So when will Fields lead his team in a new pair of Reebok cleats?
"Creating new product innovations is not something that happens at the flip of a switch, and it's something we want to ensure we are really getting right," Krinsky says, "but I can confirm on-field product will be something we're excited to be able to offer in the future as we continue to build and execute against our strategy."
So Fields won't benefit from that immediately and will wear Adidas cleats in games for now, but he's been training in pairs from Reebok's Nano line. He's also testing out a new running sneaker technology for Reebok and looking forward to giving the brand feedback on potential future projects bearing his name.
"They said that I would have some input on the design," Fields says, "and they would basically want to do what I wanted to do."