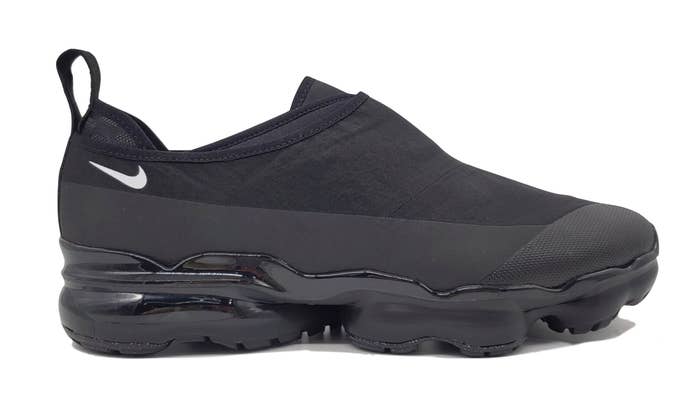 Nike's latest version of the VaporMax is a moc-style sneaker called the VaporMax Roam that's slated to arrive in the brand's holiday season '23 range, according to an internal Nike document viewed by Complex. The VaporMax Roam has a woven shroud on its upper, an inner bootie, no-sew overlays meant to protect the wearer from harsh weather, and a matte finish on its Air bag.
Nike did not respond to a request for comment on the upcoming sneaker.
The VaporMax Roam, or the VaporMax Moc Roam, will be available in extended sizing at $220 and arrive first in the blacked-out colorway (style code DZ7273-001) shown here and a light grey colorway (DZ7273-100). The VaporMax Roam will be exclusive to Nike's SNKRS app and its neighborhood retailers when it launches later this year.
The specifics around the shoe—its name and window of launch—are subject to change, as Nike will often tweak its plans for a sneaker ahead of its rollout.

The original Nike Air VaporMax sneaker released in 2017. Since then, Nike has continued to use the VaporMax sole on a variety of spin-off styles, among them the VaporMax Moc, VaporMax Plus, and VaporMax Evo.