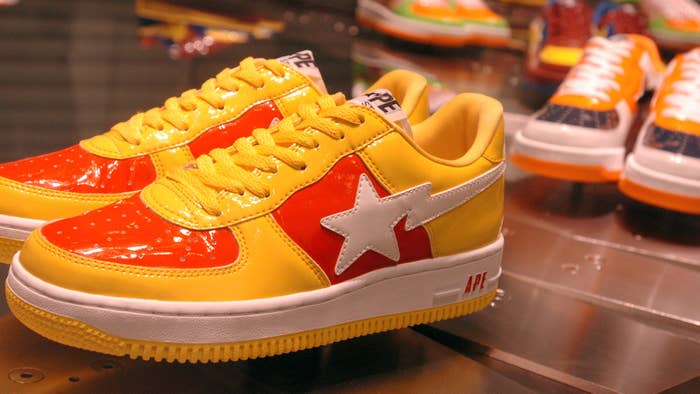 Why hasn't Nike sued Bape? The question lingered for years, popping up in discussions about intellectual property ownership in footwear and as a defense employed by designers who earned lawsuits from Nike for copying its most recognizable silhouettes.
A Bathing Ape—Bape for short—was founded in Japan in 1993 and emerged in the US 10 years later. Its hoodies and sneakers, impossibly colorful pieces that announced a new era in streetwear at the turn of the millennium, became status symbols in hip-hop.
Bape's biggest shoe, the Bape Sta, was popular in part for its garish looks—the most desirable pairs wore uppers of shiny patent leather in shades like candy pink or tropical yellow—but also for its shape, which conspicuously riffed on the Nike Air Force 1. The Bape shoe is a copy of the Nike model, one that rips the Swoosh off the side and replaces it with a cartoony shooting star.
How did Bape get away with it? Years ago, posters on sneaker forums wondered if Bape had quietly struck a deal with Nike.
Bape founder Tomoaki Nagao, better known as Nigo, told Complex in 2008 that he was impervious to the online chatter about him taking so liberally from Nike. Ironically, he was engaged in his own battles against lookalikes.
"I never read blogs," Nigo said. "So, I don't even hear the criticism about us doing Nike take-offs. I'd like to say that other brands doing Bape knockoffs shows that the brand is recognized and desired. But in reality, it's really annoying to have to deal with it."
Bape's most famous sneakers waned in popularity at the end of the 2000s; their shape shifted to look less like the Air Force 1 in 2010s; and then, in the 2020s, they seemed set for a resurgence. Through the decades, Bape ducked litigation from Nike, even as the sneaker company became more aggressive about pursuing knockoff designers. 
Bape's good luck expired this week. On Wednesday, Nike filed a lawsuit against the streetwear brand in New York district court accusing Bape of trademark infringement and false designation of origin. "Bape's current footwear business revolves around copying Nike's iconic designs," the lawsuit reads. Nike's complaint highlights the abundant similarities between Bape designs like the Bape Sta, the Sk8 Sta, and the Court Sta and their corresponding Nike inspirations—the Air Force 1, Dunk Low, and the Jordan 1, respectively.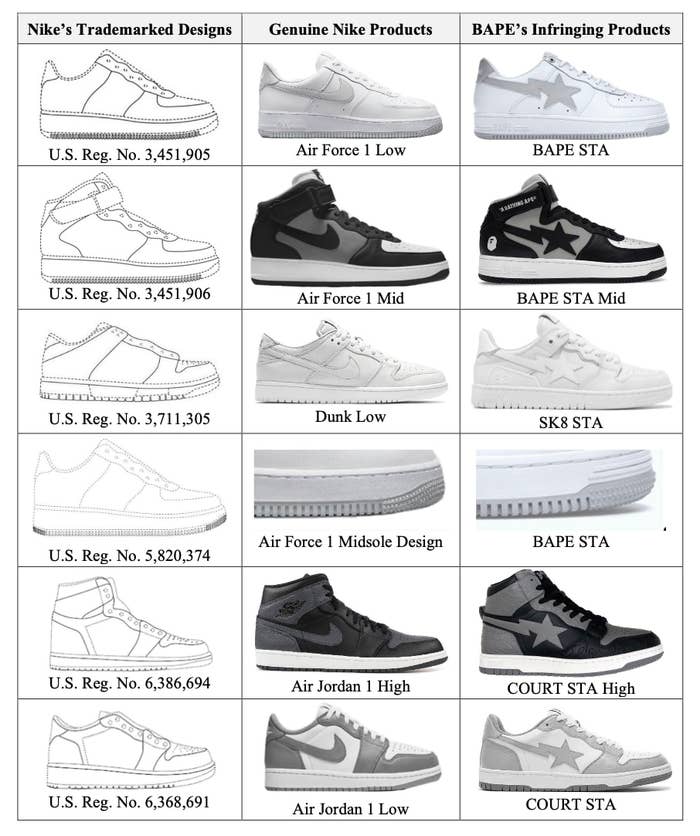 Bape did not respond to a request for comment.
The lawsuit explains Nike's long delay in pursuing legal action by saying that before 2021, the amount of sneakers Bape sold in the US was insignificant. Nike's lawyers say that starting in 2021, Bape scaled up its footwear business and began to sell even more "copies of iconic Nike designs." This escalation, Nike says, forced the lawsuit.
Nike lawyers say that Bape's sneakers have created confusion in the marketplace and that consumers could falsely associate its products with Nikes. In a warning letter to Bape in August 2022, Nike claimed that a recent collaboration between Bape and Marvel was likely to create an "erroneous association" between Bape's shoes, Disney, Marvel, and Nike.
But those who sold Bape Stas during the shoe's cultural zenith in the 2000s didn't encounter regular misconceptions about the footwear's origin. Bape's SoHo store in New York City, which opened in December 2004, was a destination—you strategized, saved money, and planned for how long you might have to wait in line. If you were paying hundreds of dollars for a pair of the Bape Stas sitting on the mirrored conveyor belt inside, it meant you'd researched the shoes beforehand.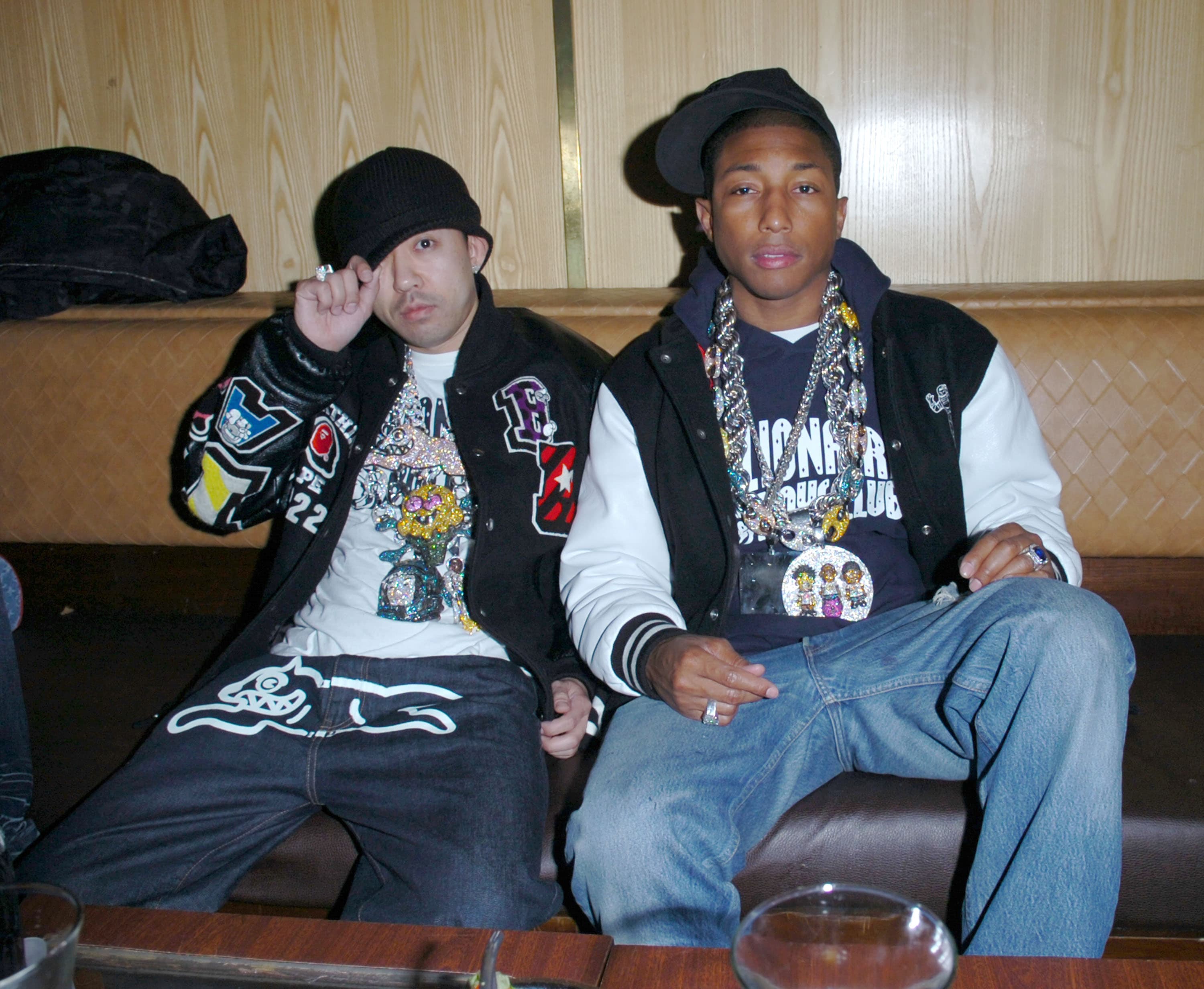 A stray tourist or ignorant parent might have confused the shoes for Nikes, store associates say, but the core audience knew what they were getting.
"The Bape Stas had a certain sauce you couldn't get from a Nike sneaker—the drip you can't replicate" says Frendy Lemorin, who worked the sneaker section at Bape in SoHo starting in 2006. "Obviously the sneakers were heavily inspired by the Oregon label, but Bape Stas had a soul of its own."
Pharrell, who's collaborated with Nigo over the years, was a fixture at the Bape store in New York. Kid Cudi worked there before his music career took off. (Soulja Boy got him some Bathing Apes, but neither his sneakers nor his connection to the brand were official.)
"It was a fucking madhouse in there," says Lemorin. "I'm telling you, the store was like a club that had a celebrity appearance in there every single day."
He remembers that the store was selling anywhere from 80 to 100 pairs of sneakers a week in that era. Nigo later said that from 2006 to 2007, the annual sales for Bape's parent company reached $63 million.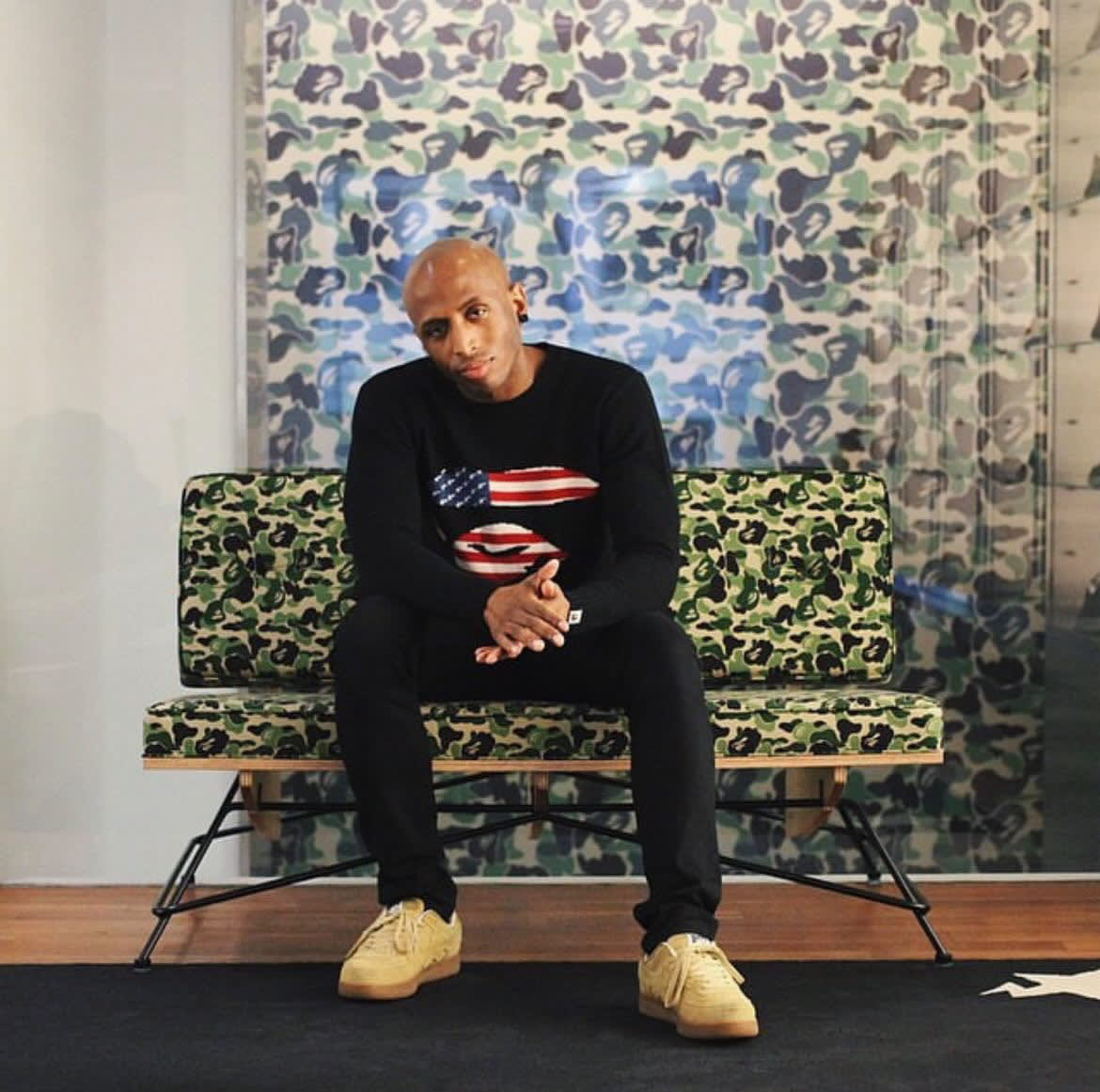 Bape Stas were around $200 per pair at retail in the mid 2000s; Air Force 1s at the time usually topped out at $90. The Bape Sta was alluring as a flashier alternative, available in colors bolder than what Nike made on the Air Force 1 back then. Bape's sneaker seemed to create a feedback loop—eventually, Nike began releasing its own shiny Air Force 1s in pastel colors.
"That magic was also inspo for these other brands, and they respected that," says Gabriel Acevedo, who worked at Bape's SoHo store starting in 2006.
He remembers Nike employees coming into the store and asking Bape associates to set aside pairs of their more limited sneakers in exchange for a return favor when a coveted pair of Nikes was releasing.
"Them being at Nike is what they would use in hopes that you would consider holding down that item they wanted," says Acevedo.
An old manager of the Bape store in New York says that Nike execs would sometimes come into the SoHo boutique. Workers would indicate in whispers to each other who the visitors were, but there was no sense of fear. There was no palpable anticipation of legal action.
"We felt we were untouchable," the former Bape manager says. "We knew Nike employees were there watching."
Though the Nike lawsuit portrays Bape's footwear business in the 2000s as minimal, the Oregon sneaker company's designers at the highest level were aware of the Bape Sta. Complex asked Tinker Hatfield, the legendary Nike designer responsible for countless classic Air Jordan and Air Max models, about the Bape shoes in 2008.
"It's certainly a form of flattery," Hatfield said. "I feel in some ways, though, in the long run, it's possibly hurting athletic footwear. I think we're having more trouble promoting new performance designs than we have in the past. There are all these remakes, and people are digging the remakes because they can actually participate in the remaking."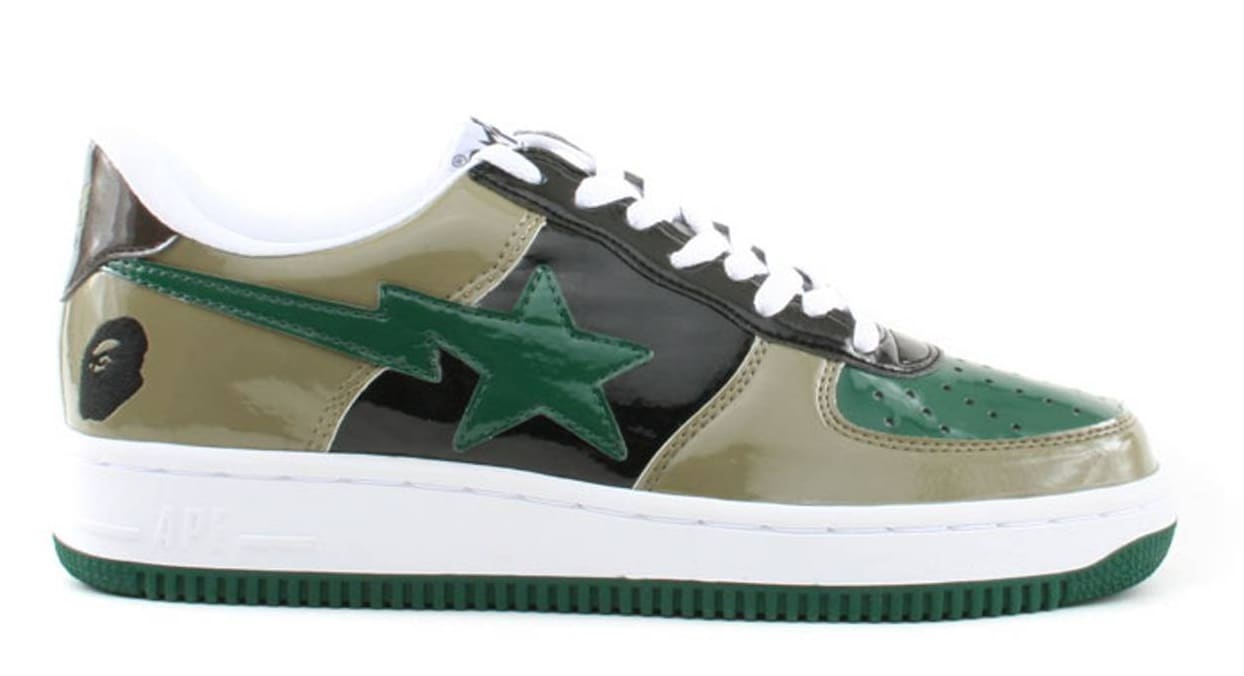 That same year, Nike registered a trademark for the Air Force 1 to protect its trade dress, which is the physical appearance of a design. The Air Force 1 first released in 1982 and had consistently been on shelves in the years since as a retro model, but Nike couldn't enforce its ownership of the nonfunctional, visual aspects of the design until 2008.
The timeline presented in Nike's complaint suggests that the 2008 trademark could have been secured to prepare for a legal battle against Bape. The lawsuit says that in 2009, Nike met with Bape to address the Bape Sta's similarities to the Air Force 1.
That such a meeting happened was never made public until this week. At the retail level, Bape employees remember rumblings of a confrontation with Nike back then, but never saw concrete evidence.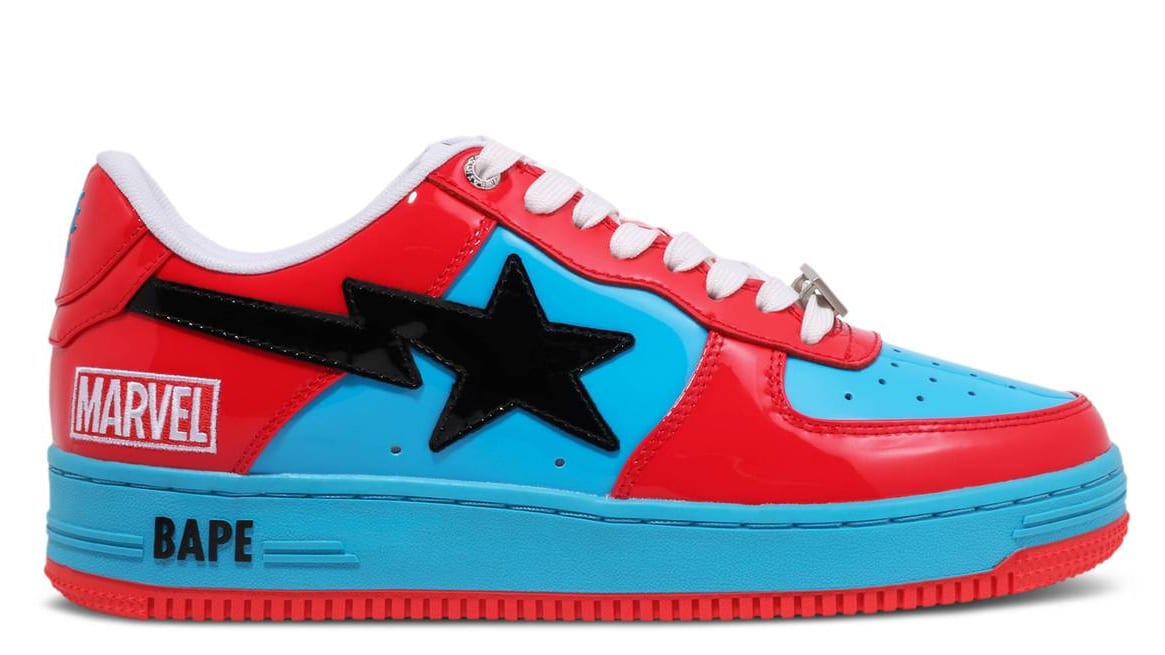 The 2009 meeting happened after Bape had for years been expanding its retail operation in the US, which by then included stores in New York and Los Angeles, along with an online store.
"Following the meeting," Nike's lawyers say in the suit, "Bape significantly and materially diminished its US activities."
Nike's attention paid to Bape has fluctuated based on the label's presence in the US, where Nike is best suited to defend its designs. The lawsuit names USAPE LLC in New York as the defendant. (Michael Jordan, whose namesake Jordan Brand is owned by Nike, was embroiled in a lawsuit against Chinese Air Jordan ripoff brand Qiaodan Sports for nearly 10 years.)
That Bape's business in the US slowed in the 2010s appears to have staved off Nike. Bape's Los Angeles store closed in 2010, followed by the SoHo store the next year. In 2011, Hong Kong fashion conglomerate I.T purchased 90 percent of Bape parent company Nowhere Co. for just $2.8 million. In an interview that year with WWD, Nigo, who denied that his company was in dire financial straits, said that Bape grew too big for him to manage.
"Basically, I can't do business," the designer said. "I'm not suited for it. I wish I had had a partner on the business side from the beginning."
Nigo officially stepped down from Bape in 2013. In the ensuing decade, Nike says, Bape shifted its business to focus on China and Taiwan.
The brand redesigned the Bape Sta in 2016, introducing a new version of the shoe that looked less like the Air Force 1. Many assumed the changes were made to avoid legal issues. For Bape fans, that version of the Bape Sta is a low point, as evidenced by the comments on articles accompanying its rollout.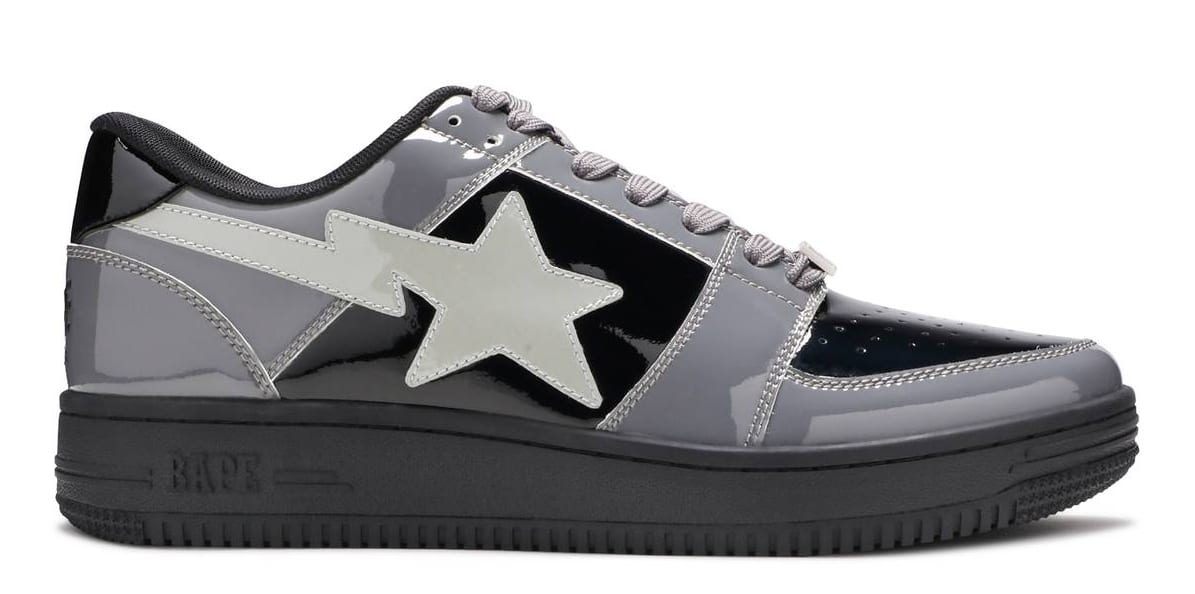 "I can't stand those," says Jesse Pulitano, a collector and reseller who bought his first Bape item in 2007.
The Bape Sta silhouette from the second half of the 2010s breaks up the paneling at the heel and toe, adding extra sections and stitching that wasn't on the original Bape Sta, or the Air Force 1. It also has another line running across the midsole. For Pulitano, the model is a reminder that Bape's footwear remixes are better than its original creations.
"When left to themselves, Bape honestly doesn't make good shoes," he says. "When they steal, they do sometimes enhance old silhouettes, though."
Bape eventually reverted in 2021, when it began to release another version of the Bape Sta silhouette, this one more similar to the original Bape Stas from the 2000s and their antecedent, the Air Force 1. The Nike lawsuit describes this sneaker—along with Bape's release of other styles based on popular Nikes—as a turning point.
"After years of de minimis and sporadic sales of infringing footwear," the lawsuit reads, "Bape drastically increased its infringement of Nike's trademarks."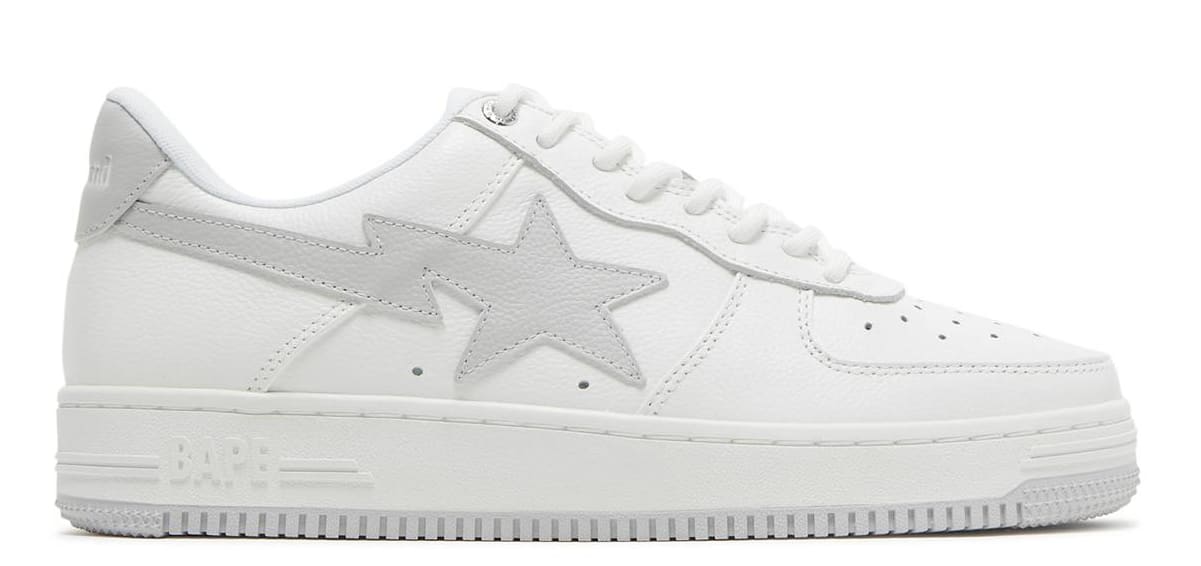 Bape's business in the US was by this point renewed—the brand now has stores in New York City, Los Angeles, and Miami. An investor announced plans in 2021 to accelerate Bape's global growth, including in the US.
For Nike, Bape's sneakers finally became significant enough to warrant a full-on lawsuit—the Bape Sta looked suspiciously like the Air Force 1 again, Bape was selling a bigger range of Nike-looking shoes than ever before, and more expansion was coming.
Nike's complaint against Bape comes after a string of similar lawsuits it's brought against bootleg sneaker makers in the past three years. When a whole wave of independent designers cranking out their own obvious copies of the Dunk and Air Jordan 1 emerged at the beginning of the 2020s, Nike sought to swat them down.
While Nike has sued all the most successful designers of these kinds of shoes—John Geiger, Kool Kiy, Warren Lotas—it has not exactly been victorious. The lawsuits against Geiger and Lotas were settled, and those designers have still been allowed to make their sneakers, albeit with modifications that further distance them from the Nikes they're based on. The action against Kool Kiy is still pending. 
Bape, a hallowed brand that contributed greatly to the foundation of streetwear, is the biggest opponent Nike has yet faced in a fight like this. It doesn't have the stigma that younger brands doing Nike homages do—it has long since earned a place in the culture of collectible shoes. And unlike many defendants in suits brought by Nike, it has the resources to fight back.
Bape may have been able to elude Nike in its infancy, but the threat sneakers like the Bape Sta now pose is too big to ignore, Nike says. Plus, the glut of other shoes aping Nike's most cherished retros suggests that the trend has yet to fully ebb.
For this reason, Pulitano, the Bape collector, was not surprised by the lawsuit.
"I think it would have been surprising before this bootleg sneaker era, but I'm not surprised anymore," he says. "It was more surprising that they were able to do it for so long."