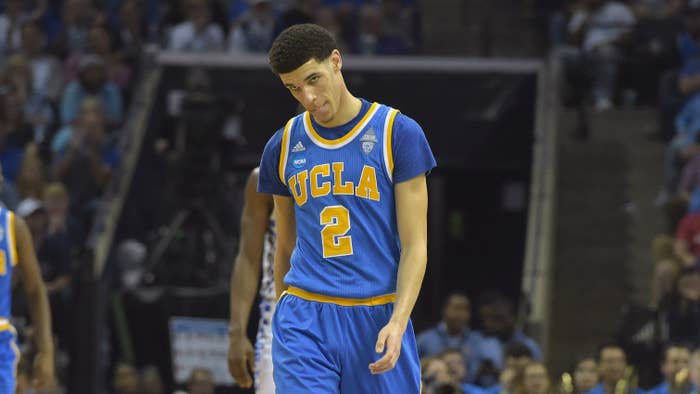 Rarely has an NBA rookie sneaker contract garnered as much buzz as that of Lonzo Ball, the projected first-round pick out of UCLA. Yes, part of that is because of his immense on-court talent, but much of it can be attributed to the huge demands of his father LaVar Ball, who said at one point that he wanted a $1 billion package deal for all three of his sons. Those demands haven't exactly been met—on Friday, ESPN reported that Adidas, Nike, and Under Armour all turned down deals with Lonzo Ball. (Presumably that has something to do with LaVar's request that one of these companies license his Big Baller Brand.)
What options are left for Lonzo? Which sneaker brand will be willing to work with him? Saucony joked about a contract on social media, but the brand isn't in the business of making basketball sneakers anymore, and confirmed with Sole Collector that it's not interested in such a partnership. Skechers was also jokingly brought up–they didn't pick up the phone when we reached out.
Reebok has a rich history in basketball sneakers, having created successful signature lines for the likes of Allen Iverson and Shaquille O'Neal​, but doesn't currently make new basketball sneakers. The brand tells Sole Collector that while it is looking to get back into performance basketball sneakers, it's not interested in Lonzo Ball.
Asics is in a similar situation. Colin Brickley, its director of demand creation, hinted at future basketball sneakers but didn't show any desire to sign the former UCLA player.
"While Asics is not currently in the basketball category, we are in the lab working on some disruptive new concepts," Brickley tells Sole Collector. "However, we haven't began our endorsement strategy quite yet. It will be interesting to see where he lands."
There's been speculation about an Asian company doing a deal, which may be the best bet for the Balls at the moment. Chinese sportswear brands Anta and Li-Ning both declined to comment on the matter for this piece, a move that could signify a lack of interest or a fear of jeopardizing future conversations with the Balls.​
AND1 and Brandblack also declined to comment on a potential Ball deal.
Of all the brands that responded with a comment, there was one that didn't shun the idea of doing a sneaker contract with Lonzo Ball. David Goldberg, president of GPF Footwear LLC, the exclusive licensee of Ewing Athletics, said he'd be open to exploring the idea. Ewing Athletics is another of those brands whose basketball product is all retro for now, but that doesn't preclude a future deal.
"It is an interesting idea," Goldberg says, "and one that is similar to our company where Patrick [Ewing] became the first player to have his own shoe brand in 1989."
Brands often look to sign high-profile rookies before the draft, so the fate of Lonzo's sneaker endorsement status should be revealed soon. And he might even end up with one of the bigger brands after all—Nick DePaula writes at The Vertical that an Adidas deal is "not dead yet," contrary to ESPN's report.