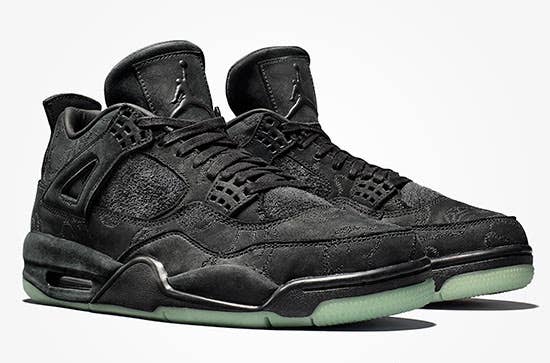 There's no doubt that a good number of shoppers going after the black Kaws x Air Jordan 4 that released on Monday plan to resell the sneakers. It's a solid investment: The first Kaws x Air Jordan 4, the grey pair that released in March 2017, retailed for $350 and now goes for around $1,500 on the secondary market. But there's a clause on Kaws' website that suggests the artist is trying to keep the shoes out of the hands of those seeking to profit from them.
On the site's page explaining terms of the lottery release implemented for the shoes, there's an item about products on the site being for personal use only.
"You may purchase products only for personal use and not for resale," the site reads. "By placing your order, you certify that you are purchasing products for personal use only and not for resale. We reserve the right to refuse orders for any reason without explanation."
Will this actually stop anyone from reselling the sneakers? Probably not, although it could give those running the site an excuse to cancel the orders of suspected resellers. The "for personal use only" paragraph appears to be permanently on Kaws' site, and not just added for this launch.
So far, Kaws' website is the only place where the sneakers have released.
At the Brooklyn Museum launch for his first Air Jordan 4, Kaws said that he hoped people would actually wear his shoes rather than collect and resell them.