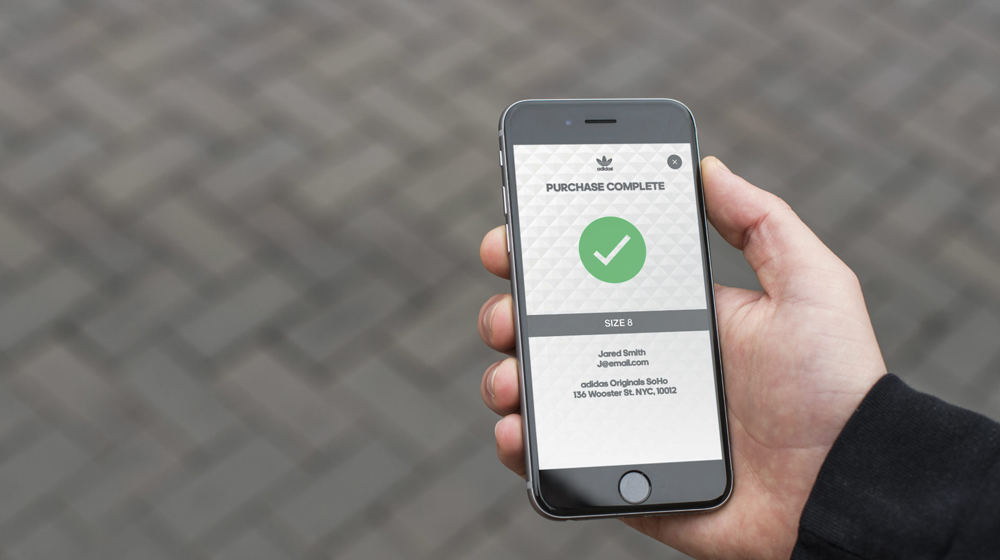 by Brendan Dunne
The upcoming Kanye West x adidas collaboration will launch via adidas Confirmed, the brand's new app designed for sneaker launches.
The app is intended to solve the chaos that so often surrounds high-profile sneaker releases these days. The program promises "a fair shot of getting access to the shoes" for every user and also immediate info on product availability. Sneaker companies have been battling bots and automated purchasing hacks for a couple of years now, and it's possible that adidas has solved it with this mobile approach. Push notifications will pop up for users who are in the same geo-targeted area as the sneaker release, and after selecting a size, those users can pick up the shoes locally during a designated time window.
For now, the adidas Confirmed app only allows for sneaker reservations for users in the NYC area.
The Kanye West x adidas collab will launch through this app, and is now rumored as an All-Star release, so anyone hoping to purchase would be well advised to take it for a spin.
The adidas Confirmed app is available now through iTunes and Google Play.
via adidas
Kids will do anything to get their hands on the latest hype shoes, yet there hasn't been an efficient and effective way to do so – until now. Today adidas announced the launch of adidas Confirmed, an innovative, first-of-its-kind sneaker reservation app that will change the way the industry goes to market by simplifying the reservation process and putting the consumer first.
With its sleek and intuitive interface, adidas Confirmed is designed to provide consumers a secure and easy way to access the most coveted hype sneakers, from sign-up to pick-up.  The app gives consumers more control over limited releases, provides all consumers with a fair shot of getting access to the shoes, allows for instant confirmation of product availability, and reduces crowds and long waits.  The app will support the sale of the most highly anticipated collection in recent memory – the Kanye West collaboration.
"We are addressing a real market need," said Simon Atkins, adidas vice president of brand activation. "Until now, the industry standard for reserving hype sneakers has been social media or lottery-based systems, which often result in long lines and unclaimed reservations. We thought about our consumers, what platforms they're using the most and what would make the most sense for them. The adidas Confirmed mobile app is our way of improving the customer experience and reaching kids in an environment where they spend most of their time. It's a totally new way to bring limited-release sneakers to market and we expect to see a paradigm shift in the industry now."
adidas Confirmed leverages geo-targeting technology to allow for verification of location while protecting consumers from "bots" that often dilute launches in social spaces like Twitter.  The app allows consumers to sign-up, reserve, and pick-up their sneakers using only their mobile phones. adidas Confirmed was designed to not only service adidas own retail stores but also select wholesale partners.  Here's how it works:
SIGN UP
·        Download and install the app, registering with name, email, and zip code.
·        Enable push notifications and location services on device.
RESERVE
·        Receive push notification that will communicate when reservations are available in designated geographical zones.
·        Reserve a pair of shoes by selecting size and confirming selection.
PICK UP
·        Find out where and when to pick shoes up for purchase.
·        Arrive at designated retail location during their designated window of time.
·        Present app's reservation confirmation to a store associate and complete purchase.
"We wanted to create a more elegant, safe and consumer-friendly way to launch marquee shoes to our most loyal customers," said Atkins. "Working with our digital innovation team, we wanted to create an experience that gave consumers more control over limited releases. We wanted an experience that would treat everyone fairly, allow instant confirmation of product availability and reduce long lines. We coupled that with our ambition to create highly localized mobile shopping experiences that merged the physical and digital worlds and created adidas Confirmed."
adidas Confirmed is available for download now, through the Apple app store or Google Play.  Push notifications will inform users when reservations are coming for sneaker releases.