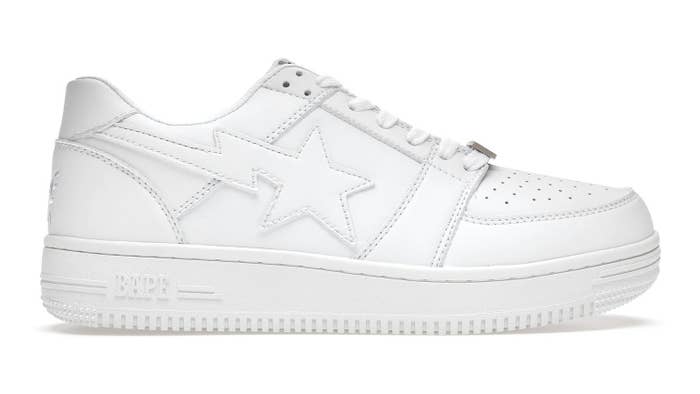 For years, many have speculated about why Nike hadn't taken aggressive legal action against Japanese streetwear brand A Bathing Ape, BAPE, after it had released several sneakers that appeared to be clear derivatives of its own designs. The question regained momentum over the past few years, as Nike targeted independent sneaker companies that sold an 'inspired' Air Jordan 1, Air Force 1, or Dunk-like model. Most recently, Kool Kiy and Omi were on the other end of a Nike infringement lawsuit over their look-alike designs. Now, the question about Nike's apparent reluctance to after BAPE  is no more, as the two are finally heading toward a courtroom showdown.
On Wednesday, Nike filed a lawsuit against Bape in a Manhattan federal court, accusing the brand of outright copying its sneaker designs. A graphic chart in the lawsuit submitted by Nike compares Bape's Bape Sta to the Air Force 1, Bape Sta Mid to the Air Force 1 Mid, Sk8 Sta to the Dunk, Court Sta High to the Air Jordan 1, and Court Sta to the Air Jordan 1 Low. Originally released in 2000, the Bape Sta is Bape's flagship sneaker. Taking cues from Japanese streetwear culture, the shoes were generally styled in vibrant colors and often featured patent leather builds. While resembling the Air Force 1, the Bape Sta (and other Bape sneakers) is marked by the company's 'STA' logo.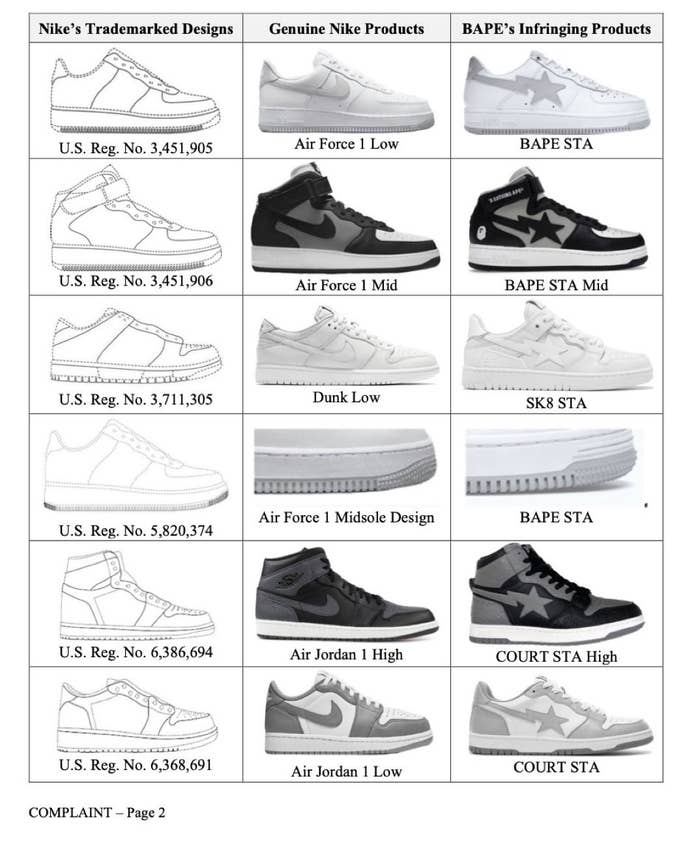 Addressing why it waited as long as it did to take legal action against BAPE, Nike says that's not exactly the case. According to the lawsuit, Nike met with BAPE in 2009 to discuss the designs, resulting in the company diminishing its U.S. activities and closing most of its stores in the country. BAPE re-designed the Bape Sta in 2016 to less resemble the Air Force 1, but reintroduced its original version of the silhouette in 2021. That's when Nike says BAPE "drastically increased the volume and scope of its infringement." BAPE also allegedly refused to stop selling the infringing shoes when asks.
Nike, citing BAPE shoes that have been referred to as Air Force 1s or Dunks by second-market sellers, has asked the court to order BAPE to stop selling the shoes. Additionally, it's requesting an unspecified amount of money for damages.