Yesterday, adidas Originals launched its latest silhouette, the P.O.D. System, with a series of hands-on events that brought attendees into the world of sneaker design before shutting it down with a live showcase from some of the biggest names in UK and US music.
The P.O.D. System takes inspiration from adidas' iconic 'Point of Deflection System' technology from the 90s, with the model engineered with a podular sole unit. The P.O.D. has been custom made for maximum flexibility and comfort from the adidas archive, utilizing iconic tooling from the past to create a cutting-edge silhouette.
To celebrate the launch, a group of global creators came through to spend the day at the P.O.D.S. Maker Lab in Shoreditch, London, where they were tasked with designing their very own sneaker using tooling from the adidas archive. 
The P.O.D.S. Maker Lab gave guests a complete, hands-on experience of shoe design by guiding them through the creation process from scratch. Led by the Brooklyn Farm and the adidas Originals design team, attendees mashed up P.O.D.S. components with classic Originals sneaker elements into their very own silhouette for them to keep.
Throughout the day, adidas Originals creator Pharrell Williams joined participants in the Maker Lab, offering direction and inspiration for their designs, before guests headed to Village Underground to watch live performances from Suspect OTB, Benji B and none other than Migos (and a surprise appearance from Pharell himself), which capped off a day of cutting-edge creativity for everyone involved. 
Take a look at all the best photos from the event below.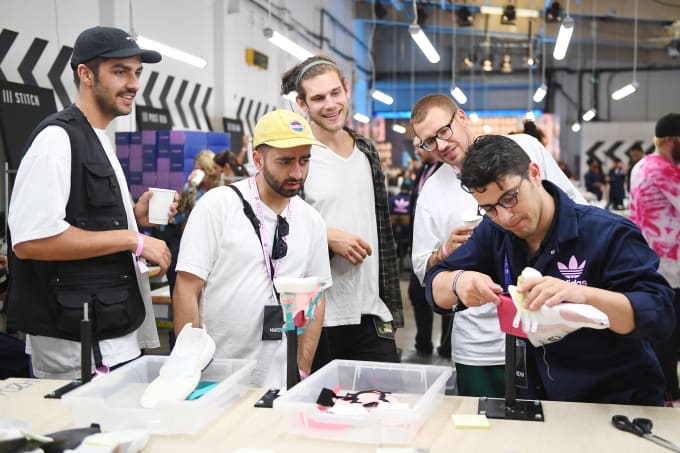 The  P.O.D. System will be available globally on June 16th at adidas Originals shops and on adidas.com.