ASAP Rocky has convinced the world that New York artists could sound like they're from Houston, shown that rappers could dress like they stepped off a Paris runway, designed sneakers with Adidas and Jeremy Scott, and modeled for Dior.​ But now he's signed himself up for one of the biggest tasks of his career: making Under Armour relevant in the world that he's dominated for much of this decade.
By most mainstream measures, Under Armour already is "cool." They've snatched up big names in sports like Steph Curry, Tom Brady, Jordan Spieth, Cam Newton, and Aaron Judge, and the brand's on-field success has been nothing short of impeccable. Unfortunately, that hasn't been quite enough to give the brand cultural impact that transcends beyond professional sports.
The brand is clearly hoping to change that. It was reported on July 8 that Rocky had signed a multi-year deal with the Maryland sportswear company to work on lifestyle product for its UAS range, which is directed by fashion designer Tim Coppens and focuses apparel and sneakers that don't feature the Under Armour logo -- something that's driven style-oriented people away from the brand in the past.
It's been the butt of many Internet jokes in recent times, most notably its all-white Steph Curry sneakers, and its move to bring Rocky onboard is a clear sign that it's trying to chase a different consumer; one that's eschewed its shoes for Nike and Adidas. It's already worn by suburban dads and young teens who actually play basketball, but convincing everyone else to buy into the sneakers is a different story.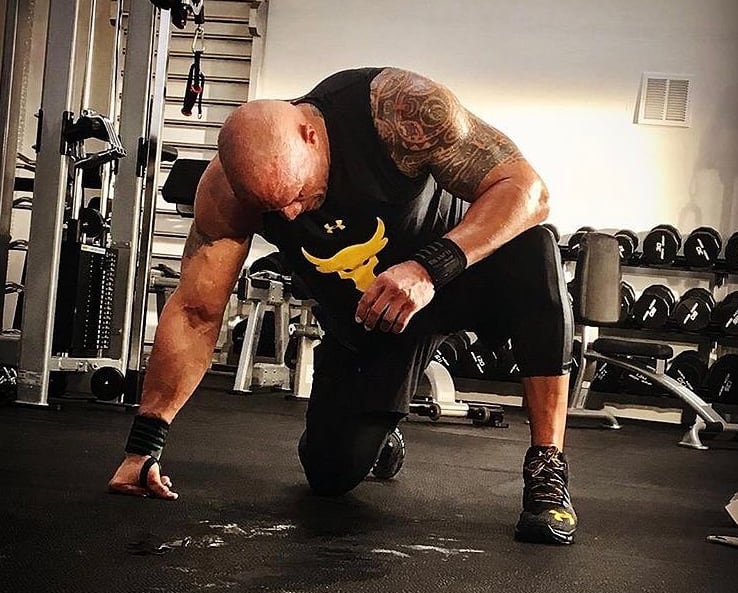 It was once controversial to claim that artists and musicians are the new athletes in the footwear industry, but Kanye West and Adidas (followed by a whole host of other entertainers and companies) have proved that notion wrong. Yeezys are flying off shelves at a breakneck pace while LeBrons are collecting dust and going on sale. And Under Armour's move of signing Rocky proves that even the most sports-focused company realizes that it needs to get younger and hipper to grab its stake in the shoe game. The company has already signed The Rock to a big deal, but it didn't make an impact with the cool-guy demographic, an audience that it so desperately wants to resonate with. It won't, however, be as seamless as attaching one of the biggest names in hip-hop to a sneaker brand and watching the money roll in. Rocky is going to have to work his ass off to make this partnership truly work.
If anyone thinks Rocky's contribution, in terms of influence, is insignificant, consider this for a second: With 6.3 million instagram followers, he has nearly twice as many as Under Armour's main account.
Let's think of the possibilities for a second. If Rocky is able to create product that truly inspires his fan base, there's no way that it's not going to sell out, and it will only create a snowball effect for Under Armour. Don't believe me? You'd be hard-pressed to find a high percentage of the Yeezy/Boost fanboys who owned a pair of sneakers with Three Stripes on them prior to Kanye and Adidas working together in 2015, but now the brand has, literally, boosted its sales and has overtaken Nike and Jordan Brand in terms of resonance with the millennial audience. 
It's not going to be easy, though. This isn't Under Armour's first foray into lifestyle product. It's made luxury, off-court sneakers for Steph Curry and even launched them at leading boutique Concepts. The brand made a huge push behind its Tim Coppens line, too, and it's just fallen flat. It even has Migos promoting the label, but they haven't consistently worn the product in the public eye and it's failed to make a huge impact. Rocky could change all of that. His connection as a designer/signature artist is much greater than paying him to simply wear Under Armour. People have spouted on social media that they're already going to buy their first pair of Under Armours, but all of that will be proven when his shoes finally are available at retail.
What makes Rocky's partnership with the brand intriguing is that he's notorious for being someone who won't wear or co-sign anything that he's not truly into. It's likely that he sees this opportunity as a chance to boost his profile as someone who's taken seriously as a designer in the style world, and who doesn't want their name attached to a commercially successful sneaker? Imagine if Under Armour lets him design a sneaker for Steph Curry to wear during the All-Star Game? That's visibility that even his music, likely, won't achieve. But these are all what-ifs. It all starts with making a good pair of shoes, and the rest will follow.