The only pair of sneakers that mattered this week was one that no one seemed to like. Well, almost no one. The "Chef" Curry 2s—an all-white, low-top sneaker Under Armour made for Steph Curry—were on the unfortunate end of an Internet roasting, mainly because they looked like nerdy dad shoes. People from all walks of life added their two cents about Curry's shoes, and it even prompted him to tell the media that they're "fire," while he put a flame emoji on the shoes during a practice this past Sunday.
The picture that went viral was taken by Renarts, a sneaker store located in Huntington, N.Y., and the man behind the lens was the store's photographer, 24-year-old Carl Olsen. He's worked at the shop since 2011 in various capacities, and he never could imagine that doing his daily job would bring out all the jokesters online.
Did you ever think this would happen when you were taking the photo?
I didn't. We had just got the shoes in the store, and we were going to photograph them like we do with most of the other shoes we get. We have a set routine when we photograph product. I usually shoot about five sneakers per day, so it's about 25 a week. When these Currys came in, I was pretty excited about them. I thought they were a good shoe and that people would like them. I never thought any of this would ever happen.
How did you find out that your photo went viral?
We posted the shoe online, and then it kind of took off. I found out about the memes because we have a group chat at work, and someone shared that the sneaker was going viral with everyone.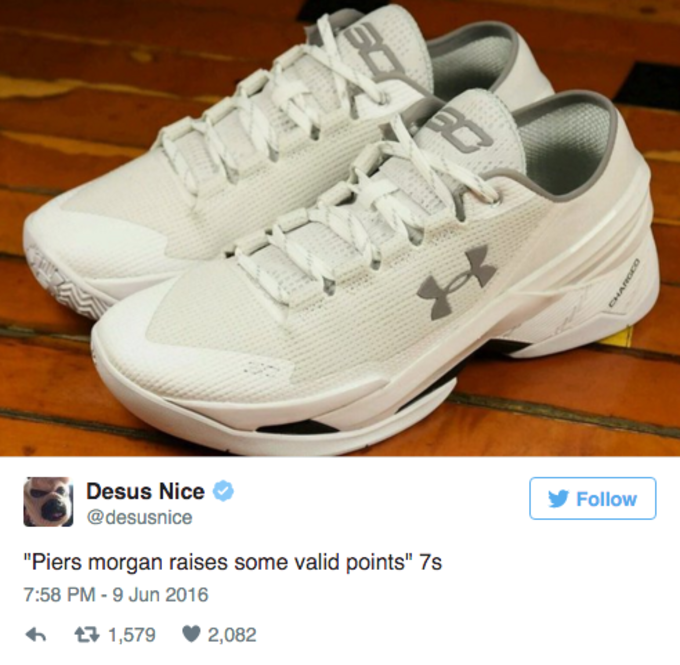 After that happened, did you share anything on your own social media about it?
No, I don't share anything about shoes on my own personal media. Initially, it was cool to have our pictures everywhere. I thought it was in bad taste, being that we like the shoes.
Has it given attention to your store?
Not necessarily.
What was the funniest meme you saw?
There were a ton. Nothing stood out in my mind. There were so many.
You're not expecting anything like this to happen again?
[Laughs] No. For the Steph Curry shoes, I hope not.
Did you see Steph Curry say the shoes were "fire"?
Like I said, we particularly kind of liked them at first. I read what Russ wrote about them, and I agreed with him. It became a viral thing on one person hating on them. People were hating on them for no reason. Being in it since 2011, there are so many shoes that people hate on shoes when they shouldn't be, and they love them when they shouldn't. A couple of us here thought about buying them. Then this happened and it's like, "Wow." I'm even thinking about buying them still. We play ball here with the guys, and I've been looking for a new ball shoe.