Slumping back into his chair in front of crowded room in Los Angeles late last year, Wale showed the ComplexCon audience how he felt about Drake's ongoing collaboration with Jordan Brand, which was first announced in 2013 and has put three sneakers on the market to date. "I love Drake's music, he's one of the best of our generation," Wale said. "If Drake grew up a sneakerhead, we'd have a whole new Jordan Brand thing going on. He's the most popular person in our business. If he grew up a sneakerhead, Jordan Brand would be back." And he's not the only person that feels that way.
I made the statement, nearly a year ago today, that Jordan Brand needs Drake more than Drake needs Jordan Brand, and that might be true, but the collaboration between the most-coveted footwear brand and, arguably, the rap game's most mainstream and popular performer has fallen flat. The two are set to release a black-and-gold Air Jordan XII, under the OVO banner, during All-Star Weekend next week, and it feels like an afterthought for those who were once hyped on the rapper and sneaker brand connection.
A few years ago when the sneakers were first shown to the public as promotional pairs worn by Drake, his friends, and select NBA players, there was a genuine hype around the shoes. EBay auctions for the OVO-edition Air Jordans often fetched amounts in the thousands and the collaboration between the Toronto artist and Michael Jordan's brand had an authentic buzz around it. But it's taken three years for the brand to rollout four different sneakers, of which there are white-and-gold and black-and-gold Air Jordan XIIs, and the fanfare around the shoes has considerably died down.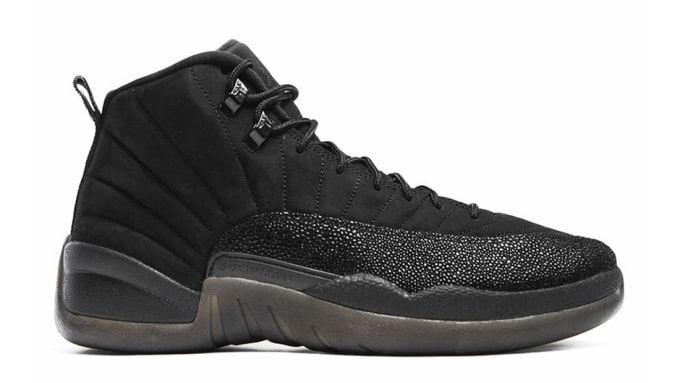 The black-and-gold OVO Xs went from reselling for $1,350 to $260, according to StockX, the data compilers for the secondary sneaker market. And there may be a reason for that beyond saturation of Drake's products at retail. "The Drake x Jordan stuff doesn't really excite me. From a creative standpoint, I feel it falls short," says Marvin Barias, who's a Sole Collector moderator and self-prescribed deadstock Jordan collector. "When Eminem teamed up with Jordan to do a collab with the Air Jordan II, I thought that brought something different to the table in terms of uniqueness and personality. I don't really get that off the Drake collabs. All we see from Drake is minimal color blocking and OVO branding. I would've liked to see something a little more tied into his craft."
His sentiment is echoed by Chad Jones, who's better known to the sneaker world as Sneaker Galactus and is a known collector of player-edition Air Jordans and other non-released shoes. "I don't know where Jordan Brand went from the athlete promo stuff to the pop/sensational people. They shifted," he says. "Originally people would go after the OVO, Macklemore, and Lil Wayne samples. People would go hard for it, then some of it released, and the aura came off it."
It's not just the availability of the shoes that drove Jones away from them, but, like Barias, it was the lack of creativity involved in the collaboration. "They're extremely boring. One of the things that makes PEs so great is that they do them in obscure colorways, where you'd never be able to get something close to that at retail," Jones says. "Every shoe is the same. It's all either all-black or all-white with a little bit of gold."
There have been other Drake sneakers that have been teased, too, but none of them have been confirmed as product that will be sold in stores, like the Kentucky version of the Air Jordan VIII, as well as OVO version of the same shoe, too. It's led some to believe that Jordan Brand isn't doing enough with Drake, compared to how Adidas has been able to commodify its partnership with Kanye West. "They're definitely blowing it, man. They teased the series years ago and nothing comes out of it. I don't know if it's Drake or Jordan Brand. Look at how many shoes Adidas has done with Kanye," says a retailer who wished to remain anonymous. "Why aren't they using Drake? He's come out with, like, two shoes. It's Jordan Brand's job to come up with stuff for him. He's your asset, use him."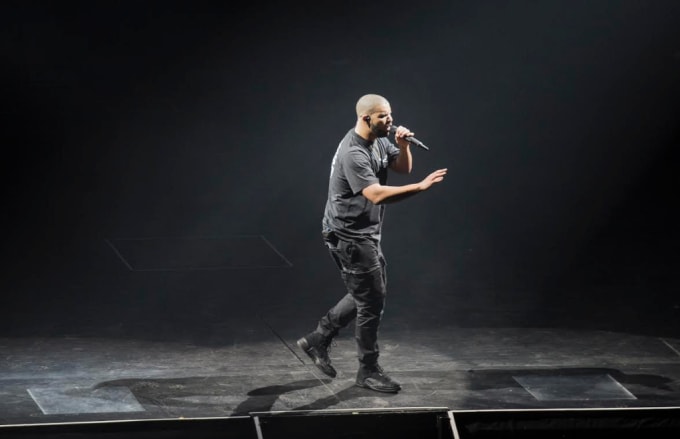 Although their music popularity is comparable, Kanye has been able to overshadow Drake when it comes to creating footwear. He's been doing it much longer than Drake, with his first Nike collaboration releasing in 2009, but there's more to it than that. "Kanye's got a larger than life personality, and that's part of the allure with him. Even though he does basic stuff, the shoes are pretty dope. He's riding the Boost wave and the brand is really hot," Jones says. "Drake's subdued and lowkey. I like his music and think he's funny, but he doesn't have the same allure or personality as Kanye. And fashion wise, he's not someone you're really looking at."
Jordan Brand has branched out and started to work with more lifestyle brands and influencers, with collaborations with Supreme, Public School, and Macklemore under its belt over the past few years. Sometimes it works, sometimes it doesn't, but it has been generally well-received by the public. But for people who are looking to collect the original versions of the shoes. "As a Jordan collector, I think it's always cool that the brand looks for outside influences, when it makes sense," Barias says. "Though it just seems they're riding the wave of influence when the focus should be on sport and performance. From a personal perspective, it's not really my thing so I don't have these types of collabs in my current collection."
The black-and-gold OVO Air Jordan XIIs will release next week, and there's a chance that they could become the biggest attraction for All-Star Weekend, especially considering that Nike is choosing not to release special editions of its signature basketball sneakers this year. But if Drake and Jordan Brand want to capture the attention of people beyond this shoe, they're going to need to do more than release shoes with the same theme. During that panel at ComplexCon, the sentiment was echoed that this collaboration is simply "merch"; sneakers made for fans of Drake. And he has a huge fan base, but if they want to capture the attention of the diehards who helped build the fanaticism around the company, they're going to have to dig a little harder when it comes to the next round of shoes.