It's fitting that 1991's Air Jordan VI finally gets the "Pinnacle" treatment from Jordan Brand this weekend, as it was the shoe that Michael Jordan was wearing when he reached a pinnacle of his own. In 1991 Jordan's Bulls not only vanquished the hated Detroit Pistons—sweeping the two-time defending champs in the Eastern Conference Finals—but they also won their first NBA championship, defeating the Los Angeles Lakers in five games after dropping the first at home. This all-gold-everything version pays homage to that.
Jordan had already established himself as the game's best player to many, winning MVP and Defensive Player of the Year honors in 1988 while also leading the NBA in scoring. By the end of 1991 he had led the league in scoring for five straight seasons. But to others, he needed that championship as validation. After all, Magic Johnson and Larry Bird had won theirs, so had Isiah Thomas. Jordan needed to use his individual brilliance for team success. And in 1991, he did.
The Air Jordan VI, which he wore that season, was in some ways just a continuation of what Tinker Hatfield had started with the V, but it still introduced some revolutionary elements to the Air Jordan line. There was a neoprene bootie that provided a snug fit, fingerholes in the tongue for easy on-and-off, and a pulltab on the back inspired by the wing on his droptop Porsche Turbo. The Porsche influence didn't end there—the VI had a 930 slantnose-like clean toe with no reinforcing strip, a feature that would become a signature element on Air Jordans moving forward.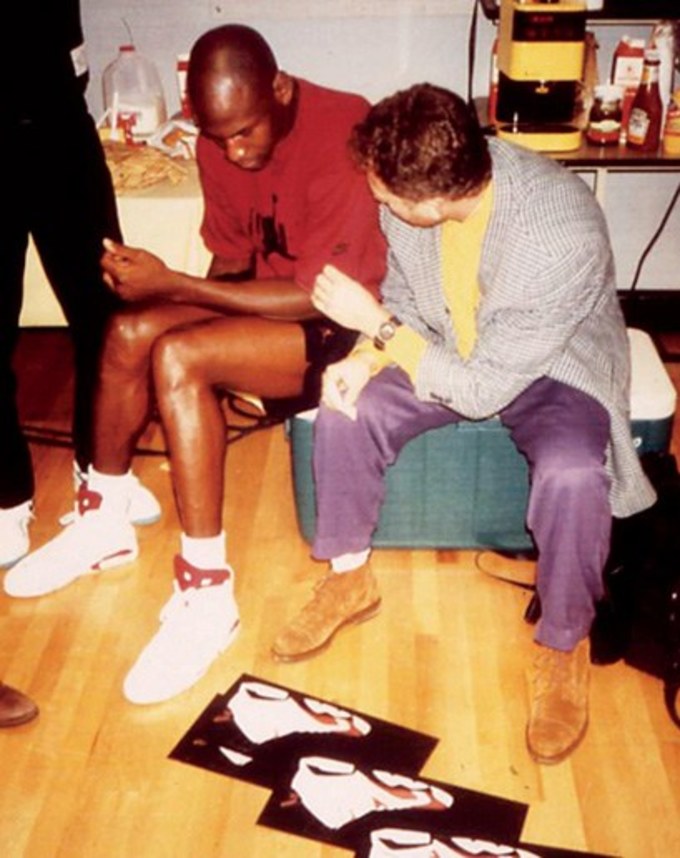 The Jordan VI upper was also unique in another way, as the design allowed for split colorways, like the "Carmines," which dropped unexpectedly like bird shit back in '91. Other similar versions like the "Olympic" VI followed much later. Those colorways enhanced the upper design, which actually revealed a "23" in the upper itself. Extra flash was provided by reflective 3M pops exposed by perforations. It wasn't as blatant as the 3M tongue of the V, but it was still there.
The gold "Pinnacle" release isn't the first to pay homage to Jordan's first championship—there were the "Champagne" and "Cigar" releases in 2014, as well as the black and gold Defining Moments Pack in 2006. It likely won't be the last. But as of now, the Pinnacles are the most elegant and straightforward recognition of Jordan's own defining moment, a shining gold companion piece to his first Larry O'Brien Trophy.
And if the trophy served as validation for Jordan's individual greatness, maybe the Air Jordan VI served as validation for Hatfield. Not as a designer—he'd already established that, but as Jordan's true partner in Air Jordan. It was his fourth Air Jordan design, the first to overtly take inspiration from Jordan's growing stable of cars. The first three designs took elements of Jordan's personality, but in most cases they were ones observed from afar, or ones Hatfield gleaned from watching Jordan play. The VI represented Jordan and Hatfield coming closer together, becoming actual partners rather than just designer and athlete. Jordan let Hatfield into his inner circle, and together they made magic.