The first time Reebok shook Nike occurred in 1982, with the introduction of the Freestyle, a women's aerobics shoe made of soft garment leather. In 1981, Reebok's overall revenues were $1.5 million. The following year they had increased nearly tenfold. And by 1987, they were $1.4 billion. And as the '90s dawned, Reebok had pushed its aerobics advantage to the limit and was ready to shake Nike a second time—this time at their own game.
As the story goes, Shaquille O'Neal was discovered on a US Army base in Germany as a 6'6" 13-year old by then-LSU coach Dale Brown who mistook him for a soldier. When he found out O'Neal was a teen, he immediately asked to meet his dad. The early work paid off, as O'Neal would wind up attending LSU, where he earned back-to-back SEC Player of the Year honors despite breaking his leg as a sophomore. Following his junior season, in which he averaged 24.1 points (on 61.5 percent shooting), 14.0 rebounds and 5.2 (!) blocks despite nightly double- and triple-teams, he declared for the NBA Draft.
But before he became the No. 1 overall pick—which was all but guaranteed—he had some business to take care of, namely a sneaker deal. "I made it clear to everybody that I wanted my own shoe," O'Neal told Sole Collector this week. "I don't think Nike understood how big I was going to be coming into the league." Instead Nike signed an O'Neal rival, Georgetown center Alonzo Mourning, and Shaq gravitated towards Reebok. But he still visited Nike's Oregon campus for a meeting—while decked out in Reebok gear. "They didn't escort me out," he told Sole Collector, "but the meeting was short."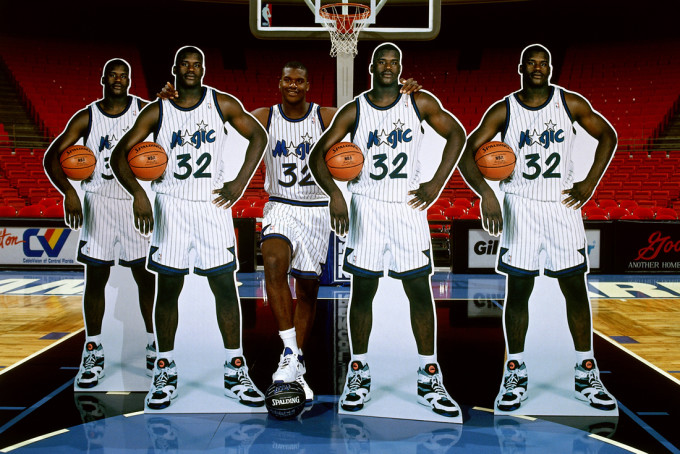 For Reebok, who wound up inking O'Neal to a $5 million a year deal, this was a coup of (literally) epic proportions. Yes, Nike had Air Jordan, and Michael Jordan was coming off of a summer where he had paired his second straight NBA title with an Olympic gold medal—playing for the Dream Team, a team that conspicuously did not feature a certain LSU center. But Jordan was 30, and the search was on for the next big thing. The next big thing, Reebok hoped, was O'Neal.
His first signature shoe, the Shaq Attaq, paired their Pump technology with a cutaway midsole stiffened with a composite plate. It wasn't nearly as high-cut as the original Pump, and wasn't a prototypical big-man shoe. Displays in certain stores certainly were, however, as Reebok supplied select retailers with single display shoes in Shaq's own (then) size 20. O'Neal had also expressed interest in both acting and rapping, activities that—alongside a commercial blitz—would make him a household name. By his second season, O'Neal's Reebok line had been bolstered by a Shaq Trainer as well as a Shaq Sandal. And at the end of that season, after winning his third straight title, Michael Jordan retired.
Jordan returned to basketball after a nearly two year absence in the spring of 1995, but despite a 55-point outburst against the Knicks at Madison Square Garden and a dagger game-winner in Indiana, he didn't quite look the same. His Bulls were shockingly defeated by O'Neal's Orlando Magic in the Eastern Conference Semifinals, who would go on to reach their first NBA Finals. The Magic were swept by the veteran-laden Houston Rockets, but O'Neal and All-Star running mate Penny Hardaway were just 23. They'd be back again, no question. But there was more. That summer, Reebok signed the Answer.
Allen Iverson was a skinny guard from Virginia who'd gone to Nike camps and a Nike school (Georgetown) where he played for a Nike coach. But Reebok had set their sights on him, and back in November of his sophomore year, a team led by Todd Krinsky, Scott Hewett, and Que Gaskins had started work on a theoretical signature shoe. "We took [Hewett's] living room over and made it into this whole shrine basically," Krinsky remembers, "everything we could find of who [Iverson] was, and then he started sketching."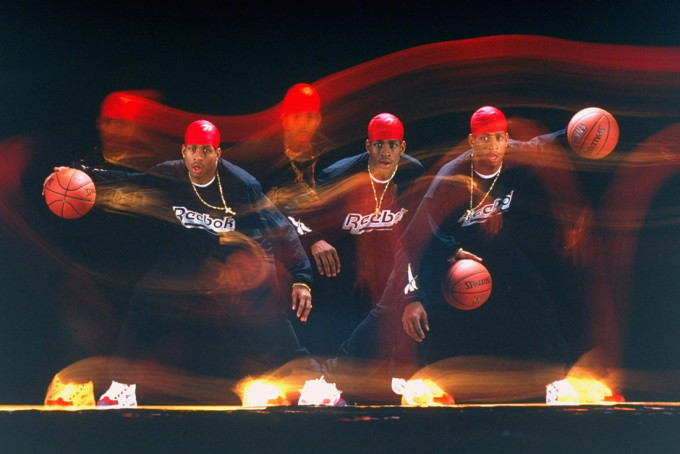 That was only half the job—they also had to convince Reebok executives (of which Krinksy now is one) that Iverson was the guy. "I remember [Reebok CEO] Paul [Fireman] saying in the meeting 'why does this have to be the guy?" Krinsky says, "and we were like, 'Paul, you have to trust us on this, he's everything you need in this game.'" They got through, they got Iverson, and again they had the No. 1 overall pick, who wound up wearing the same shoe—the Question—that Hewett had dreamed up in his living room. He was wearing them in Philadelphia when he famously crossed up none other than Jordan—twice!—before burying a jumper. Reebok couldn't keep them on the shelves, especially in Philadelphia and Virginia.
There was only one problem: Jordan was back, and, angered by the previous season's ending, he was better than ever. He, like O'Neal, was also the star of a movie, Space Jam, which, unlike O'Neal's movies, featured one hell of a supporting cast, including not only Bill Murray and one-time Dream Teammate Larry Bird, but Bugs Bunny, Daffy Duck, Porky Pig, and the rest of the Looney Tunes crew. And he was wearing the latest iteration of the Air Jordan, a patent-and-mesh spaceship that was perhaps the pinnacle of all of Tinker Hatfield's sneaker designs. Nike had also expanded their signature line, promoting stars Penny Hardaway and Charles Barkley through innovative product and, most importantly, brilliant commercials. The reticent Hardaway was paired with a loud-talking alter-ego, a diminutive sidekick doppelganger voiced by Chris Rock, who shamelessly hit on Tyra Banks and celebrated game-winning shots. Meanwhile, O'Neal had departed Orlando for the bright lights of Los Angeles, a smart business move but one that stripped some of the happy go-lucky veneer from his persona. In L.A. he found himself paired with another kid who'd spent formative time in Europe, a 17-year-old guard named Kobe Bryant.
Sales numbers notwithstanding, that first year of Iverson would be the closest Reebok came to dethroning Nike, at least in terms of cultural relevance. The Question was a massive hit, but the followup, the Answer, was more clunky and less iconic, and O'Neal's line, already in something of a decline after 1994's mind-melting Shaqnosis, was quietly ended in the late '90s. By the time they won MVPs back-to-back in 2000 (O'Neal) and 2001 (Iverson), they were no longer sneaker teammates. But as both enter the Hall of Fame today, they're also back producing shoes with Reebok—each of their first shoes are served up in gleaming silver and gold "Celebrate" editions—reminding of what once was, and what could have been.