Don't call it a comeback. Running shoes have been a mainstay on sneaker shelves for decades, and these days, they've reemerged as a street staple. In the United States, running sneakers have replaced basketball shoes and trainers as essentials for the stylish set. This is due in part to the retro runner wave that washed ashore a few years ago from enthusiasts in Europe, but more than that, there's a brand that's been an even bigger catalyst for the trend: Adidas. 
Adidas has been at the forefront of the U.S. runner explosion, carving a niche with the help of its Boost (and now, Bounce) cushioning. While every sneaker brand has touted one of their proprietary technologies as a game-changer at one point or another, Adidas managed to not only deliver, but exceed even the highest of expectations. More than just comfort, Adidas' new cushioning tech has helped the brand recapture the attention of sneakerheads and build off of that to change the way we perceive running shoes altogether.
This shift can be traced back to Feb. 13, 2013, when Adidas unveiled the Energy Boost performance running sneaker at events in New York City and Herzogenaurach, Germany. This was the first time the public had seen Boost cushioning, a TPU-based compound made up of thousands of small capsules that was originally developed by German chemical production company BASF. "Boost changes running forever," Adidas said at the Energy Boost's unveiling. With next-level energy return capabilities and long-lasting durability that could perform at both extremely high and low temperatures, it was apparent that Adidas was onto something. But how would it be able to win over the everyday sneaker enthusiast looking for a comfortable, casual shoe?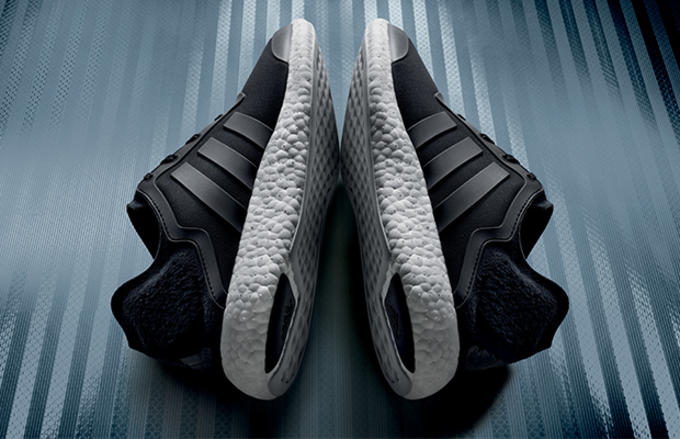 That started the following year, when Adidas debuted the Pure Boost in May 2014. Marketed as a running sneaker, the Pure Boost was the brainchild of designers from Adidas' Sport Performance, Adidas Originals, and Y-3. In its press release, Adidas explained how the sneaker was intended to bridge the gap between performance and style while highlighting the Boost cushioning by stripping down the rest of the design. "The fresh silhouette and simple upper make Pure Boost a blank canvas for you to combine with any outfit," said Adidas Creative Director James Carnes. The idea wasn't revolutionary—footwear brands had been trying to find the perfect harmony between sport and street for a while and still are—but the way people embraced the sneaker was. 
The Pure Boost caught on as an everyday sneaker almost immediately, allowing those who weren't necessarily interested in performance running to finally try out the cushioning that everyone had been raving about. Just a month after its release, Kanye West was spotted out in New York City wearing the Pure Boost, and the sneakers were also on his feet in an editorial for GQ's August 2014 cover. This was during a time when the Adidas-Kanye partnership was just getting started, and with no Yeezys on the shelves yet, people were ready to snatch up any Three Stripes designs co-signed by him. The co-sign did wonders, but truth be told, the Pure Boost was already an incredible sneaker. Halfway through 2014, Complex wasted little time naming it the best sneaker of the year, and it stayed at the top, as no other shoe managed to dethrone it from that position. The craziest part, though, is that this was only the beginning of Adidas' running takeover.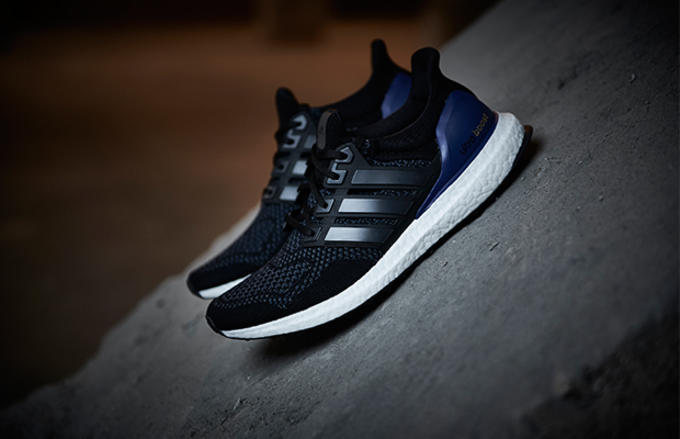 To kick off 2015, Adidas rolled out the Ultra Boost with the bold proclamation that it was the "greatest running shoe ever." It was a lofty claim, to say the least, but somehow, Adidas managed to deliver yet again. The brand packed 3,000 individual capsules into the sneaker's Boost midsole—20 percent more than any of its previous Boost products—resulting in the most cloud-like cushioning setup yet. Adidas didn't stop there, as the Ultra Boost was also equipped with a strategically engineered Primeknit upper that provided a supportive, sock-like fit and ample breathability. Tech jargon aside, the bottom line was that the Ultra Boost was insanely comfortable. All of a sudden, people who swore by classic shoes were swapping their retros for Ultra Boosts and wearing them for weeks straight. Like the Pure Boost, a Kanye co-sign did wonders for the Ultra Boost's visibility, turning the "All-White" colorway into the must-have sneaker of summer 2015.
Where the original Pure Boost can be considered a lifestyle sneaker disguised as a runner, the Ultra Boost was very much a performance running sneaker, but it didn't hurt that it looked great, too. The Ultra Boost's sleek, streamlined shape represented everything that people loved about running sneakers, and its carefully curated colorways helped turn it into a true game changer. The sneaker helped lift Adidas' sales in North America, and staggered releases and timely collaborations have kept us talking about it over a year-and-a-half later. When it comes time to put together "best sneakers of the decade" lists, you can count on the Ultra Boost being a top contender.
Kanye West's co-signs helped draw attention to the Pure Boost and Ultra Boost, but the rapper's own designs have also helped shift the runner paradigm. The Yeezy Boost 350, which debuted last summer, is notable for being the first low-top Yeezy sneaker and takes many cues from minimal running shoes. In fact, if you ignore their designs, the Yeezy Boost 350 and the Ultra Boost actually share identical tooling with Primeknit uppers and full-length Boost midsoles. That's not to say that you should necessarily go and rack up some mileage in your 350s, but the point is that it's more similar to a running sneaker than its moccasin-like details may lead you to believe.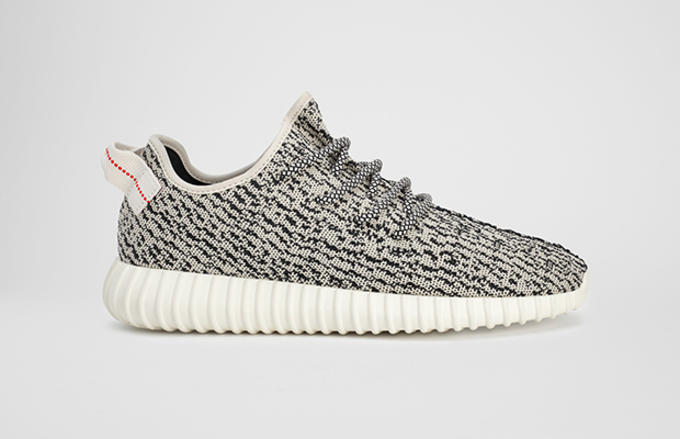 More recently, the NMD range has combined elements from archival Adidas silhouettes with Boost and Primeknit to create the ultimate runner-inspired casual shoe. First debuting in December 2015, it took a little while for the NMD to pick up momentum, but when it did, it was full-on pandemonium. The sneaker's numerous Primeknit versions regularly resell for insane prices, and although Adidas has shown little restraint with the in-line mesh releases, they're still selling out every single time.
The latest chapter in the Adidas running sneaker revival is the AlphaBOUNCE—a shoe that isn't conventional by any means. It was created with motion capture technology that allowed the brand to pinpoint areas for support and expansion. This technology also served as the inspiration for the AlphaBOUNCE's debut colorway, which was worn by rapper 2 Chainz courtside at the NBA Finals. This sneaker's story is still being told, but its clean looks and wallet-friendly price point ($100) are already winning people over.
A few years ago, the only running sneakers that were flying off the shelves were extremely limited—and, in many cases, overhyped—retro collaborations. Performance runners were limited to blocky, dad-worthy silhouettes. And then Adidas came along. Driven by the continued evolution of Boost, including the most recent launch of Ultra Boost Uncaged, Adidas has been able to turn the running sneaker category on its head, while shaking up the market and forcing other brands to step their game up. From high-ticket resellers like Yeezys and Ultra Boost collaborations to shoes that everyone can enjoy like the NMD and AlphaBOUNCE, adidas isn't only changing the way we think about running shoes, but footwear as a whole.