The most I've ever spent on a pair of sneakers was $250 when Nike SB released a limited-edition sneaker for rapper MF Doom in 2007. These were the days when skate shops were allowed to charge whatever they wished for a pair of shoes. I didn't know the "Dooms" would cost that much until I got to the register, but I still coughed up the money. At the time, it seemed like a lot to drop on sneakers—and, truthfully, it still is—but it pales in comparison to the $400 that Jordan Brand's asking for the "Snakeskin" Air Jordan IVs that are set to come out this weekend.
My biggest issue with these Jordans, which are part of the brand's "Pinnacle" series—which started last year when the brand introduced a $400 Air Jordan 1 with premium leather and gold-plated accents—isn't just the fact that they retail for $400. Sure, they've been upgraded with better materials, but what's the point of buying a luxury pair of Air Jordans? I know that the Air Jordan II, which was made in Italy, was originally designed as a high-end pair of basketball sneakers. The Air Jordan IV retailed at $100, which translates to roughly $197 in 2016, thanks to inflation. That's not too far from the price of "Remastered" Air Jordan IVs that they've been selling as of late. In fact, that $200 price tag isn't too far from the current price, $200, of the newest Air Jordan, the XXX.
Giving the sneaker this "Pinnacle" upgrade, while doubling the price of the shoe, only opens the gate for sportswear companies to sell more and more expensive sneakers. That's if people are willing to pay that much, however. The $400 Air Jordans just aren't good. They're trying to turn an already great sneaker into something better and completely failing in the process.  There are so many ways that Jordan Brand can make a higher-priced sneaker and do it tastefully. Throwing snakeskin and gold-plated accents on one of their most cherished sneakers isn't the right way.
I don't understand the concept of taking a a sportswear shoe that sells off the nostalgia of Michael Jordan wearing them during his glory days in the NBA and turning it into a luxury shoe.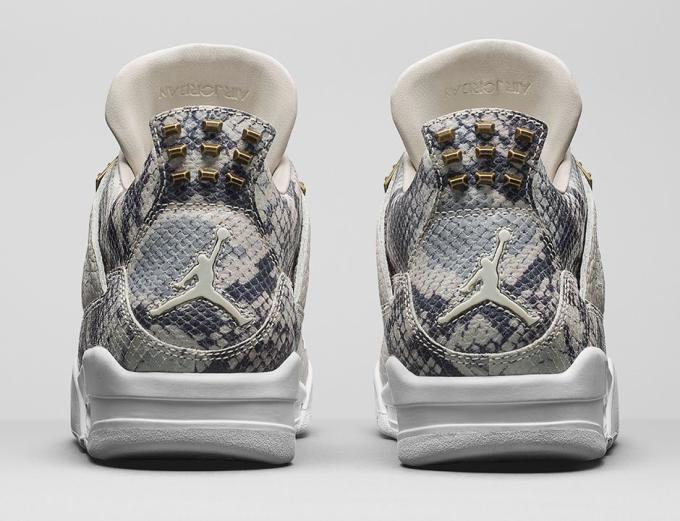 Jordan Brand and Nike have long known that consumers will nearly pay whatever price is placed upon a shoe, not just because of the perceived superiority of the products from a performance viewpoint, but because of the attached cool that the Swoosh or Jumpman logo give them.
But on the flipside, sneaker consumers will always complain about the price of shoes, before—even if it's done begrudgingly—doling over a couple hundred dollars. I just don't see the appeal of spending $400 on a sneaker that looks like a replicated version of the custom footwear that people such as JBF Customs would make, as they'd deconstruct Air Jordans and rebuild them with exotic materials. It's a bad trend that's already run its course, and it seems weird that Jordan Brand is jumping on the bandwagon this late. At least the sneakers from JBF were handmade from real exotic leathers. These Jordans? Not so much.
There will always be a market for luxury goods, and brands such as Hender Scheme have reinterpreted classic sneaker designs into high-end dress shoes. But the reason we love sports footwear is because they're designed for sports. A "Snakeskin" Air Jordan IV completely defeats the purpose of Tinker Hatfield designing a shoe for Michael Jordan to play basketball at the highest level in. And the price tag makes it even more odd.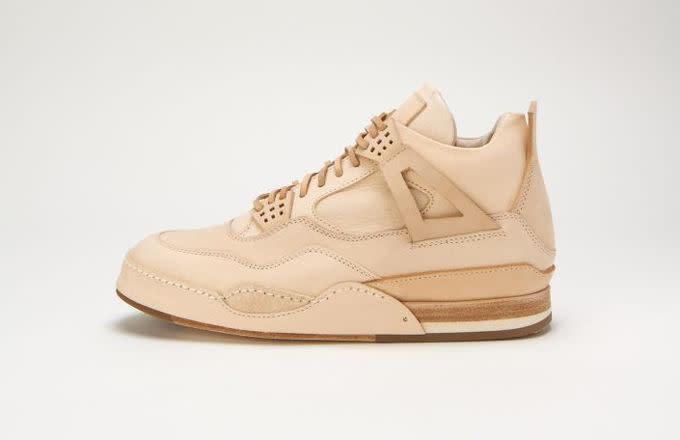 Sneakers are already reselling for $400 or more on a regular basis, and it feels like Jordan Brand is taking advantage of this fact just to open up its consumer to a higher price point, when it's not really necessary.
This doesn't mean that there isn't a place for high-fashion designers to give their takes on sportswear shoes and have them retail for crazy money. Look at the Public School x Air Jordan XII, which was priced at $300. But Public School added cachet to the silhouette it worked on, and it justified the suggested retail price. The materials used only bettered the XIIs design—not cheapening it like the Pinnacle IVs—and they were very limited. You're not only paying for the raw materials and elevated design, but also the exclusivity of owning a rare Air Jordan. The same can be said for the Stan Smiths designed by Raf Simons, or even the $370 New Balances, which are Made in USA of Horween Leather.
We're entering an area where we'll look back in 10 years and say to ourselves, "What the fuck were they thinking?" But maybe by then, $400 sportswear sneakers will be the norm. I sure as hell hope not.