Ten years ago, a young cobbler jumped into his forest green Ford ZX2 and drove from Charlotte to New York City, with the aspiration of finding out what life in the Big Apple was all about. One of his initial stops in this chateau de concrete was A Bathing Ape's SoHo location. By chance, as he was browsing the shelves, the guy we've come to know as The Shoe Surgeon met a fashion pioneer and creative innovator named Pharrell Williams. That trip was one he'd never forget.
"The feeling was surreal, unexplainable, motivating to say the least," says The Shoe Surgeon, whose real name is Dominic Chambrone, about his chance encounter with Pharrell.
That brief rendezvous sent Chambrone off on his way. Sometimes meeting your idol can generate a seismic effect on your personal goals.
Speed the tape up a decade and Chambrone — who's become recognized for making custom sneakers for celebrity clientele such as Jerry Ferrara, Justin Bieber, and others — finally returned to Manhattan. This time he was here to take care of some business, with a workshop he set up for an evening at Lavo.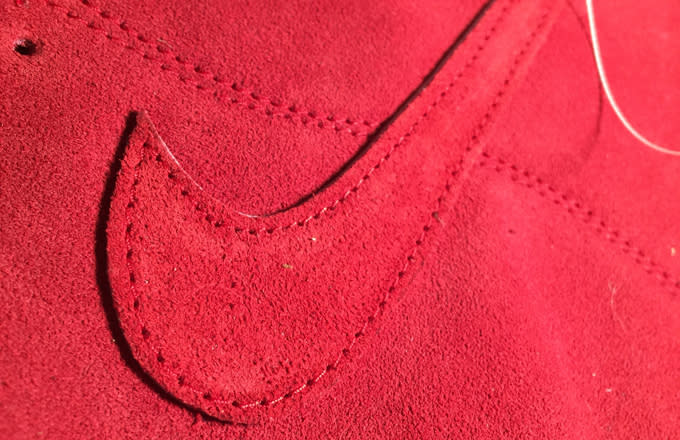 Chambrone has become the go-to name in the oversaturated custom sneaker industry. Custom shoes, in the past, typically consisted of a sneaker that was painted into a color scheme or a theme and little more. Chambrone was able to change all of that with his cobbling experience. With the help of John Geiger, the two were able to create the "Misplaced Checks," a premium Nike Air Force 1 with multiple Swooshes of varying materials. The duo has also come up with ideas to mismatch different soles with different uppers, creating one-of-none footwear in the process.
We met in lobby of the Dream Hotel, situated in Midtown Manhattan. It's an opulent place to catch vibes, equipped with an expansive neon-lit fish tank and matching modern décor. Chambrone, who will be opening a pop-up shop in the near future in NYC, was holed up in the corner working. His iPhone 6 was attached to the outlet in the wall, attempting to catch a charge for the night ahead in between feverish text message exchanges.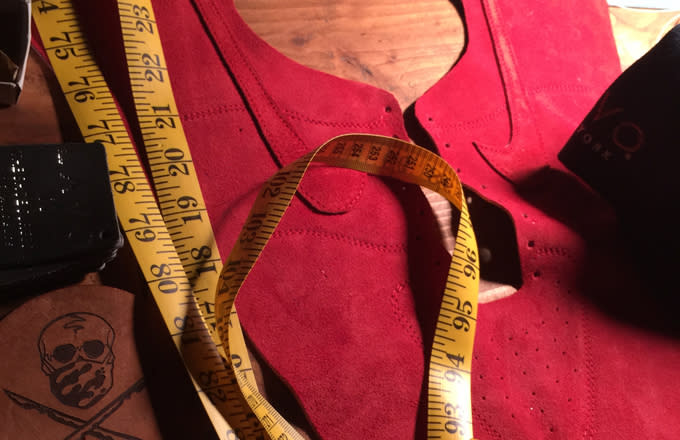 Multitasking, he began transferring shots of his work from his MacBook Pro over to the iPad that was linked up next to it.
As we sat down and began chopping it up, I was introduced to a close friend of his named Anthony Hart. Hart is a hyper-talented designer in his own right, who's known for skating in a pair of Nike Air Yeezy IIs and designing the Nike SB Dunk Hi that's modeled after salt stains in the winter. Hart would be just one of Chambrone's friends who would assemble as the night went on to bask in the glow of The Shoe Surgeon doing what he does best.
Chambrone explained to me that he came back to NYC in a takeover capacity. His assignment was to set-up shop at Lavo, explain the shoemaking process, and create 40 custom pairs of Air Jordan 1s for the owner of club and his distinguished guests.
How did this all come about? Chambrone explained,  "Well I made a pair for Jasmine Snow—at Lavo—who found me through the Internet because of making shoes for Justin Bieber. They loved the shoes I made, so we have done further business since then."
Nestled right next to him on that corner couch was an Air Jordan box, equipped with the tailor-made sneakers. Chambrone noticed my eyes wandering over there, so he let me sneak a peek, even though he was saving them for someone special: DJ Clark Kent.
Designing each pair by hand, Chambrone explained how the "Lavo" Jordans had been treated with Horween leather and genuine Nile crocodile. He then added premium leather laces and custom gold leather insoles to give it an extraterrestrial vibe. These customs are a pretty good example of the type of upgrades that have become Chambrone's calling card: extravagant materials that make classic sneakers even more eye-catching.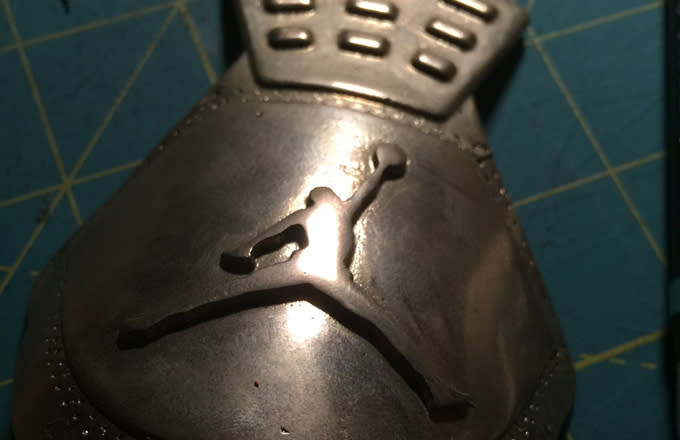 Before we could finish the conversation, Chambrone's phone lit up. It was the people over at Lavo. They needed The Shoe Surgeon.
This wasn't your typical New York City night in December. The traditional garments and Christmas lights were excessively draped over 5th Avenue storefronts and the streets were bustling with tourists, but it was that bizarre 60-degree temperature accompanied by a crisp breeze that had Chambrone feeling like Manhattan could be a place he eventually will call home.
"I'd love to get a spot out here," he says. "The creative energy is something different."
The line outside Lavo was reminiscent of any trendy New York City hotspot on Saturday night. Thankfully, with Chambrone playing the role of tour guide, we all made our way to the front, where everyone was quickly ushered inside.
Working within the confines of a wild party venue like Lavo isn't something he's familiar with. "We just don't have so many drunk people and beautiful woman in the shop at one given time," Chambrone fires off.
Guests, frigid drinks in hand, flocked to his makeshift workstation to pepper him with questions ranging from, "What do you do?" to an explanation about the different components that make up each custom Jordan 1.
From the moment you walked in, you could tell there was a mutual respect and strong sense admiration in the air. Chambrone was ushered around, meeting distinguished guests and politicking with the owner and his friends. The people in-charge of Lavo treated The Shoe Surgeon like a king and he responded by producing a riveting sneaker to commemorate the occasion.
Chambrone's retreat in downtown Los Angeles—where he puts in the bulk of his work—is more of a private cobbling oasis than a club upholstered with models and connoisseurs of wealth. That type of spot fits his humble persona. You'd never know by hanging out with him that this was the same guy who spent 2015 turning Instagram on its head with grit and imagination.
"Some people say I'm too nice," Chambrone says.
Even though it was a departure for him, the event at Lavo was important. Showcasing his talent on that scale proves that people from different walks of life, not just sneaker collectors, appreciate what he's doing and want to understand the process. Even the House of Cards God himself, Kevin Spacey, left with a pair.
Not bad for a guy who doesn't even consider himself to be a sneakerhead. "I mainly rock Vans or Misplaced Checks," he told me after I asked about his own sneaker-wearing habits.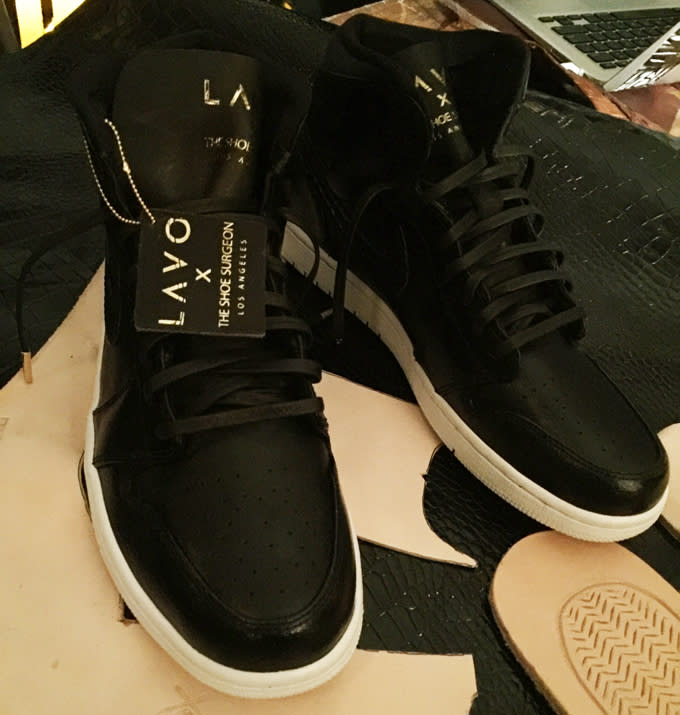 When Chambrone finally got to break away from his station and the kicks were deemed to be a sell-out—something he's used to these days—instead of joining the party, he dipped off into the back, firing off messages to his wife. The couple recently welcomed their first-born into the fold.
In classic Lavo style, the night ended with Fetty Wap tearing the roof off the place—crutches and all. But the real party was over at Chambrone's table. He had just assembled another limited sneaker and the level of interest and appreciation was infectious to say the least.
The crew that walked into Lavo earlier in the night, comprised of his close friends like Hart, finally dissipated. Each guy went their separate way, leaving nothing but memories, Snapchats, and premium cuts of leather behind.
I shot Chambrone a text the next morning, thanking him for everything. He was already on his way to the BAPE store. He decided to leave a hidden pair of the Misplaced Checks from his personal collection in the area and spread the word via social media. When I asked him who wound up discovering the sneakers, he hit me back with the news that it was a BAPE employee.
That's how life comes full circle, or so they say. It was only a decade ago that he met Pharrell. Now, Chambrone is the guy that people run into.