There are a lot more awful custom sneakers than great ones floating around the Internet. Often, great silhouettes on their own accord are given paint jobs that don't make sense. Either a customizer has the idea to put a pre-existing colorway on a sneaker that never existed before or the job is sloppy. There are, however, a select few people who can work magic with paint on a sneaker, and Mache is one of them.
Mache's work has long been associated with high-profile clients — such as LeBron James and Dwyane Wade — and he worked on a sneaker for another basketball legend, Ray Allen, and revealed it to the world this week. The chosen sneaker to customize was an easy choice: the Air Jordan XIIIs, in white/black/red, that became famous in the 1998 film He Got Game, where Allen played Jesus Shuttlesworth, a high school basketball star. Mache didn't just paint the XIIIs in a new colorway, but he decided to make them a tribute to Allen, who hasn't officially retired but is taking the 2014-2015 off from playing in the NBA.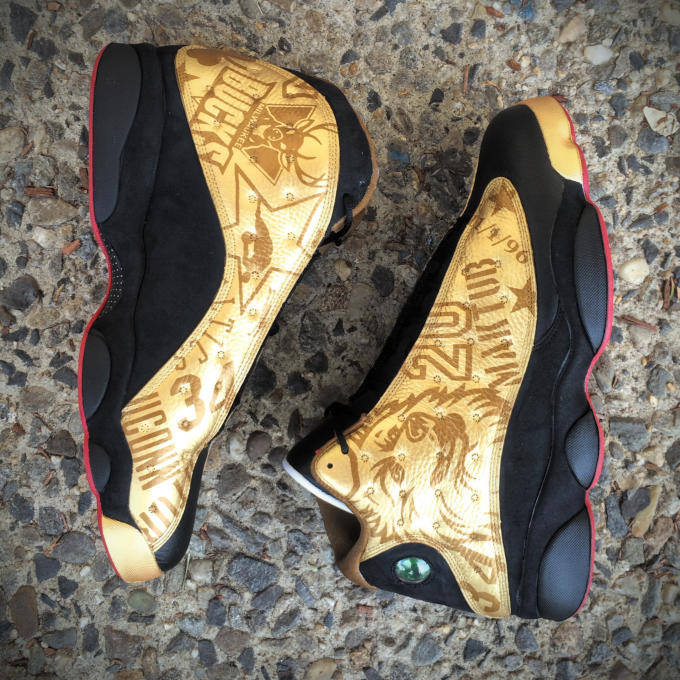 <span></span>
But the sneakers weren't initially intended to be an end-of-career celebration for Allen. "Originally it was intended that I'd make a special pair for Ray to wear in the game where he would have scored his 3,000th 3-pointer," Mache says. "As last year wound down and Rays return was in question to reach the milestone this season, we decided to make a pair to commemorate his career instead."
The process of making a custom pair of sneakers for Ray Allen — a man who has plenty of his own Air Jordans — was made possible by Sole Warehouse, a Florida-based sneaker store, and they were able to get the custom pair in Ray's hands, who thought they looked great.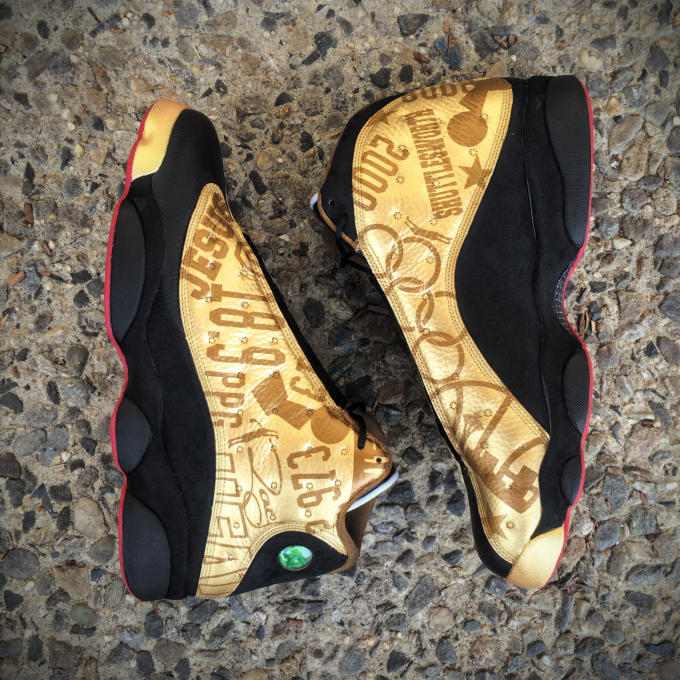 "Sole warehouse facilitated all of it as they have a relationship with Ray," Mache says. "I got feedback from [Ray Allen] after he received them, and long story short, Mr. Shuttlesworth was blown away."
On the sneakers are everything from the UConn Husky, where Allen played his college ball, to his stops in the NBA, and it was Mache's challenge to represent all of this information without making the custom look cluttered. Given Allen's prolific career, it wasn't a simple task. "The toughest part was just figuring out how to make a design using all those achievements in his career and making it look good," he says. "The painting of all the details is tedious and time consuming, but I'm used to that by now. I was more concerned about the composition and making something that Ray would appreciate. He's a Jordan Brand athlete, and I'm pretty sure he could get anything he wanted. So I wanted to make sure these were special."
The outcome of Mache's work was certainly noteworthy, and it perfectly represented Allen as not only one of the NBA's greats, but one of the sneaker world's, too.
Matt Welty is a staff writer at Complex. You can follow him on Twitter here.