When you were younger, you could eat whatever you wanted to as long as you hauled yourself to the gym a few times a week. For many of us, college means years of ramen and pizza. Eventually, your metabolism will come back down to Earth along with your expectations of life. If you eat garbage long enough, your body will start to resemble refuse itself. Hitting the gym is a must to keep yourself in shape, but sooner or later, you won't be able to expect great results if you put things in your body that sabotage your hard work.
We all know that a steady diet of ice cream and cake will give you more of a sumo wrestler's physique than a body builder's, but there are many foods you eat on a daily basis that are contributing to the problem. Many of them don't even taste that great. There's no way you can say that white bread, potatoes, and boxed spaghetti taste better than grilled chicken. And grilled chicken isn't going to make your stomach look like a flabby pouch.
Sooner or later, what you eat will determine the size of your waistline, and here are some foods not to eat if you ever want to have a six pack that doesn't involve six Bud cans resting on your ample gut.
<div></div>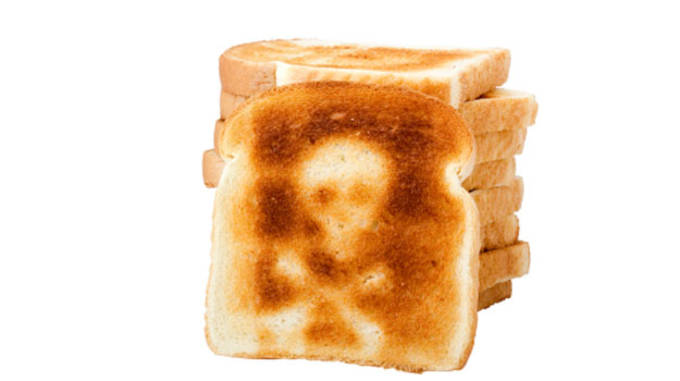 <div></div>
<div></div>
Why you eat it: It's bread. It's good for you, right?
<div></div>
Why you shouldn't: 
We'll be going after carbs a lot in this piece, so we might as well start off with the universal dietary staple. The argument in favor of bread usually has to do with grains and fiber. The only problem is that a lot of bread doesn't contain that much of them. White bread has been the favored bugaboo of anti-carb zealots, but when you turn the loaf over and look at the nutrition facts, you'll see that there isn't much bread that does much better. At it's worst, a 
commercial bread ingredient list
sounds a lot like what you would find in soda. Remember that food pyramid that recommended a dozen servings a grains? Forget it.
<div></div>
Regardless of the bread you choose -- no matter how many nutrients it provides -- you're going take in carbs, sugars, and salt in larger amounts than you probably need. Not only should we be taking in less bread than cultural norms dictate, but bread is
designed to give you problems with portion control
. Many breads give a boost of sugar into your bloodstream, releasing insulin, and "trigger[ing] a cycle of food craving." No matter where you come down on the gluten-free movement, it is hard to find a credible health expert who doesn't recommend cutting back on your bread intake.
<div></div>
We're not saying you shouldn't eat bread at all. But, if you're like most Americans, you're probably eating too much.
<div></div>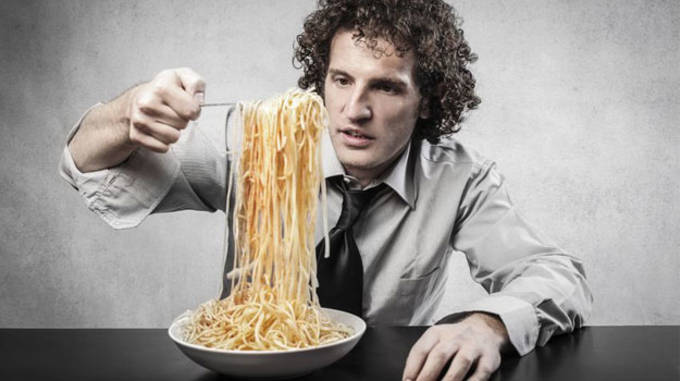 <div></div>
<div></div>
Why you eat it: A filling, affordable meal
<div></div>
Why you shouldn't: Limiting your carb intake is always a good idea. But if you must carbo load, pasta is probably the wrong way to do it. Most run-of-the-mill spaghetti, linguini, and what have you is heavily refined and low in fiber. You're basically eating flour, eggs, and little else. If you must satisfy a pasta craving, you should lean towards multi-grain noodles.
<div></div>
Even multi-grain noodles can be a problem. One huge issue with pasta is that portions, whether at a restaurant or out of the box, are generally way too large. Even carb champions claim you only need up to
six ounces of grain a day
. Rarely do you see a pasta meal that weighs in under six ounces, meaning that in one meal you're taking in a days worth of carbs. Sure, a meal with a couple ounces of pasta is fine, but there are so many ways to get carbs that will get you other much needed nutrients as well. Pasta is rarely the answer, and is never a meal unto itself.
<div></div>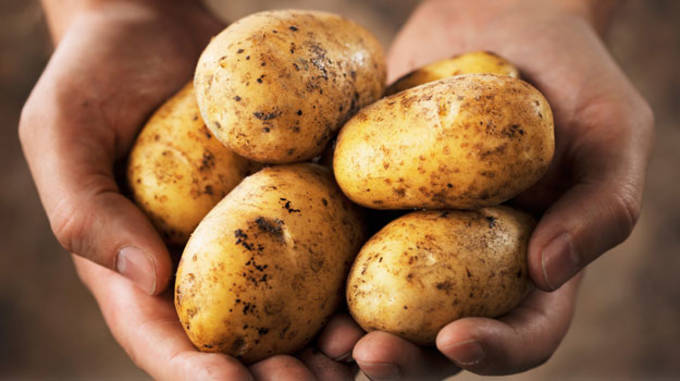 <div></div>
Potatoes
<div></div>
Why you eat it: It's cheap, and it's a vegetable, right?
<div></div>
Why you shouldn't:
  A
Harvard study
of over 100,000 obese men and women attempted identify factors that contributed most to weight gain over a several year period. Your usual suspects like red meat and sugar-sweetened beverages were on the list, or course. But right next to your diet coke and cheeseburgers was potatoes. Harvard's Walter C. Willet said, "The venerable baked potato increases levels of blood sugar and insulin more quickly and to higher levels than an equal amount of calories from pure table sugar." Willet and his colleagues went so far as to recommend that potato be removed from the fruits and vegetables section of the food pyramid, and instead be relegated to the "use sparingly" section.
<div></div>
You will find some
spud apologists
who argue for the potatoes nutritional benefits, but even if the food is rich in potassium and Vitamin C, too many taters will make their presence felt in your gut.
<div></div>
<div></div>
Cheese

<div></div>
Why you eat it: Slathering it on a good makes that food taste approximately 500% better
<div></div>
Why you shouldn't: There is lots of conflicting information out there on cheese. But, bear in mind that this nation has a very powerful dairy lobby and a lot of people who would like to continue eating chili cheese fries. In reality, is hard to make a credible argument for making cheese a substantial part of your diet. We've all been told that dairy is a valuable source of calcium, but the bottom line from the National Institute of Health is that cheese in excess contributes to weight gain, high blood pressure, and raised cholesterol.
<div></div>
Here are some cheese statistics courtesy of
the goddess Jillian Michaels
. Cheese averages 100 calories an ounce. That means that two slices of cheese would eat up between 10 and 15 percent of a regular caloric intake. How much is three ounces of cheese? That's the size of "two 9 volt batteries put together."
<div></div>
If that doesn't convince you, here is some more info, courtesy of the Physician's Committee for Responsible Medicine. Typically, cheese is roughly 70 percent fat, most of it saturated. A two ounce piece of cheese (smaller than the two batteries mentioned above, contains 350 milligrams of sodium.
<div></div>
No matter how you slice it, there is no reason to behold the power of cheese more than once in a while.
<div></div>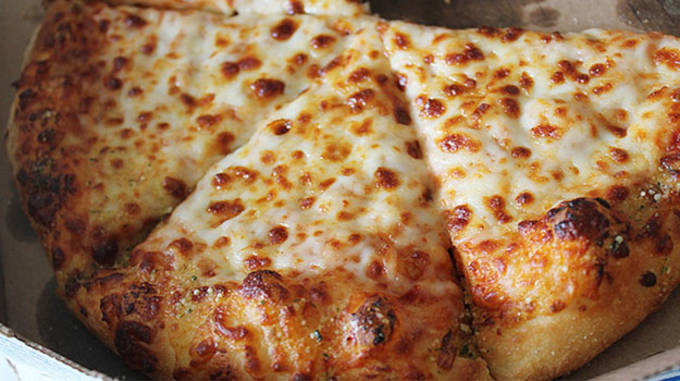 Why

you

eat it:
It's cheap, easy, and available (kind of like your mom)
Why

you

shouldn't:
 As we listed bread and cheese above, it was only a matter of time until we got to this beautiful, terrible blending of the two. You probably don't associate pizza with the same fast food horrors as hamburgers and french fries, but some pizzas can do more damage to you than a Big Mac. One serving of UNO Chicago Grill Pizza is almost 800 calories. There isn't much good that comes from these calories either. The few cheeses and breads that offer nutrients aren't the kind used in pizza. Pizza usually features refined flour, saturated fat (18.5 g per 5 ounces, equally about a third of daily value), and tons of sodium.
Moderation also becomes a problem with pizza, since it takes a man with some real will power to resist another slice. And this should go without saying, but definitely avoid grabbing that pizza on your way home from the bar. You'll almost certainly eat the whole thing.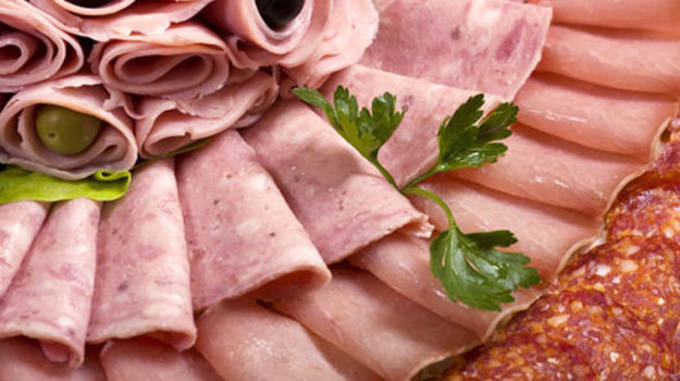 Why you eat it: Better for you than fast food, faster than cooking a meal.
Why you shouldn't:
One of my biggest surprises when I started flirting with the Paleo diet was that deli meats were a no-go. Just like bacon and many rich sausages, deli meats like ham and cold cuts are cured. The biggest difference between cured and uncured meat is the amount of saturated fat. Taking in too much saturated fat will do more than expand your gut.
One study found
that processed meats increase your risk of cardiovascular disease by 70% when compared to the same amount of red meat. Sodium and nitrate preservatives can also be found in great supply in your grocery store deli case. Stick to fish, poultry, and roast beef when preparing that lunchtime sandwich.
And though it pains me to say it as much as it does for you to hear it, bacon is a cured meat. Sorry Internet.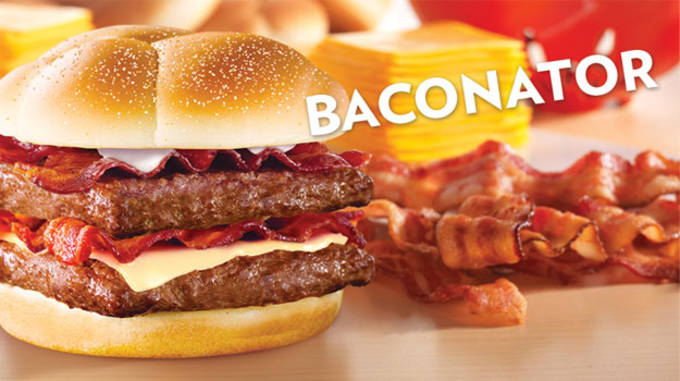 Fast Food Burgers
Why you eat it: Fate conspired to put a McDonald's on the way home from the gym.
Why you shouldn't: 
All meat is not created equal. While red meat can be a great source of protein, it shouldn't surprise you to hear that the meat you get from fast food joints is inferior. Fast food patties actually average
12% less actual meat 
than store-bought patties. What ends up in place of that meat? If you're lucky you'll have water, bone, and cartilage in that patty. If you're unlucky, your patty will be swimming in saturated and trans fats. And the fun doesn't stop there. Here is a rundown of the
other gross things
that might make their way into your drive-thru burger.
And the fries and bun don't do you any favors either.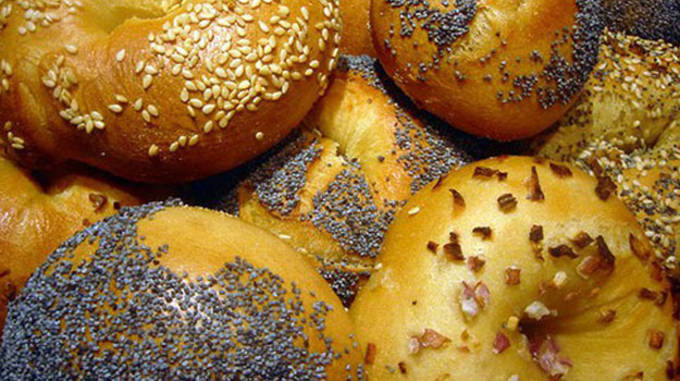 Why you eat it: You never have time to cook breakfast.
Why you shouldn't: Though we've already outlined the dangers of bread, bagels deserve their own discussion. We mentioned the addictive qualities of insulin increase already. Bagels have this problem on steroids. The glycemic index (which indicates insulin production) is so high in bagels that it increases risk of acne and rosacea. Of course, this means that those issues of cravings we talked about earlier are even worse with bagels than with bread.
Bagels should be the last thing you're craving. A bagel provides 3-6 servings of carbs (or about four slices of bread), often more than you should have in an entire day. Pretty much all bagels are made with refined flour, that stuff we mentioned earlier that provides no nutritional value. Bagels often pack up to 350 calories, and though they offer some protein, there isn't nearly enough nutrients in a bagel to offset the massive caloric intake.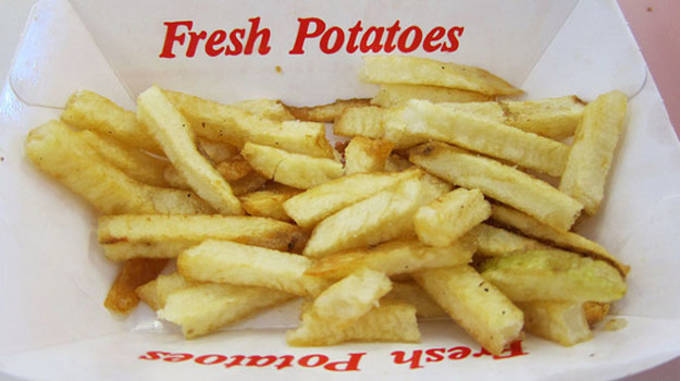 <div></div>
French Fries
Why you eat it: It comes on the side with everything.
Why you shouldn't: French fries are to potatoes as bagels are to bread: they take a food that's already bad for you and make it even worse. Just like bagels, french fries have that high glycemic index which we've already told you leads to insulin-pumping, craving inducing terribleness. We've touched a little bit on the idea that fats, like those found in red meat, can be good for you. French fries, like so many terrible foods, are chocked full of saturated and trans fats, the kind of fats that are never good for you. Again, a food that comes in large portions, induces craving, and leaves behind fats your body doesn't know what to do with means that you'll put a little more rubber on that spare tire if you make french fries a regular habit.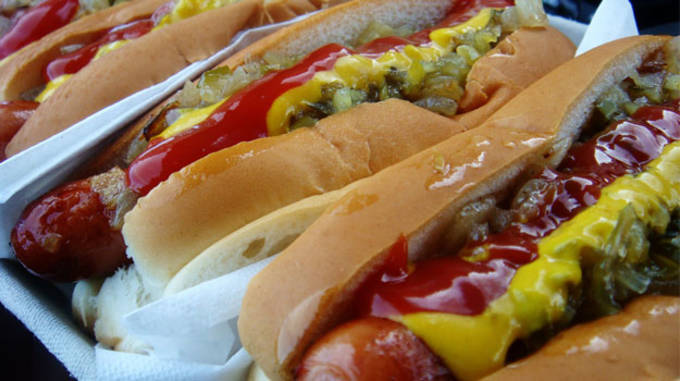 Hot Dogs
Why you eat it: Cheap and available at the bus stop (also like your mom)
Why you shouldn't: 
Remember all that stuff we said about cured meats? Hot dogs are cured meats. Remember all that stuff we said about enriched flour? Guess what these buns are made of. All of the things you normally put on hot dogs, from bacon to cheese to coleslaw to ketchup have their own special ways of making your fat. The average hot dog is going to pack over a hundred calories, offer four grams of saturated fat, and poison you with 350 milligrams of sodium. In short, these tubes of "
poultry trimmings, water, corn syrup, and starchy filler
" offer a little bit of everything terrible you can put into your body.