Nike Football unveiled the Vapor Ultimate Cleat last week during The Opening, a tournament that invites the top 162 high school football players to compete. The pros came out to watch the budding talent, including Richard Sherman and the rest of the influential Nike crew.
Sneaker Report was able to use the occasion to catch up with the Athletic Training Footwear Design Director, Nathan Vanhook, to discuss the ever-growing training category and what's to expect from Nike.
Interview by Ralph Warner (@SoloWarnerBro)
What separates Nike from other brands in terms of both training and design?
I think what's amazing about Nike is the wealth of talent that we have from all over the world. Then also we're always pushing ahead to the future. People always ask what I look to for inspiration, if I'm looking for something that's out now, I've missed it. So, working with all these guys and I have a good relationship with Paul and Ken and seeing what these guys do, and the talent in this company makes you want to push yourself to make better stuff. It's that healthy competition and the innovation of people doing amazing stuff and you're like, "Holy cow, I can't wait till we get to use that." What I love about Nike is coming here everyday and seeing the future. We're working on 2016 right now and the build up to Rio. It's really amazing to see the hard work that goes into shaping people's better experiences for the future.
What are the three most important points that you try to remain focused on while doing your job?
1. The product has to perform at the highest level. If it doesn't perform people aren't going to want to buy another one.
2. It has to be super wearable. The key for our training and what we want to do is have a product that looks great so that people will want to wear the product and also that it performs at the highest level.
3. I just try to have a lot of fun doing my job. This really is a lot of fun. I'm super fortunate, I remember being a kid drawing shoes and I remember having the SC trainer Bo Jackson was one of my first big shoes to get into to. I always keep perspective of how fun this is and what an amazing opportunity this is. It's really a dream job.
Speaking of the SC trainer what are some of the other products you admired as a kid?
The Challenge Court Agassi was great. And then the Presto, I remember I was going into college and The Presto came out "a T-Shirt for your feet" and I was like "Holy cow, I need to get those right away." Those were amazing shoes as a kid growing up for sure.
What's the feeling of taking a concept for a product and ultimately seeing it on the world's greatest athletes on the biggest stage?
We're doing special cleats for Richard Sherman and these guys. To present them these things and having them be blown away is really amazing. It's also great to just see people wearing the product day-to-day. I know that I'm personally helping you improve how you feel. Helping these athletes train and get better--it's like that guy [Sherman] just won a Super Bowl and he's going to train and try to win another one so to be that force to help them reach that next goal, it's pretty amazing to be able to share in these guy's dreams.
In the beginning of the presentation, Paul Francis mentioned that you guys can't be afraid to fail...
[Laughs.] We're so critical of ourselves here and I think that is one of our greatest strengths. So, if I go to a presentation and I show you something that you've seen before, our people see the most amazing stuff day-to-day--if I'm not pushing it at the highest level, No. 1 we're not really moving the needle and No. 2 I'm not going to be competing at the highest of level of design with my team. I think that's the thing we strive for the most as a team: to push ourselves and shock people. We want people to be like "Wow. Never thought of that."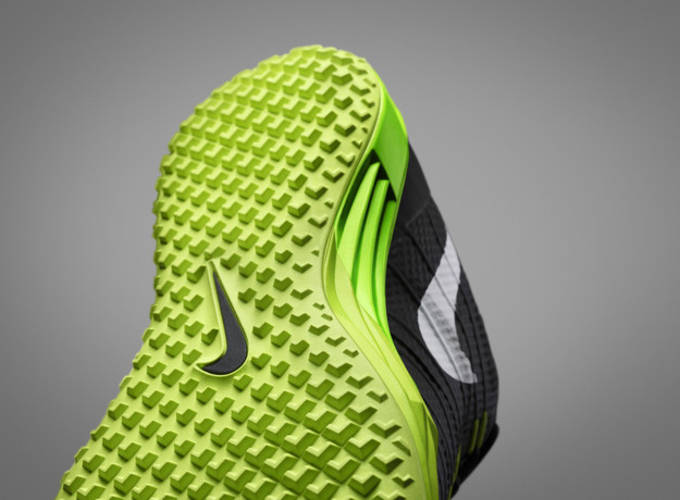 Who or what are some of your biggest influences as a designer?
For me influence is space. I'm always thinking about the future and space, I'm really into architecture and seeing futuristic architecture like Zaha Hadid. I also get a lot of insight just from how these guys perform, just seeing raw data broken down like "this is how that athlete moved" is really cool.
What do you want people to take away from Nike training products?
I want athletes to have a great experience training and train like they never have before because they have that confidence and can say "I feel super light or I have no worries about putting myself through this motion."
RELATED: Introducing the Nike Vapor Ultimate, The Swoosh's First-Ever Football Cleat
RELATED: Nike Debuts the Revolutionary Vapor Laser Talon Cleat