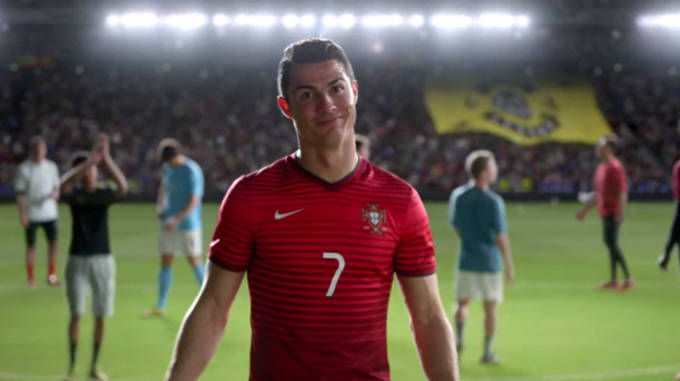 Finally, after four years of waiting and anticipation, the 2014 World Cup in Brazil is upon us and like you, we couldn't be happier.
Over the past few months, we've been covering everything for the upcoming Cup from uniform kits, to the official Brazuka World Cup ball from adidas. Just as important, and prevalent as the new gear dropping every day for use on the field, is the promotion and advertising that goes on off the field. With soccer being the most popular sport in the world, the biggest and most influential companies around including Nike, adidas, McDonald's and Beats by Dre, all use the soccer spectacle to unveil and promote their latest and greatest products. As much work goes into these ad's as the products themselves, and often feature the sport's greatest players and most recognizable celebrities to draw attention and help move product.
Companies often harp on current trends and attitudes of the sport in their commercials to help educate those who may not be follow them on a regular basis. This year, a large trend has been the evolution of soccer footwear moving towards lighter, and brighter based boots. Throw away your typical black or cleats, as this year Nike, adidas, and others have focused on eye catching, bright colored cleats that often stand out in the crowd leaving the referres as the only ones on field looking basic.  Nike touches on their recently released Magista cleat as well as others their collection, while adidas took a different approach and focused more on the legends of the sport by bringing in such names as David Beckham, and head-butt master Zinedine Zidane, to star in their spots.
With the World Cup kicking off this Thursday, we've complied ad's from the top companies for our Breakdown of the Year's Best World Cup Commercials.
Click to Continue Story
RELATED: The 10 Most Exciting World Cup Matchups To Watch For in 2014
RELATED: 10 Soccer Players to Watch for in 2014
Danny Mitchell is a freelance writer from New York and contributor to Sneaker Report with an unwavering passion for the Knicks, sneakers, golf, and vintage 90′s gear. Find him on Twitter @dmitch_23
Adriana Lima Can Be Very Persuasive
Kia "Football vs. Futbol"
Starring: Adriana Lima
I think Adriana Lima can convice just about anyone to become a soccer fan, even if it is only for a month.
adidas is Dreaming of the Perfect World Cup
adidas "The Dream"
Starring: Dani Alves, Bastian Schweinsteiger, Luis Suárez, Xavi, Jordi Alba, Mesut Özil, Robin van Persie and David Villa
As official sponsor of the World Cup, it's no surprise adidas brought their A game. Fernando Meirelles director of City of God, was brought in as well as some of the most notable players under adidas' team that focuses on Lionel Messi experiencing an edgy and exciting World Cup. The short also features a new song from Kanye West, which marks his first official collab with adidas since he signed with them last fall.
Nike Turns Your Childhood Into Reality
Nike "Winning Stays"
Starring: Cristiano Ronaldo, Neymar Jr., Wayne Rooney, Zlatan  Ibrahimović, Gonzalo Higuaín, Eden Hazard, Andrea Pirlo, Gerard Piqué, Andrés Iniesta, Mario Götze, Thiago Silva, Thibaut Courtois, Tim Howard, David Luiz, Kobe Bryant, Jon Jones, Anderson Silva, Irina Shayk and The Incredible Hulk.
Yes, you read that right, the Incredible Hulk. Nike went all out in their four minute short that starts with the common childhood fantasy of imitating their favorite players, and quickly turns from backyard pick up game, to a world class match, featuring the top players in the game. It wouldn't be a Nike spot without some special cameos from some of the Swoosh's other athletes including long time soccer fanatic, Kobe Bryant.
David Beckham and Zidane Prove Why You Never Play Ball Indoors
adidas "House Match"
Starring: David Beckham, Zinedine Zidane, Gareth Bale and Lucas Moura
Legends David Beckham and Zinedine Zidane take on Gareth Bale and Lucas Moura in a friendly old vs. young game of soccer that reinforces your mom's rule of "no ball playing in the house". Luckily for Bale and Moura, Zidane didn't get too upset with the house getting trashed, and held back on the head-butts.
Nike Goes Pixar With Ronaldo and Other's to Determine the Future of Football
Nike "The Last Game"
Starring: Cristiano Ronaldo, Wayne Rooney, Neymar Júnior, Zlatan Ibrahimović, Andrés Iniesta, David Luiz, Franck Ribéry, Tim Howard and Ronaldo Fenomeno (Animated)
Taking a different approach, Nike did their best Pixar imitation transforming the world's best player into animated form. The five minute short highlights the dangers of playing it safe, and continues Nike's #RiskEverything campaign, daring players to leave it all on the field. "The Last Game" lands high on our list mainly for it's originality, and seeing an animated Magista is pretty cool as well.
McDonald's Brings in 10 Year-Old "Irish Messi" to Show Off SOme Trick Shots
McDonald's "GOL"
Starring: Ciaran Duffy
McDonald's didnt bring in the any big names for their World Cup promo, but they did make a big splash. The spot features 10-year-old Ciaran Duffy, nicnamed the "Irish Messi", as well as many others who show off their trick-shot and ball skills and prove that soccer is a game for people of any age.
ESPN Gives A Look Into the Daily Struggle of Dedicated Soccer Fans
ESPN "Time Zone"
ESPN is known for their highly original and inventive commercial spots with none being more popular then the line of SportsCenter ad's. The leader in sports took their World Cup spot to show the true dedication of the international soccer fan waking up at any hour of the day to watch their favorite team play. The slogan couldn't ring more true for when the World Cup rolls around as "Every 4 Years, The World Has One Time Zone."
Beats by Dre Showcases the Influences of Music
Beats by Dre "The Game Before The Game
Starring: Neymar Jr., Bacary Sagna, Bastian Schweinsteiger, Blaise Matuidi, Cesc Fàbregas, Daniel Sturridge, Chicharito, Jozy Altidore, Luis Suárez, Mario Götze, Robin van Persie, Neymar da Silva Sr., LeBron James, Lil Wayne, Nicki Minaj, Rafaella Beckran, Rio Ferdinand, Serena Williams, Sydney Leroux, Stuart Scott, and Thierry Henry.
Talk about star power. Beats by Dre pulled out all the stops for their World Cup promo and rightfully so. As everyone has heard (no pun intended), the headphone company was recently bought by Apple for $2 billion so Dre and friends have some extra cash to bring in the biggest names. The spot focuses on the importance of music during sport and competition, which every athlete can relate to. A star studded cast and equally standout music lands Beats by Dre's World Cup spot at the top of our list.
RELATED: The 10 Most Exciting World Cup Matchups To Watch For in 2014
RELATED: 10 Soccer Players to Watch for in 2014
Danny Mitchell is a freelance writer from New York and contributor to Sneaker Report with an unwavering passion for the Knicks, sneakers, golf, and vintage 90′s gear. Find him on Twitter @dmitch_23