When Sneaker Report received the full kit of
Danny Mitchell is a freelance writer from New York and contributor to Sneaker Report with a obsession for the Knicks, sneakers and all things 90's. He can be found on twitter @dmitch_23.
RELATED: Johnny Football Falls Short of Height Prediction
RELATED: adidas to Award $100K to Fastest Player at NFL Scouting Combine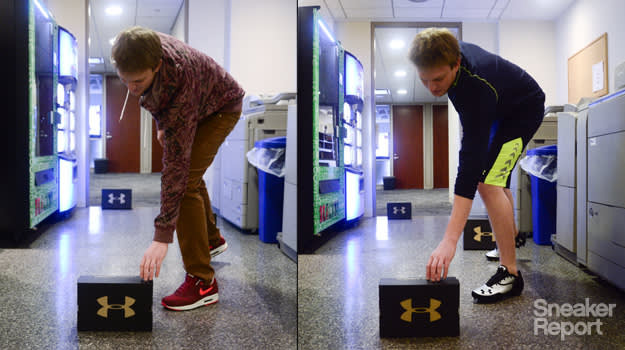 Shuttle Run Drill
The drill: Much like the dreaded "Suicide Drill," the Shuttle Run (also known at the 5-10-5) is a simple yet grueling drill when done repetitively. Designed to test an athlete's lateral quickness and explosion in short areas, players start in a standard three point stance, explode out 5 yards, touch the line, run back 10 yards, touch line, then pivots back for a final 5 yard sprint.
In streetwear: The last thing on my mind when I woke up this morning was that I'd be performing combine drills or exerting any physical energy for that matter, so clearly I wasn't dressed the part. I rolled out of bed, threw on my ever comfortable Air Max 1's, a simple pair of chinos and your run of the mill hoody, and hopped the train to Sneaker Report HQ.When I was told the products I'd be profiling today were in the office for me to try out, I was curious to see what Under Armour had to offer as I'm from a background in basketball (averaged about 8 points a game throughout high school, so yeah I know these things).
Sure, Air Max 1's are comfortable, but try running and cutting. Now try running and cutting on the tile floor in your kitchen....as expected it was a full blown travesty. Weighed down by clunky sneakers and winter attire, my Shuttle Run time was anything but impressive.
Under Armour equipped: Then it was time to switch into Under Armour's Official Combine gear, outfitted with authentic on-field shorts, the breathable ArmourVent 1/4 zip jacket, and the UA Nitro Icon Low cleats, I gave it a second run. Lightweight clothing material made it easier to move, and although the cleats fit perfectly, they were less then ideal for a kitchen floor and had broken ankle written all over it. Bring these out on turf or grass, and cut that Shuttle run time in half.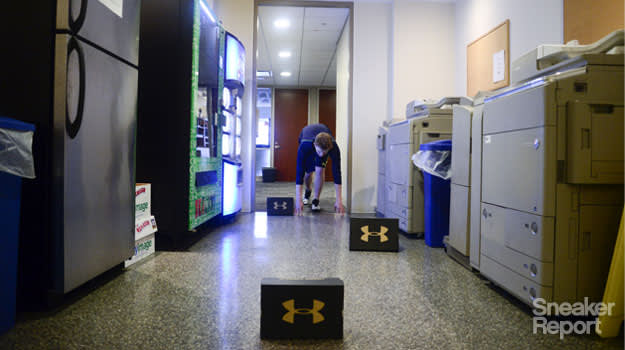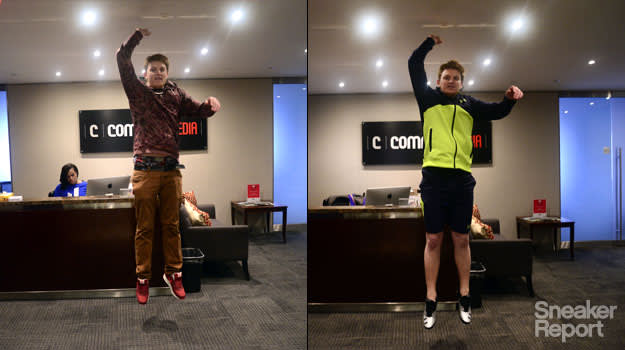 Vertical Jump Drill
The Vertical Jump test couldn't be any more straight forward. The athlete stands flat-footed and jumps as high as they can to test the player's explosiveness, lower body strength, and leaping ability.
In streetwear: My everyday wear weighed me down again on this one, I noticed the biggest change when performing this test in Under Armour gear. Jumping in untied Air Max's, chinos and sweatshirt is a recipe for failure, as you can see.
Under Armour equipped: In the Under Armour ColdGear Infrared Warm-up Jacket, Authentic Compression Shorts and Shirt, and the same Nitro Icon cleats, I felt my vert was higher but that could just be delusional / wishful thinking.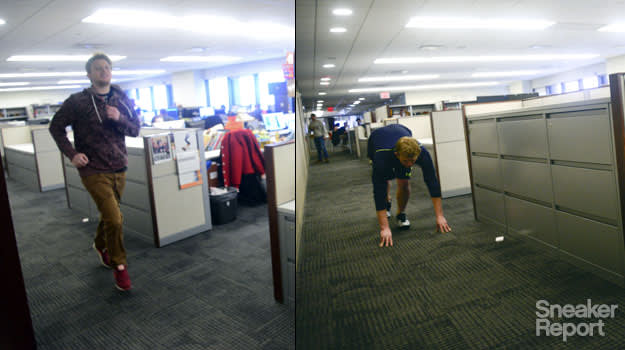 40-Yard Dash
Another self explanatory drill, the 40-yard dash is the Rolls Royce of the NFL Combine. Athletes sprint 40-yards as fast as they can to test a player's speed and explosive ability.
In streetwear: My weakest of the events even though I channeled my inner Usain Bolt on this one. Street clothes was brutal again, as Nike clearly made the Air Max 1 for style over functionality. Laboring down the Complex office hallways was probably a low point in my life, as seemingly the whole office was looking, but was all in good fun.
Under Armour equipped: When I changed into the combine UA clothes, there was a vast difference. The Nitro cleats provide incredible traction on carpet and are light enough to make you feel like you're really about to break some records. The difference between street clothes and Under Armour here was no competition as I shaved off nearly two full seconds, which is an eternity in the 40. CJ2K, I'm coming for you.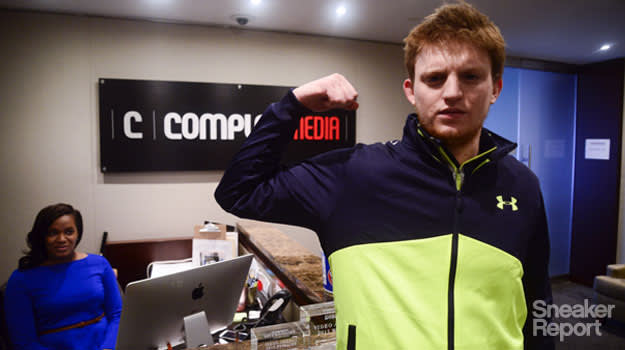 Full Results
My overall impression of the official Under Armour gear of the 2014 NFL Combine was a positive one. Taking someone with mediocre athletic ability, and outfit them with the correct gear, and improvements are substantial and tangible. The difference between street wear and athletic apparel was never in question on what would perform better, but too see how substantial of a difference the right attire can make is eye opening.
Keep an eye out for the whole collection from Under Armour at this weekend's NFL Combine, and don't be surprised if I get an invite after that performance. #Victory
For more information on the NFL Combine stay with Sneaker Report, to peep the full collection at Under Armour just scroll down or check it out here.
Danny Mitchell is a freelance writer from New York and contributor to Sneaker Report with a obsession for the Knicks, sneakers and all things 90's. He can be found on twitter @dmitch_23.
RELATED: Johnny Football Falls Short of Height Prediction
RELATED: adidas to Award $100K to Fastest Player at NFL Scouting Combine