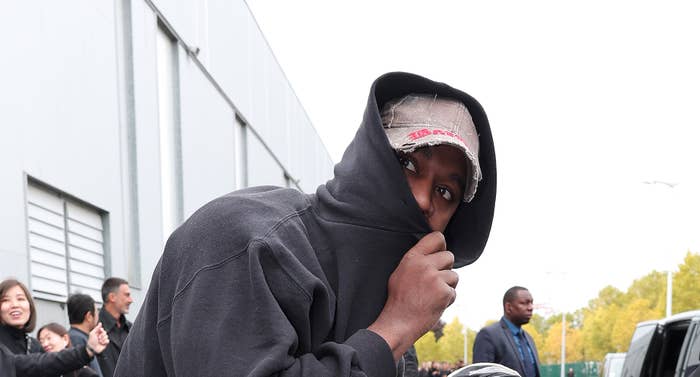 Kanye West was a guest on The Shop, but nobody's going to see the conversation.
"Yesterday we taped an episode of The Shop with Kanye West," Maverick Carter, SpringHill Company CEO and LeBron's co-host of the talk show, told Andscape in a statement. The outlet notes James was "not present at the taping."
Carter's statement continues:
"Kanye was booked weeks ago and, after talking to Kanye directly the day before we taped, I believed he was capable of a respectful discussion and he was ready to address all his recent comments. Unfortunately, he used The Shop to reiterate more hate speech and extremely dangerous stereotypes.
Andscape writes that production sources say West "doubled down on his recent anti-Semitic remarks" in the would-be episode, which also featured his "Amazing" collaborator Jeezy and shoe designer Salehe Bembury.
Complex reached out to a Springhill Company rep for further comment and was issued a copy of the above statement.
Over the weekend, West began making comments about Jewish people while slamming Diddy, then broadened his antisemitic remarks on Twitter when Instagram suspended him. A tweet where he declared "when I wake up I'm going death con 3 On JEWISH PEOPLE" was pulled for violating the platform's rules.
On Tuesday, unaired footage from West's conversation with Fox News' Tucker Carlson emerged, depicting further antisemitic remarks. See that footage here.
Jewish advocacy groups have called out the 45-year-old for perpetuating stereotypes and "antisemitic tropes like greed and control." The American Jewish Committee (AJC) criticized his "incoherent rants laden with racist and antisemitic undertones made on the country's top cable news program."
The Shop finished its fourth season on HBO last October, with Jay-Z, Tom Brady, Kid Cudi, Wanda Sykes, and many more stopping by. Season 5 moved to YouTube in March and has aired on a roughly monthly basis, with 2022 guests including Donald Glover, Quinta Brunson, Rick Ross, Idris Elba, Draymond Green, and Drew Barrymore.