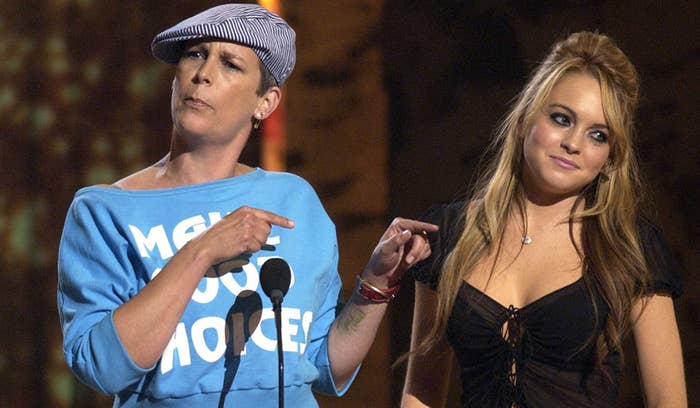 This August will mark 20 years since Lindsay Lohan and Jamie Lee Curtis gave us the body-switching comedy classic Freaky Friday. Now we've got reason to hope for more.
Reflecting on the film, the actresses were asked by Nadine Zylberberg of the New York Times how they "feel about a sequel."
"As I went around the world with [2022's]Halloween Ends, people wanted to know if there was going to be another Freaky Friday. Something really touched a chord," Curtis, 64, said. "When I came back, I called my friends at Disney and said, 'It feels like there's a movie to be made.'"
Lohan, 36, concurred. "Jamie and I are both open to that, so we're leaving it in the hands that be. We would only make something that people would absolutely adore."
The 2003 flick made $110.2 million in the U.S. and $160.8 worldwide. Based on Mary Rodgers' novel, it was previously adapted in 1976 with a 13-year-old Jodie Foster and Oscar nominee Barbara Harris. Disney Channel remade it as a musical in 2018 with Cozi Zuehlsdorff and Heidi Blickenstaff.
Lohan is expecting her first child, and when asked what Freaky Friday taught her about parenting, she told the Times, "To have more patience. You want to let them explore and live the way they need to live—with boundaries. I'm not there. I'm getting there. In a year, come back to me and ask me what it's like. And then in 16 years."
Both performers remember the experience fondly, with the newly minted Everything Everywhere All at Once Oscar-winner saying, "An actress had been involved in the movie and chose not to do it; I was a replacement part. ... I read the script on Friday, flew home on Saturday, had my hair dyed red Sunday, and was working Monday—with a 15-year-old and a 5-year-old at home, playing a 15-year-old. Had I had all the time in the world to prepare, I don't think it would've been so good. I just had to be in my body. I was also newly sober and I was able to have a community within the movie-work world."
Curtis continued, "[Lindsay and I] met in an office, did the read-through, and it was game on in a big way. I had to let go of every control mechanism and just let it fly. Lindsay was as fluid as I was. If you look at The Parent Trap, she has a facility as an actor that is really impressive. ... And our relationship was very easy."