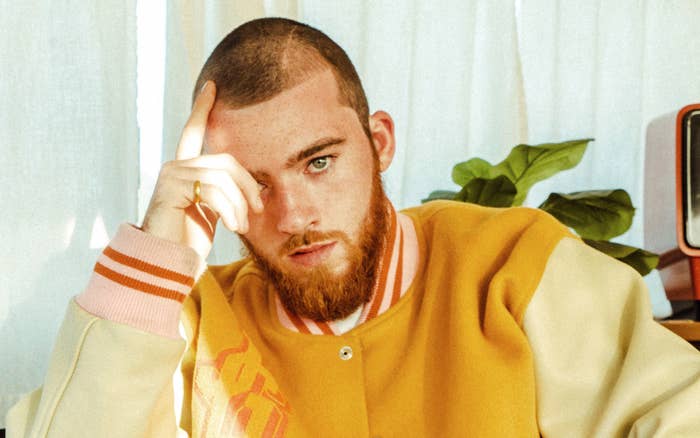 There's nothing quite like the thrill of watching Euphoria. The sophomore season of the beloved HBO series is firing on all cylinders right now, with spectacular spotlights over the last three weeks on some surprising characters including Cassie (Sydney Sweeney), Cal (Eric Dane), and fan-favorite Fezco (Angus Cloud). The latter two, in particular, have started off the season by intersecting in some surprising ways, as Cal—set up by his son Nate (Jacob Elordi)—ends up crossing paths with Fezco in a dangerous fashion.
Cloud's performance as Fezco, in particular, struck a chord in the episodes we watched, balancing a soulful approach with Maude Apatow's Lexi and Chloe Cherry's Faye with a bit of vengeance towards Nate. The latter bookends the series' absolutely electric premiere, the ramifications of which the show is still exploring.
In the wake of Fezco and Cal's "Who's On First?"-inspired showdown in this week's episode, Complex jumped on the line to briefly chat with Cloud, who just touched down in Oklahoma City to begin work on his second film—he recently wrapped on a Christmas-set thriller called Your Lucky Day. The actor spoke with us about working alongside the "fucking hilarious" Eric Dane, some of the prep that went into the premiere's show-stopper of an ending, how Maude Apatow made it easy for him to open up, and much more.
I know you are a super busy dude as of late. Where are you right now?

I'm in Oklahoma City, man.
What are you working on? Can you talk about it?

Yeah, we're working on a film. It's gonna be coming soon.
What's it been like to see the reaction to the Season 2 premiere?

[There's] been a lot of support and love coming my way, so I'm really appreciative of that. It's nice to hear, you know what I'm saying?
I know you all had a table ready for Season 2 all the way back in March of 2020 before the pandemic shut everything down. What was the cast reaction like in the room to the ending of the premiere?

We didn't get to necessarily sit in the room and read that because of COVID. So I can't tell you what the energy in the room [was like], but in the Zoom, everyone was excited to read that.
Was the ending always on the page? Did it change at all during the COVID production delay?

Yeah. I think that was always the ending of Episode 1, even with all the moving parts and changing of the scripts and all that. But I think that part pretty much stayed the same.
How did you and Jacob prep for that scene? I know you shared a clip with the two of you practicing on Twitter, but what was the rehearsal process of that like?

With the breaking of the bottle, we just did that one good time just to get a feel for it, to know what we was about to be doing for real. I mean it was a stunt man there, my man Jeff, and he helps us make sure—all the movements—that we feel comfortable with that. It's a process, but we made it happen, you know. But you gotta prepare and set up for all that to make sure no accidents happen and whatnot.
Is that part of the process—that physicality—is that something that you look forward to doing? What is your process for those individual moments?

Yeah, it's always super exciting for me with the fighting scenes and whatnot, it's always just figuring out all the movements to make sure looks real— but you not even touching them, you know what I'm saying? So [there's] an art to that. They have professionals who come show you how to make all that look real and whatnot. You gotta practice, make sure all those movements feel good, and everything's safe. Cause safety is really the No. 1 priority on the set. So they're really careful about all that.