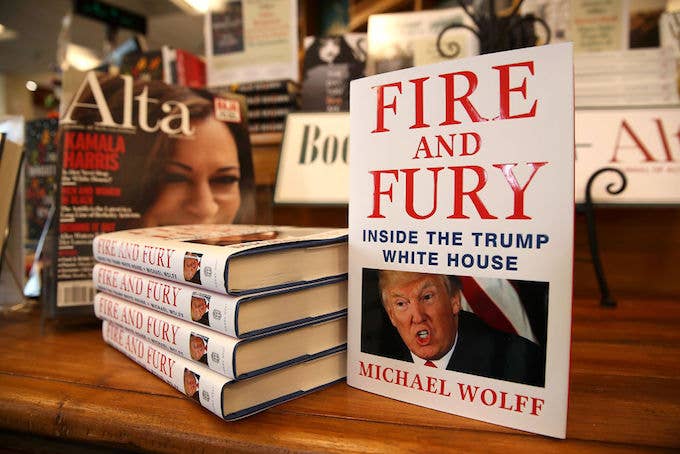 Donald Trump will have a new reason to use his Twitter fingers soon. His least favorite book, Fire and Fury: Inside the Trump White House, is poised to out-sell his co-penned book, The Art of the Deal.
Michael Wolff's explosive novel, which reportedly details terrible and embarrassing things about Trump and his administration, is projected to hit 1.75 million in sales, according to numbers obtained by Mother Jones. And to add insult to injury, while The Art of the Deal has been on shelves for over 30 years and earned $1.67 million, Wolff's book is topping that in only two weeks. And it's likely due to Trump, who's adamantly refuted the books' claims to his millions of followers on Twitter.
"Not only is he helping me sell books, but he's helping me prove the point of the book," said Wolff on NBC Today.
Trump co-wrote the 1987 novel with Tony Schwartz on negotiating business deals. It was soon a New York Times–bestseller and remained on the list for forty-eight consecutive weeks. Even those numbers may have been inflated;  Trump hotel executive Jack O'Donnell told The New Republic that Trump was buying the books himself and placing them in his hotels on top of guests' pillows.
On the other hand, Fire and Fury seems to be a viral sensation as bookstores reportedly can't keep up with the demand. It's even set to become a TV series.