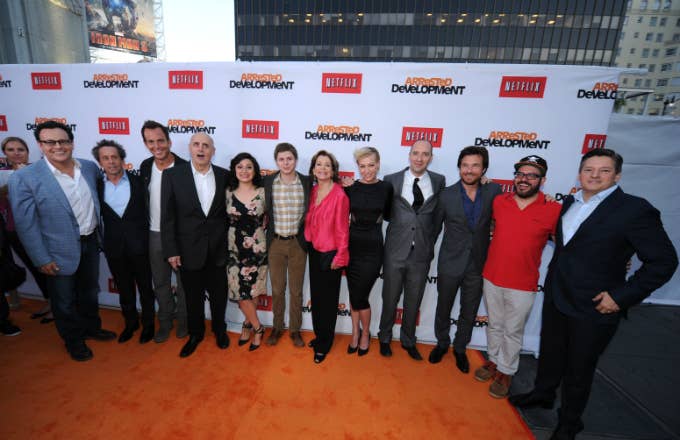 Arrested Development's stars will get compensation for season 4's recut episodes dubbed Arrested Development Season 2 Remix: Fateful Consequences.
Arrested Development's creator, Mitch Hurwitz, reworked an original 15-episode season, which was shot in a Rashomon-style, to make it into the standard 22-episode sitcom. But while Hurwitz got paid for the "new" season, which was released on Netflix, the actors did not, until now. After the actors reportedly advocated for additional pay, The Hollywood Reporter says20th Century Fox will pay them for the extra seven episodes released in the re-edited version of season 4.
The show's stars, including Jason Bateman, Will Arnett, Michael Cera, and David Cross, will be compensated "based on a sliding scale" that will match their "original season 4 salaries."
With the re-edited season, Hurwitz hoped to bring new fans into the show in addition to making it eligible for syndication in the future. He also tweeted a lengthy letter on the announcement and explained he also did it as a "comedic experiment to see if new jokes and a new perspective would emerge from a remix that features all the Bluths in every episode, and where the simultaneity of the story plays out chronologically." In the end, he says he's "really excited about the final result."
Hurwitz also recently spoke about the elephant in the room aka Jeffrey Tambor, who was accused by several women of sexual harassment while filming Amazon Studios' original series, Transparent.
"We were done shooting—there was no version of cutting him out of the show, or there would be no show," he told Entertainment Weekly. "That said, 'Am I going to cut Jeffrey out of the show, based on allegations that he disputes, that Amazon hasn't shared, and that we have never experienced any complains about? No, of course I am not going to...I'm going to support Jeffrey."
Arrested Development's recut season 4 is out now. Arrested Development's season 5 is scheduled to arrive on Netflix on May 29.