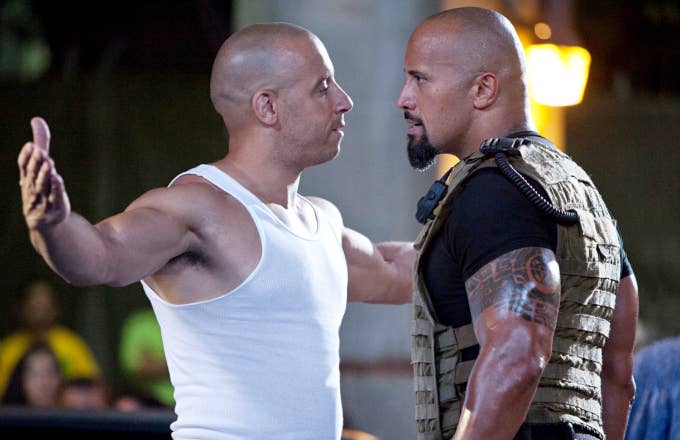 The candy assery is no more. Vin Diesel and Dwayne "The Rock" Johnson have reportedly called off their "candy ass" feud for good, according toTMZ. The Fate of the Furious stars have buried the candy ass hatchet and will, to the surprise of no one, most definitely be in each other's company again for the next film in the franchise.
According to TMZ's experts on alleged candy assery, the feud came down to cinematic "real estate," i.e. important stuff like screen time, action scenes, and showing off muscles. The feud was not, however, due to money. TMZ reported Tuesday that both stars "make a fortune" off the continuously lucrative Fast and Furious franchise.
In an interview earlier this month with USA Today, Diesel said the disagreement between "two alphas" had been blown out of proportion in the press. "I don't think that was [Johnson's] intention," Diesel said. "I know he appreciates how much I work this franchise. In my house, he's Uncle Dwayne."
Some of the tension, Diesel added, comes from his role as a producer. "I protect everybody including Dwayne," Diesel said. "I protected Dwayne more than he'll ever know. And it doesn't matter. He doesn't have to know. But he appreciates it. He knows it. Dwayne has only got one Vin in his life."
Universal set dates for two more Fast and Furious entries last year. An untitled ninth sequel will open in April 2019, with another following two years after in 2021. Though details on the untitled sequels remain a bit of a mystery, we now know that neither will employ the use of a "candy ass" feud.