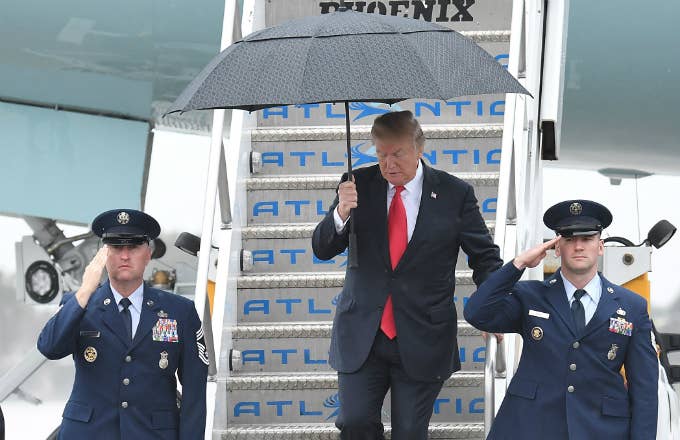 The reliably forthright Robert De Niro, speaking at a charity event in Los Angeles on the same night a known White House squatter had been spotted in the city, detailed his inspiring opposition to said squatter's "world of dishonesty and greed."
"A college education is important, but education without humanity is ignorance," De Niro said at a benefit for underprivileged children Tuesday night at the Dolby ballroom, according to the Hollywood Reporter. "Look at our president. He made it through the University of Pennsylvania, so he was exposed to a quality education, but he's still an idiot. And he lacks any sense of humanity or compassion."
De Niro also took aim at the fallacy of Trump University, Trump's "curse" of being raised "rich and spoiled," and the lack of dignity that's presently obvious in the Oval Office. "To be silent in the face of such villainy is to be complicit," he said, urging young people to get a degree from a "legitimate institution."
Trump, pictured above trying his damnedest to successfully put one foot in front of the other during his latest attempt at human behavior, has not responded. He's probably too busy endlessly wondering why his father never loved him, and/or brushing his alleged dentures with liquefied faux fish patties or whatever the hell neo-Nazi-sympathizers do with their time. Who fucking cares.
De Niro has consistently called out Trump's penchant for idiocy, most memorably in a 2016 video for Anonymous Content. "He's so blatantly stupid," De Niro said at the time. "He's a punk. He's a dog. He's a pig. He's a con, a bullshit artist, a mutt who doesn't know what he's talking about." FACTS.