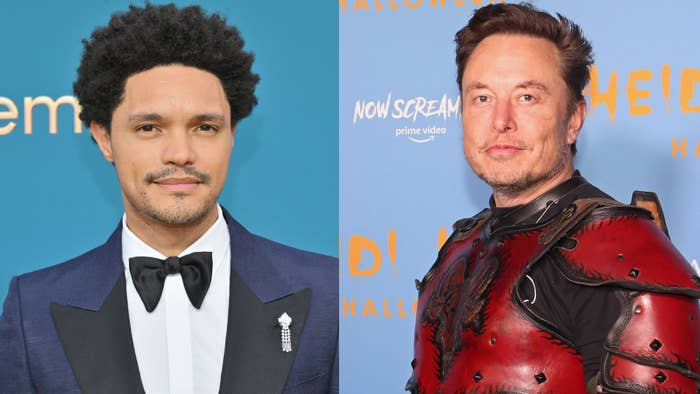 Trevor Noah is the latest to express frustration over Elon Musk's plans to attach a fee to Twitter verification.
As previously reported by the Verge, Musk wanted to launch a new version of Twitter Blue under which currently verified users would be given 90 days to sign up for a paid subscription or risk losing their blue checkmark. The proposed monthly fee was then reported to be $20, although Musk later suggested $8 instead in response to criticism from author Stephen King. Of course, lowering the amount of any such fee misses the entire point of the argument against the fee itself.
At any rate, the $8 figure has continued to be floated, prompting continued discussion. Addressing the plans during a recent episode of The Daily Show from Atlanta, Noah ultimately delivered a proposal of his own.
"For months now, Musk has said that he wanted to own Twitter, right?" Noah said. "And the reason he wanted to own Twitter is because he wanted to make sure that it became a haven for free speech. He wanted to change it to that. Because let's be honest, up until now, you know, people have really held back on Twitter. I always find myself scrolling and thinking, 'But what do you really think? Why are you so reserved, sir?'"
Musk's takeover, Noah noted, gave users a sampling of what jokingly referred to as "extra free speech" in recent days.
"In the first 12 hours under Elon's ownership, the use of the n-word on Twitter shot up 500 percent," he said. 
This figure was also highlighted in a statement from the NAACP on Wednesday. In the statement, the organization confirmed it had recently met with Musk to express its concerns over "the dangerous, life-threatening hate, and conspiracies that have proliferated on Twitter under his watch."
According to NAACP President Derrick Johnson, who was joined in the meeting by members of the Stop Hate for Profit coalition, not taking "necessary actions" in response will lead to lives being placed at risk.
During his Daily Show monologue, Noah pointed out how many arguments are made under the guise of free speech but are in reality about simply wanting "to hate on people." He also took issue with Musk's tweeted rationale for the fee, joking that he should instead charge white people to be racist.
"I think this eight-dollars-a-month thing is ridiculous," Noah said a little over six minutes into the video below. "If you ask me, if Elon Musk wants to make money from Twitter, what he should do, don't charge people for blue checkmarks. No. Charge white people to say the n-word. Twitter will be the most profitable company in history. Racists are gonna be taking out loans."
In a tweet shared Tuesday, Musk himself addressed having met with multiple organizations to discuss what he described as ways to "continue to combat hate [and] harassment" on the platform. In a follow-up message, he also addressed where things stand with regards to previously suspended users potentially being allowed back on the platform. For the time being, Musk said, there is no "clear process" for handling these cases, although such a thing is indeed in the works.