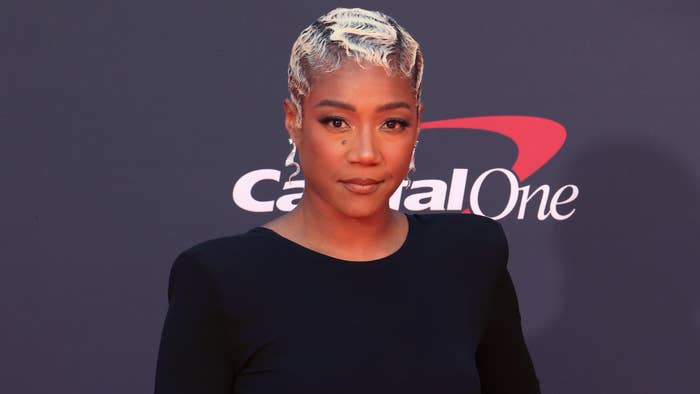 Tiffany Haddish says she never got paid for her first movie and was instead handed a stack of DVDs to sell.
Speaking with the Associated Press, Haddish—who did not name the film in question—revealed she was "homeless" at the time of its production.
"My very first movie I ever did that I was a star in, I was homeless while I was shooting that movie," she told AP. "They were supposed to pay me $1,200 to do the movie."
That payment never arrived, however, and Haddish pointed out that there was little she could do in terms of pushing back due to the film's non-union status.
"It was a non-union movie so there was nothing I could do about it," she said. "They never paid me. They never paid me a dime. The producers gave me 10 DVDs and said, 'Sell those. Good luck.'"
After the comedy Girls Trip became a hit in 2017, the film from the beginning of Haddish's career started popping up on streaming services and major networks, yet she still received nothing.
"I never saw the movie and then Girls Trip comes out 2017 and that movie is all over BET, VH1, OneTV, this network, that network, the streaming," Haddish explained. "It's everywhere, that movie, and I don't get a dime. ... It's the second worst movie I was ever in, and not a penny."
Though Haddish didn't name the film for which she was never paid, her first formally credited role is 2005's The Urban Demographic. Three years later, Haddish had a supporting part in Meet the Spartans.
This type of exploitation has received extensive headlines attention in recent months thanks to the ongoing dual strikes of SAG-AFTRA and WGA. In Haddish's example, it underscores the importance of unions when it comes to ensuring artists are paid for their work. It also highlights the issue of streaming residuals, which is a key facet of the current strikes.