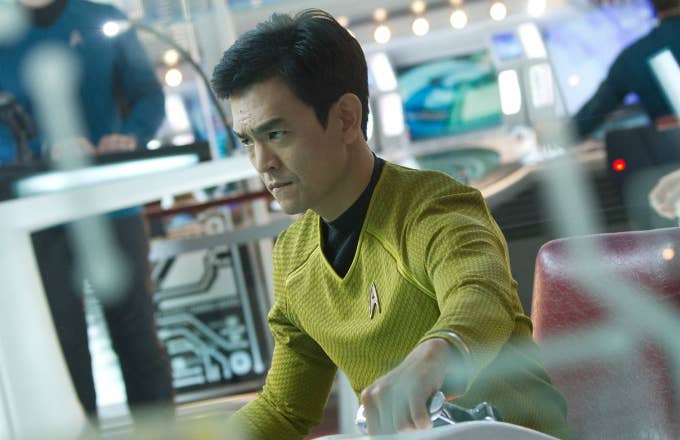 UPDATE 7:15 p.m. ET:
George Takei, who originally portrayed Hikaru Sulu, toldThe Hollywood Reporter "it's really unfortunate" Sulu will be revealed to be gay.
"I'm delighted that there's a gay character," Takei toldTHR. "Unfortunately, it's a twisting of Gene's creation, to which he put in so much thought. I think it's really unfortunate," Takei said referring to Star Trek creator Gene Roddenberry.
Takei also revealed he was first told about the Sulu news last year when John Cho told him.
"I told him, 'Be imaginative and create a character who has a history of being gay, rather than Sulu, who had been straight all this time, suddenly being revealed as being closeted,'" Takei said.
After hearing it again from Star Trek Beyond director Justin Lin Takei continued to try to change their minds:
"I said, 'This movie is going to be coming out on the 50th anniversary of Star Trek, the 50th anniversary of paying tribute to Gene Roddenberry, the man whose vision it was carried us through half a century. Honor him and create a new character. I urged them."
See original story below.
As an awesome nod to the OG Hikaru Sulu, the forthcoming Star Trek Beyond will reveal John Cho's take on the beloved character to be gay. Cho spoke on the revelation during a recent visit to Sydney alongside co-stars Chris Pine and Zachary Quinto, praising the filmmakers' decision to simply not make a big deal out of it. After all, it is 2016.
"I liked the approach, which was not to make a big thing out of it," Cho told the Herald Sun. "[That] is where I hope we are going as a species, to not politicize one's personal orientations." Sulu will be seen in Star Trek Beyond with a daughter and a same-sex partner, marking the first openly gay character in the franchise's history.
Sulu was first portrayed by George Takei in Gene Roddenberry's original 1960s Star Trek series and subsequent films. In a 2005 interview with Frontiers, Takei revealed he was gay. "The world has changed from when I was a young teen feeling ashamed for being gay," Takei said. "The issue of gay marriage is now a political issue. That would have been unthinkable when I was young."
Star Trek has a history of leading the mainstream conversation on breaking down societal barriers, dating all the way back to 1968. Captain Kirk (William Shatner) and Lt. Uhura (Nichelle Nichols)'s kiss in the episode "Plato's Stepchildren" was one of TV's first interracial kisses, a daring move during its time.
The current incarnation of the Star Trek franchise suffered a devastating setback last month upon the sudden death of Anton Yelchin, who portrayed Pavel Chekov. Justin Lin's Star Trek Beyond, set for release July 22, will mark Yelchin's final appearance as the iconic character.