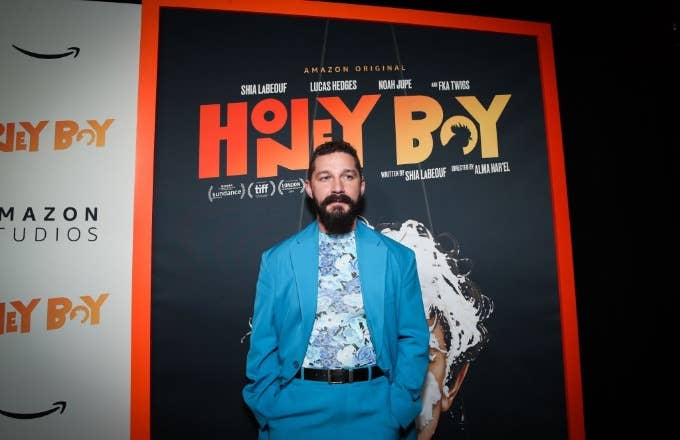 For reasons not entirely clear (and certainly not rational), Honey Boy isn't in the 2020 class of Oscar nominees. The film is a heartbreakingly vulnerable piece of catharsis art, with Alma Har'el inarguably among the year's most accomplished directors and Shia LaBeouf's script equally inarguably among the year's strongest writing. 
But it's not about awards. It's about the work, which is why this week's news of another LaBeouf script is so goddamn exciting. As The Playlistreports, LaBeouf has penned a script titled Minor Modifications based on the life of friend and collaborator Kevin Abstract. The script was first mentioned in a late 2019 episode of the Writers Guild of America West podcast 3rd & Fairfax. Now, as of earlier this month, Minor Modifications is available via The Black List.
The script is described as being "based on the life of rapper Kevin Abstract" and is classified as "biographical fiction." The story centers on a young Abstract "as he struggles with identity, finding meaningful relationships, sexual fluidity, and his direction in life."
Hopefully, this clearly promising project will come to fruition. In the meantime, we have the Amazon Prime release of Honey Boy coming next month. LaBeouf and Har'el's critically acclaimed collab stars Noah Jupe, Lucas Hedges, Byron Bowers, and FKA twigs. LaBeouf plays a version of his own father in the film.