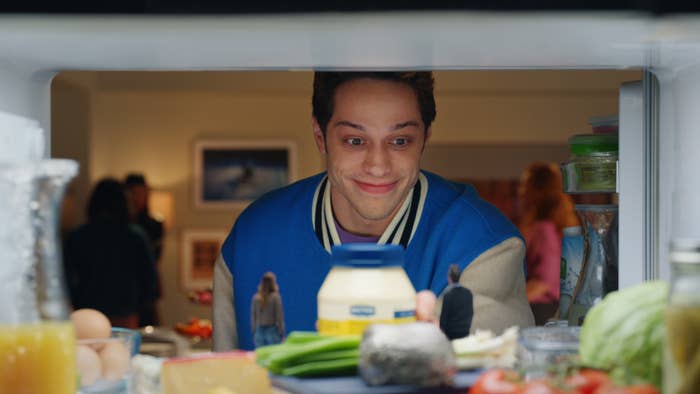 Pete Davidson doesn't do a lot of interviews. Wisely and enviably, he also largely shies away from the hour-by-hour, second-by-second fuckeries of our collective social media hellscape. So imagine my surprise when I came to the realization earlier this week that I'd not only be speaking with Pete, but I'd have a brand of decidedly online mayonnaise to thank for it.
Indeed, as you've no doubt been made aware in the run-up to the 2023 Rihanna Bowl, Pete has again been enlisted by the condimentally gifted folks over at Hellmann's for another presumably pricey TV spot. This time, he's joined by Jon Hamm and Brie Larson for what essentially amounts to a short film (as in, super short) about the proven power of punny panini possibilities.
The not-quite-cannibilistic spot arrives at another pivotal moment for Pete, whose 2023 is also slated to boast the debut of a new semi-autobiographical series on Peacock. The series, titled Bupkis, also stars Joe Pesci and Edie Falco as Pete's grandad and mom, respectively. To say it's among the year's most-anticipated debuts is an understatement.
Below, see what came of Pete and I's conversation, mayonnaise and Pescitinis included.