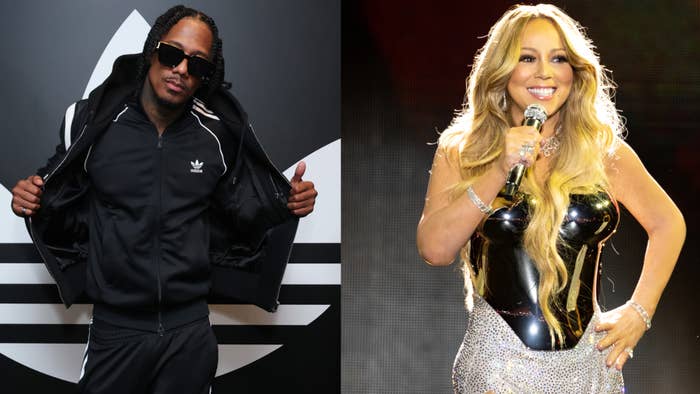 Nick Cannon believes he "probably wouldn't be alive" if it weren't for how Mariah Carey helped him through his lupus diagnosis in 2012.
In a recent The Diary of a CEO interview, Cannon looked back on the moments leading up to his diagnosis, as well as pinpointed just how crucial Carey was in his ability to move forward and change his life.
At the time, Cannon said, he and Carey were in Aspen. Cannon was experiencing what he initially thought was a mere muscle cramp in his side, so he decided to try and jog it out. But by the time he got back to the house, he had passed out. Still, the original assumption was that he was dehydrated or had experienced a minor altitude-related health incident.
Once at the hospital, Cannon was given fluids, at which point the theory moved toward a potential kidney stone or kidney infection. Eventually, Cannon learned he had lupus, thus—in his own words—changing his life forever.
"It was a scary time," Cannon recalled. "I didn't understand it but we got it in order. I feel like I got a good hold on it now."
Cannon and Carey were married from 2008 to 2016 and share two children together. According to Cannon, it was Carey's immediate support following the diagnosis that ultimately saved his life.
"She was my rock, man. She went hard," Cannon said around six minutes into the video below. "Probably wouldn't even, to be honest, probably wouldn't be alive if it wasn't for how hard she went. With the doctors, with me and my stubbornness. She was the perfect health mate, the perfect matriarch, the perfect mom, the perfect wife in those scenarios. Because granted, she's who she is and dealing with all the pressures of being Mariah Carey but then being loving enough to take on all of my stuff."
Cannon pointed out that this "probably took a toll" on their relationship, namely because of the internal struggles he was facing at the time. But it also brought them "closer together."
As for the specifics on those internal struggles, Cannon said he faced a number of existential questions after the diagnosis, including (but not limited to) "What am I leaving the world when I exit?"
See more from Nick below.